This '90s snack is coming back —and it's as deliciously cheesy as it was before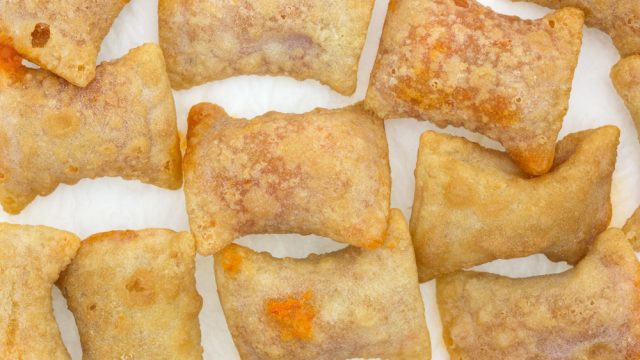 In case you've been sleeping under a rock for the last year, the '90s have made a massive comeback. The fashion's back, '90s TV shows are back (David Duchovny is still looking dreamy), and even the snacks are back on our radar. For those of you '90s kids who had a serious love affair with one of those magical, after-school treats (Gushers for me, please!), you're about to be pleasantly surprised.
Rejoice! Totino's is bringing back their Stuffed Nachos!
You may know Totino's today by their famous Pizza Rolls, which are admittedly pretty damn good, but the Stuffed Nachos were the 90s version. And nobody can deny that they were way, way better. They're essentially little, gooey nacho triangles made with a crunchy masa crust and stuffed with cheesy goodies. They can be zapped and ready to eat in just one minute, which makes them every lazy person's dream. They come in two flavors: Queso, which includes cheese, onions, and red peppers; and Supreme, which has taco-seasoned chicken and beef, red peppers, and jalapeños.
If we weren't hungry before, we definitely are now. They're so cheesy. So easy to eat. And look how delicious they look dipped in guac. Drooling.
Not surprisingly, people are excited about it.
https://twitter.com/udfredirect/status/756748490256949248
false
Get your butt to a grocery store and pick some up for this weekend. Only $3.99 for a box of 34 or $5.99 for a box of 52. Enjoy your trip down '90s memory lane!