9 vegan Thanksgiving appetizers to prove to your family that you don't just eat leaves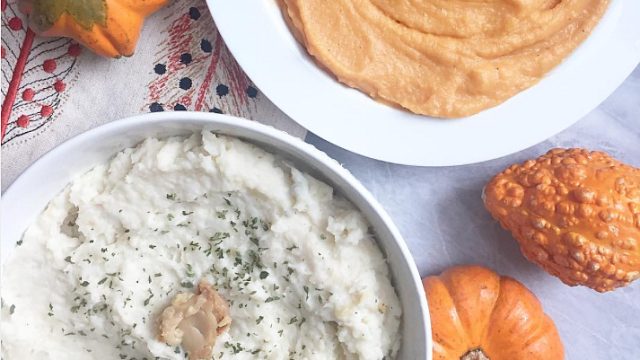 Thanksgiving is a time of giving, spending time with friends and family, and catching up on all the things you missed when you were busy with your everyday lives and maybe even in different time zones. But it's also a bit of a rough time if you're vegan and you can't find anything to eat! If you're a vegan foodie with a love for all things delicious, we've got you covered with these ah-mazingly delicious vegan Thanksgiving recipes. Because, seriously, all jokes aside, vegans (and vegetarians!) don't just live on leaves. And now you can prove it!
Whip up one or more of these vegan Thanksgiving recipes and prepare to blow the minds of your loved ones. Not only can you help your family stop worrying that you aren't getting the nutrition you need to survive, but you can also make sure you have endless amounts of vegan Thanksgiving appetizers to munch on all afternoon long. Prepare to impress, friends!
1. Kick things off with these raw mini ombré bluberries cheesecake minis
2. This butternut crust pizza is perfect for grabbing and gabbing
https://www.instagram.com/p/BLHNhHhB4ae
3. Mix things up with these colorful vegan spring rolls!
4. We're seriously digging this pineapple vegan sushi
5. Or you can go a little heavier with these maple whipped sweet potatoes and roasted garlic mashed potatoes
6. This sugar-free and low-carb cranberry sauce is perfect for your family members who actually like cranberry sauce
7. And if you wanna get fancy, this porcini mushroom and farro stuffed honeynut squash with toasted crushed hazelnuts is just the way to make that a reality
8. Go healthy with this rice and beans with avocado salad to prep your body for an intense meal
9. Or you can stick with vegan Thanksgiving appetizers like hummus, baba ghanoush, roasted spiced chickpeas, cashew "cheese," dates, blueberries, and carrots
https://www.instagram.com/p/BNCaGiygsOe
See? Look at all that variety! Whoever said vegans just eat leaves and beans has clearly never stepped outside of the box, and we're so down with these yummy vegan Thanksgiving appetizers.