9 next-level clothes that do way more than just clothe us
Fashion that's both fun and functional? Sign us up!
You know those moments when you wonder what the future will be like? Maybe it happens after you watch Back to the Future or after the next Apple launch is announced. Such visions are often filled with hover boards, flying cars, and all things sleek and shiny – but what about the here and now? What about the current, super cool products that were designed to make our lives easier, and thus, make our happiness levels go through the roof?
Luckily, we've come a long way and such happiness-inducing products are a reality. Even better – many of them can be taken on-the-go, in the form of wearable tech.
In other words, the future is now, people! And here are the clothing items to prove it:
1. AiraWear: a massage jacket
This idea is so beautiful we want to cry tears of joy.
At the office? Commuting to work? On an airplane? Laying on the floor and staring at the ceiling? Well, why not do all of that and get a massage at the exact same time? The AiraWear jacket features vibration motors that provide deep pressure therapy (which helps release serotonin and dopamine in your brain).
Via the company's app, you can also choose from several massage types. Plus, there's even an option that will help you correct your posture. Essentially, it's like a massage chair you can have with you at all times (minus all the noise, 'cause that could get awkward)!
While the jacket isn't on the market as of right now, a crowdfunding campaign will be launching next month. According to Mashable, the product will end up selling for $249.
2. Hypnos Hoodie: designed for nap lovers
If you're a fan of napping, you know that a nap emergency can happen anywhere and at any time. Life is exhausting, sometimes you just need to grab twenty minutes of sleep at a really random time!
Within the Hypnos Hoodie's hood, there's a pillow that only takes a few seconds to inflate. It's tailored to your head, super comfy, and can be deflated through a discreet valve when you're done napping.
According to My Modern Met, this product is currently in Kickstarter mode – and it's already surpassed its goal by A LOT (over $250,000!).
3. Nike Mag: Marty McFly's self-lacing shoes
If you've seen Back to the Future II, then you know exactly what we're talking about. If not, all we have to say is: shoes that tie themselves.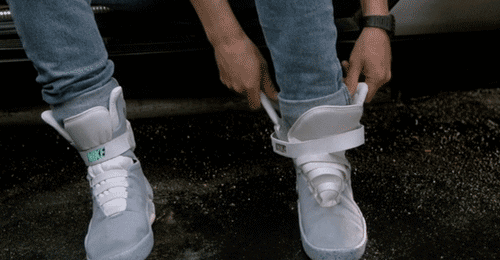 Designer Tinker Hatfield created the iconic movie shoes and, last year, he announced that his team is working to make these shoes available for all. According to Sneaker News, the kicks will be released in 2016 and – most importantly – all proceeds will be donated to support Parkinson's disease research.
4. The SDJ-O1: a self-drying jacket
Speaking of Back to the Future, Falyon Wearable Tech impressively employed air amplifiers, cooling vents, and power cells to create the world's first self-drying jacket.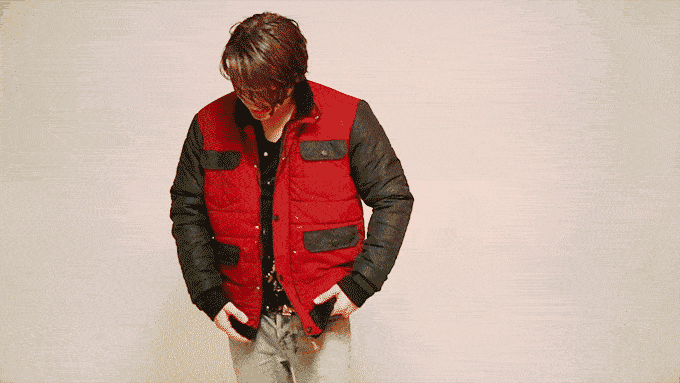 With the flick of a switch, wearers can turn on the air amplifiers and cooling vents to rid their jacket (and body) of unwanted moisture. According to the company's website, it takes only a minute to achieve a 90% drying effect – which is a pretty awesome statistic!
The first batch of self-drying jackets (for $150) recently shipped, thanks to a Kickstarter campaign, but hopefully there will be more opportunities to order one in the not-so-distant future.
5. Tooks: hats with built-in headphones
We all know how annoying it can be to place a hat over headphones (especially the bulky kind) in the midst of a cold, winter day. That's where Tooks' beanies and headbands come in handy.
Built into the headwear are removable headphones that can easily plug in to any musical device. They also feature an inline mic and music/call control (which helps adjust volume, play music, and handle phone calls). That way, you can walk, run, jump, snowboard, or do whatever else you feel like doing without having to worry about the awkward hat-over-headphones combo.
Tooks can be purchased here for at least $22.99 (headbands) or $24.99 (beanies).
6. GER Mood Sweater: changes color to reflect your mood
Mood rings were our jam back in the day, so this sweater definitely caught our attention.
With Galvanic Extimacy Responder sensors located on your hands, the sweater senses your emotions and then LED lights project corresponding colors onto the sweater's white collar.
The five colors available are: ecstatic or blissful light yellow, nervous or in love red, calm or relaxed blue, tranquil or zen teal, and ruffled or excited magenta. (It's probably good that there are two emotions for each color, so no one can tell exactly how you're feeling when you wear the sweater).
SENSOREE GER: Mood Sweater from SENSOREE on Vimeo.
To pre-order the sweater from Sensoree, you can fill out a questionnaire on their website (there's only a limited edition of 100 available, so hurry!).
7. OMbra: a bra that encourages you to work out
Finding the perfect sports bra can be a challenge like no other, but it seems that all our workout worries are about to be solved.
Smart apparel company OMsignal developed the OMbra, which is described as being comfortable, adjustable, supportive, breathable, and – above all – a technological wonder. Through a black box sensor that attaches to the bra's lower brand, the bra tracks your breathing rate, calories burned, heart rate, and other exercise-related measurements. This info is then wirelessly transmitted to the OMrun, the company's mobile app – which reveals distance, pace, fatigue levels, and breathing rhythm whenever users go for a run.
To see an in-depth review, you can watch Brittany Lesser's video:
https://www.youtube.com/watch?v=LYp4yY8mGdY
To get early access to the $149 OMbra, you can sign up on the company's website.
8. ShiftWear: shoes you can constantly change via an app
Step one: turn on your shoes and load the corresponding mobile app. Step two: on the app, pick your favorite design. Step three: your shoes will instantly change to project the design.
Displaying both color and animations, ShiftWear shoes ensure that you'll never get bored with your sneakers. Especially since you can instantly customize them based on whatever design you're loving at the moment. Also, since the shoes are made of flexible e-Paper (like Amazon's Kindle), they're waterproof and the included battery is easily able to charge your sneaks as you walk.
To pre-order these (at least $250) artistic shoes for later this year, check out the company's Indiegogo page.
9. Smart Hoodie: allows you to send texts with gestures
Geniuses Rucha Patwardhan and Alina Balean have designed a hoodie that does all the work for you when it comes to texting. Plus, you can wear it to match the above smart shoes! ?
Example: if you roll up your sleeves, the hoodie will text someone to let them know you're busy. If you pull up your hood, it will tell them that you miss them. Basically, your gestures tell the hoodie what to write and send, which can be super helpful if you're busy (or if there's an emergency).
Smart Hoodie, the cellphone sweater from Alina Balean on Vimeo.
If you want to know when the Smart Hoodie is released, you can sign up to receive more info here.
With this sneak peek into what the future has to offer, all we have to say is: Great Scott!
(Images via Sensoree/Twitter; Engadget/Twitter; Hypnos Hoodie/Kickstarter; Universal Studios/Giphy; Falyon Wearable Tech/Giphy; Tooks/Twitter; Sensoree/Vimeo; Brittany Lesser/YouTube; ShiftWear/YouTube; Smart Hoodie/Vimeo)