The 9 best memes about the presidential debate, which are obviously the best part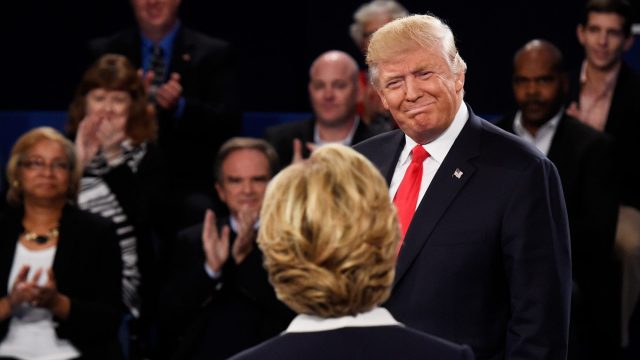 The circus continues: We've gathered up the best memes from the second residential debate because honestly, we need this to get us through. The second debate took place last night in a town hall format at Washington University in St. Louis, Missouri. Republican Presidential Nominee Donald Trump and Democratic Presidential Nominee Hillary Clinton took questions from real undecided voters in the debate hosted by ABC's Martha Raddatz and CNN's Anderson Cooper. When asked about the now-infamous "lewd tape" scandal, Trump reiterated his earlier statements, calling the comments, "locker room banter" and telling the crowd that with him as president, Clinton would be in prison. Clinton called Trump out for his continual lies, sticking to her talking points on topics like universal healthcare and aid in Syria.
With an incredibly tumultuous election cycle like the one we're currently in the middle of, social media has become a platform for political comedic relief. After wiping our tears in coming to terms with the reality of this election, we turn to the things that make us laugh: memes. Hey, we gotta do what we gotta do to get through the next month.
Take a look at some of the best memes to come out of the debate tonight:
On Trump's creepy leering over Clinton:
Using Trump's own quote on himself:
Clinton's exasperation:
Trump publicly disavowing his running mate: false
When the final question asked the candidates to say something nice about the other: false
A duet of interruptions: false
When the undecided voter may have made his decision:
https://twitter.com/udfredirect/status/785309390735671298
Sometimes timing is everything: false
During trying and often frustrating times, we sometimes need to take a step back and laugh. In all seriousness, November 8th is coming faster than most people are prepared for. Look at the funny memes and laugh, then use your voice and go vote.