9 insane hot chocolates you need in your life right now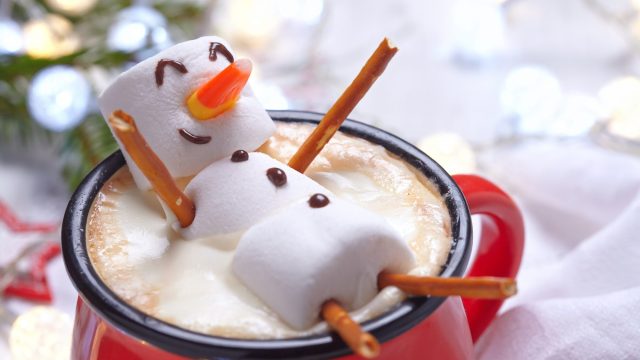 It's too cold for just about anything right now. The good news is, hot chocolate makes everything better. (Even hot cocoa-flavored Oreos, and let's face it, those delicious little cookies didn't even need improvement.) Of course, you can always make your favorite totally unique cocoa recipe. Or you could fancy up one of those store-bought packets. On a day like today, you might even be tempted to go all out and stir together one of these alcoholic versions. But let's be honest: one of the great joys of guzzling hot cocoa is being rewarded for braving the elements. These over-the-top hot chocolates are totally worth putting on pants – and mittens, because brr.
TORCHED MARSHMALLOW RIM. Need we say more?
In case you missed this magical unicorn hot chocolate when it stole our hearts last month… yeah, we're still totally crushing.
To paraphrase the Sesame Street character we relate to most of all… WE WANT COOKIE.
https://www.instagram.com/p/BO5fkg4BebN
The matcha makes it healthy, right? (Psst… if you really want to stay under the duvet, you can grab the recipe here.)
Smooth and spicy, just the way we like it…
Batter-flavored cocoa is basically like licking the bowl and never having to stop. Oh yes.
If you care for a little cocoa with your marshmallow, this one's for you. (Those marshmallows, though…)
Not that we're trying to influence your decision – they do have 24 variations to choose from – but you can get an Oreo rim. For real.
But then, what else would you expect from an Irish tapas restaurant?
Whether you venture out for a cold weather pick-me-up or snuggle down with your own DIY version, let's all raise a glass to these inspiring cocoa creations.