9 books about friendship to help you celebrate National Best Friends Day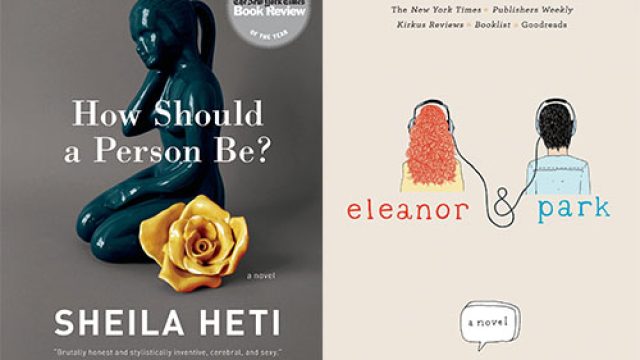 Happy National Best Friends Day! Today is probably the best day of the year, because who understands you more than your BFF? Today is the day to celebrate that relationship, and what better way to do that than pick up one of these lovely books for yourself or your bestie (or maybe two copies, so you can read it together!) and think about friendship over a glass of wine or a cup of coffee. These books take a look at friendship from many angles — young friendship, mature friendship, friendship intertwined with love, and friendship with family. You'll be sure to see your own relationships played out in these pages, so let's get started:
How Should a Person Be by Sheila Heti
This book feels like you're reading something your best friend wrote — it truly explores the question, "how should a person be?" while also exploring themes of friendship, dreams, failure, and what it means to want a relationship.
Eleanor & Park by Rainbow Rowell
This is first and foremost a story about young love, but it's also a story about friendship, because what is love without friendship? It'll break your heart and heal it at the same time.
The entire Harry Potter series, by J.K. Rowling
The Harry Potter series is about magic, good vs. evil, and love, but at its core, its really about friendship. Without the friendship between Ron, Hermione, and Harry (and so many other friendships with others), none of it ever would've happened. Lord Volde-He Who Must Not Be Named would've won.
The Interestings by Meg Wolitzer
The Interestings explores how friendships change over time, which is a unique look that we rarely get to see in a novel. The book follows a group of friends who met at summer camp as they age, and we get to see their lives play out — successes, failures, triumphs, love, and envy.
Little Women by Louisa May Alcott
This book is a classic. It's a story about family, yes, but these sisters are also friends — they know each other better than anyone, and their close relationships resemble what we have with our best friends. Little Women covers so many topics, and it's a timeless novel that always deserves a reread.
Friendship: A Novel by Emily Gould
This novel is about two women who are BFFs until life gets in the way. It's about figuring things out in your 20s and 30s when things start to change and life throws you curveballs, and you still want to stay as tight as ever with your best friends. It's relatable as all get out.
The Giving Tree by Shel Silverstein
This one is basically just on here to make you cry. If you're not familiar, it's about unconditional love and giving, and a friendship that was unbreakable until the very end. BRB, now I'm sobbing.
My Brilliant Friend by Elena Ferrante
This story follows the friendship between two young girls in a small Italian village throughout their early lives until they go their separate ways, and begin to lead completely different lives. They still love each other, but we see how envy and jealousy begin to play a part in their relationship, and it's written beautifully.
The Phantom Tollbooth by Norton Juster
Last but not least, we have The Phantom Tollbooth. This is a story about how friendship can move mountains (almost literally) and bring rhyme and reason back to an entire country. It's a fun, lively read and a perfect story to share with any friend.