These are the 9 biggest fashion trends for 2017 you'll want to start wearing right now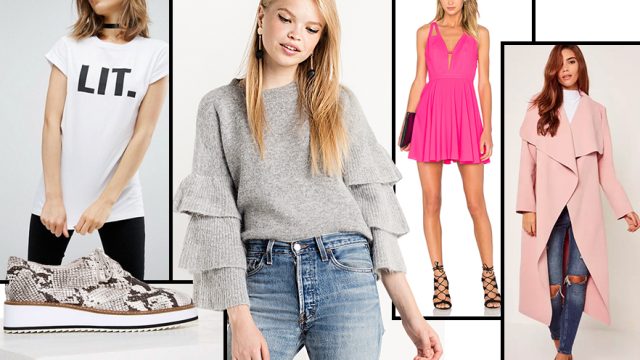 New year, new trends!
We're just days into 2017, and already it feels like we've all gotten a (much needed) fresh start. The grass is greener, the air lighter, and the fashion is better than ever. Along with that laundry list of New Year's resolutions you may (or may not) be trying to tackle, we've got another list for you to take into consideration: the biggest, boldest, and most badass fashion trends for 2017. This is the year to take the plunge and experiment with some new styles. New year, new you, right?
1 Bold pops of pink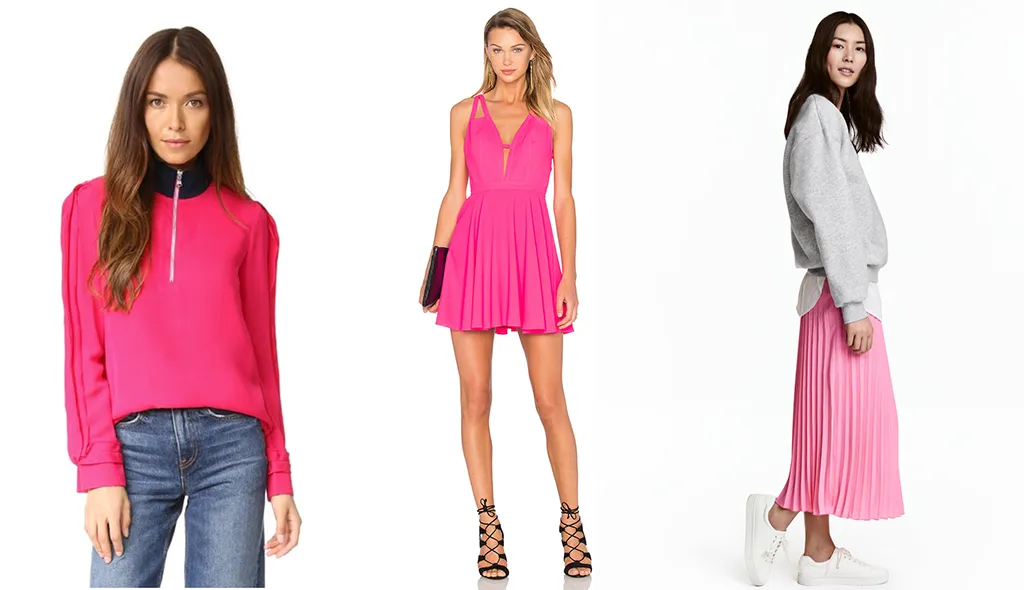 We've got five words for you: Pink is the new black. As evidenced by pretty much every major designer on the spring 2017 runways, bold pops of fuchsia, bubblegum and rose are replacing your basic neutrals. Ease yourself into this trend with a few of our full-proof picks above: 1. 3.1 Phillip Lim Blouse, $255 , 2. NBD x Naveen Twins Fit-and-Flare Dress, $91, 3. H&M Pink Pleated Skirt, $35.
2 Statement sleeves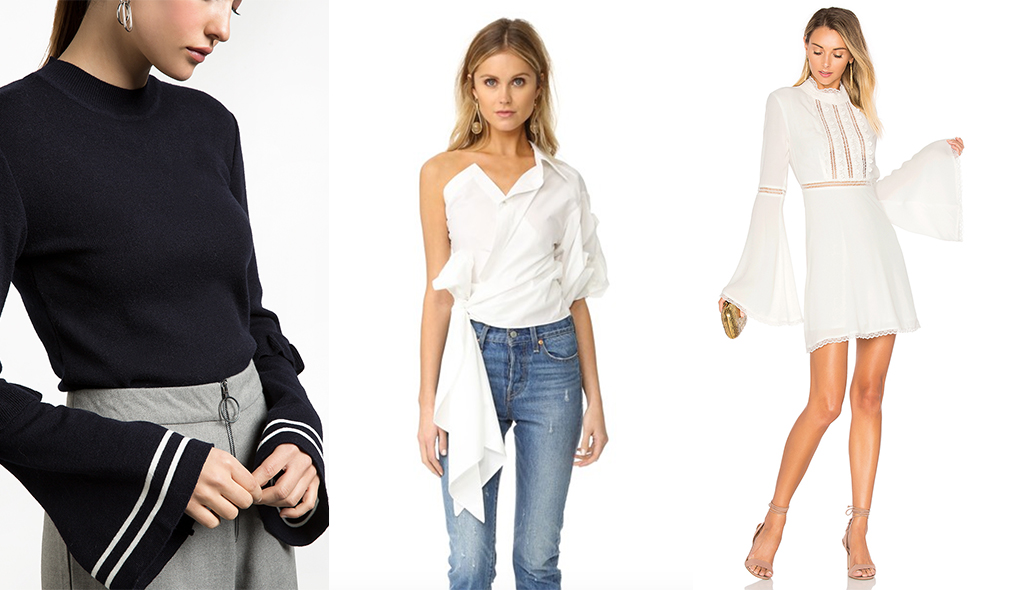 An oldie, but most certainly a goodie. Statement sleeves — namely bell sleeves and other voluminous variations  — were a favorite of street style aficionados across the globe this past fall, and they'll continue to gain traction throughout the spring. Our picks (above): 1. Pixie Market Navy Ruffled Bell Sleeve Sweater, $109, 2. One by STYLEKEEPERS Poplin Top, $98, 3. For Love & Lemons Willow Bell Sleeve Dress, $136.
3 Buzzy, slogan tees (& jackets)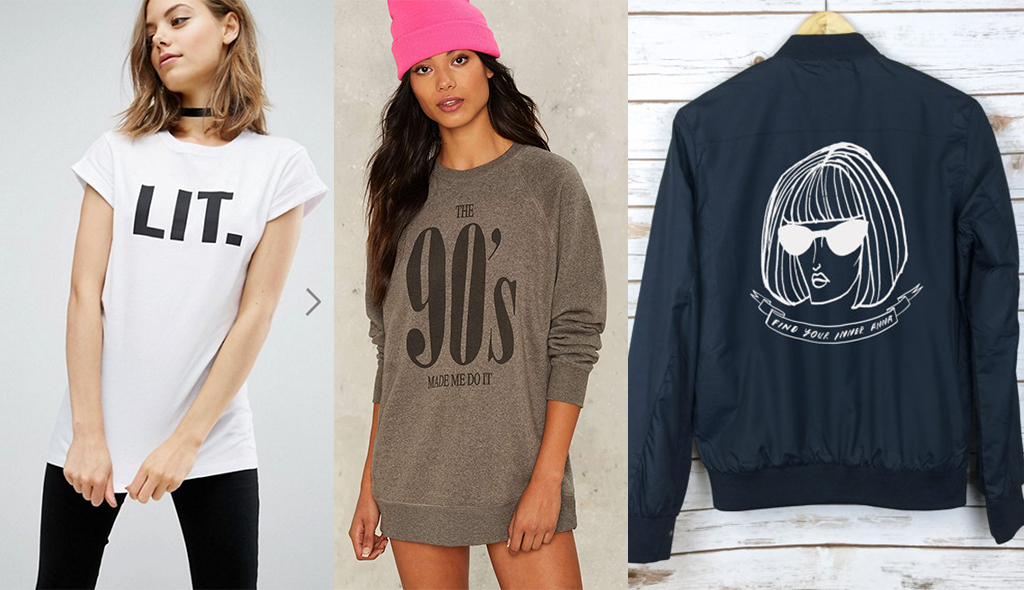 The emotions that can't be worn on your sleeve should (obviously) be displayed on your T-shirts, jackets and whatever else you can get monogrammed. Pro-femme slogan T-shirts became all the rage, thanks to our friend Maria Grazia Chiuri over at Dior (do those "We should all be feminists" shirts ring a bell?) Buzzy slogan clothing will continue to make a splash in 2017, and these are our picks to get you started (above): 1. ASOS Lit T-Shirt, $18, 2. Nasty Gal 90's Made Me Do It Sweater, $40, 3. Find Your Inner Anna Bomber Jacket, $61.
4 Frayed hemlines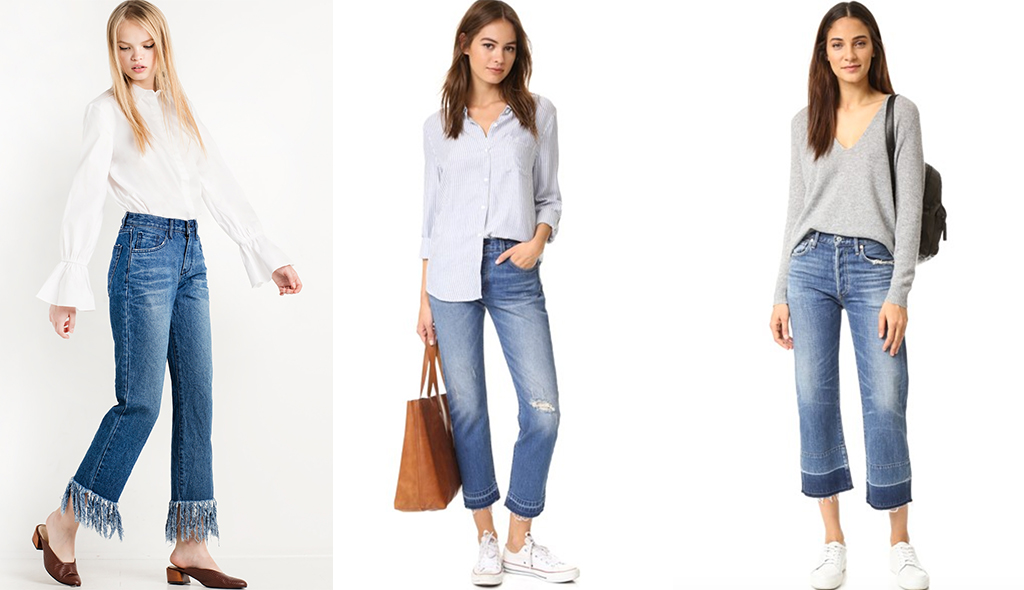 Pack up those skinny jeans, and brush the dust off of mom's old Levi's. Vintage jeans with loose fits, frayed hems and wide legs are dethroning their skin-tight counterparts. Our picks (above): 1. Pixie Market Denim Fringe Hem Jeans, $114, 2. Levi's 501 Frayed Hem Jeans, $98, 3. Citizens of Humanity Cora Crop Undone Hem Jeans, $278.
5 Upgraded athleisure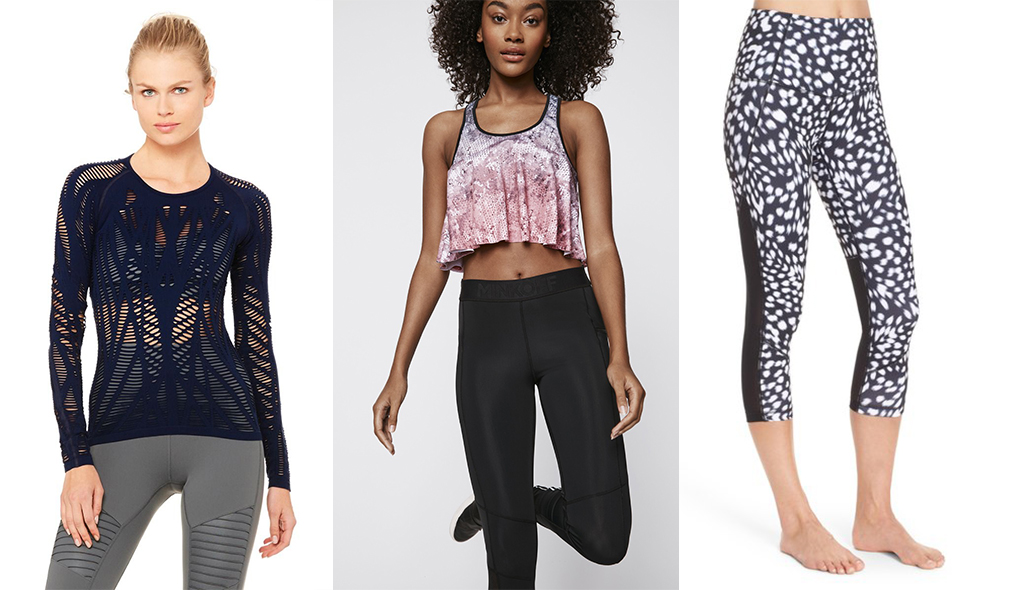 Athleisure is getting the royal treatment, and in the process much more love from your favorite designers. Prepare to see your go-to yoga pants, jackets and tennis skirts get a some fashionable TLC. Our picks (above): 1. Alo Yoga Wanderer Long Sleeve Top, $70, 2. Rebecca Minkoff Tippi Bra, $45, 3. Zella Live In Mesh Crop Leggings, $58.
6 Ruffles galore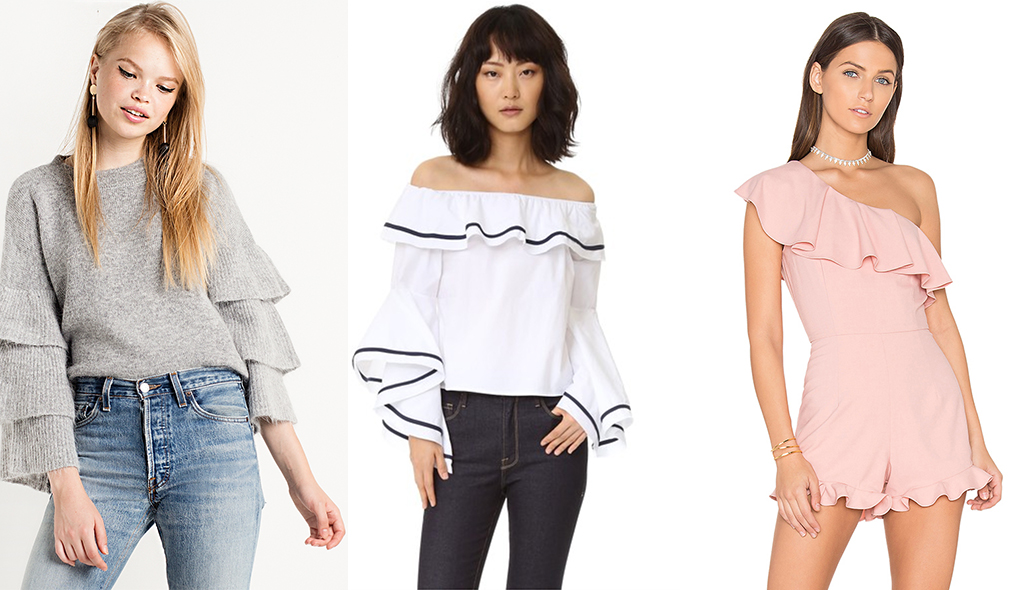 No longer just a brand of tasty potato chips, ruffles have made their comeback in the form of pretty dresses, romantic tops and sassy rompers. Our picks (above): 1. Pixie Market Gray Ruffled Sleeve Sweater, $99, 2. Style Mafia Blaze Off-the-Shoulder Top, $85, 3. J.O.A. One-Shoulder Romper $79.
7 Platform shoes of all sorts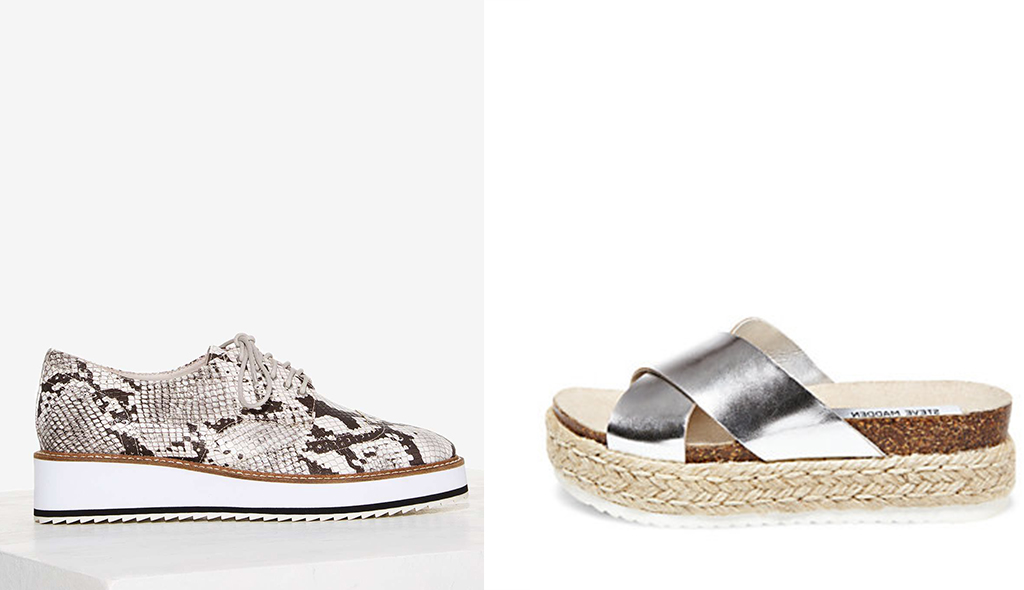 For those of you who love the look of a sophisticated heel but hate the havoc they cause on your feet, prepare to break into a happy dance. Platform heels are dethroning strappy sandals, and they're also segueing into casual footwear, too. Our picks (above): 1. Steve Madden Arren Platform Sandals, $49, 2. Shellys London Platform Oxford Shoe, $120.
8 Bardot silhouette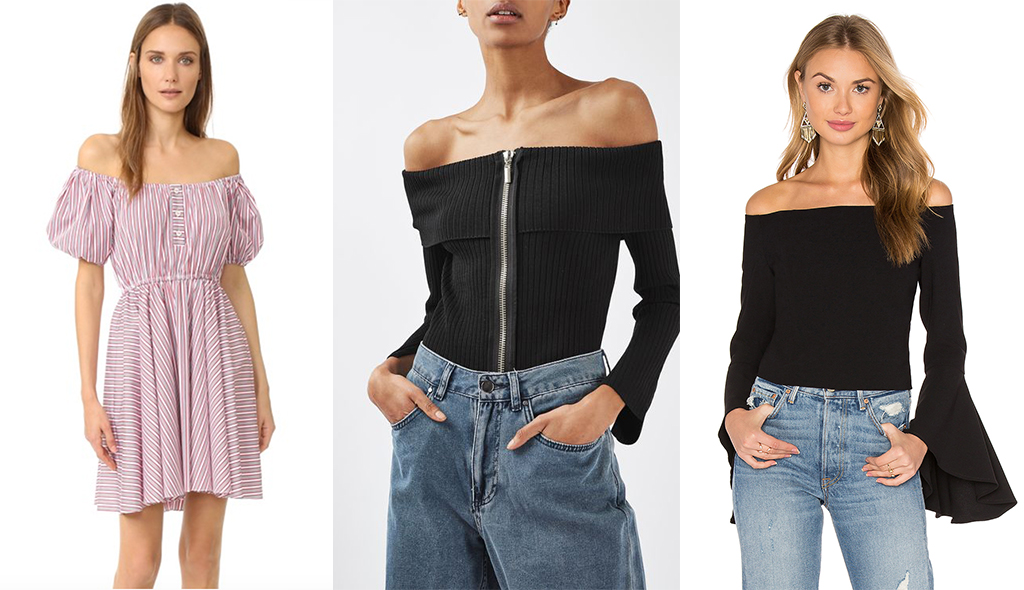 Consider this a (slight) refresher on the off-the-shoulder craze. This '50s-inspired silhouette is just as feminine as it is fun, and it's a great way to add a pinch of polish to your wardrobe. Our picks (above): 1. Caroline Constas Bardot Dress, $198, 2. Topshop Bardot Zip Top by Boutique, $115, 3. Bardot Solange Bustier, $88.
9 Duster coats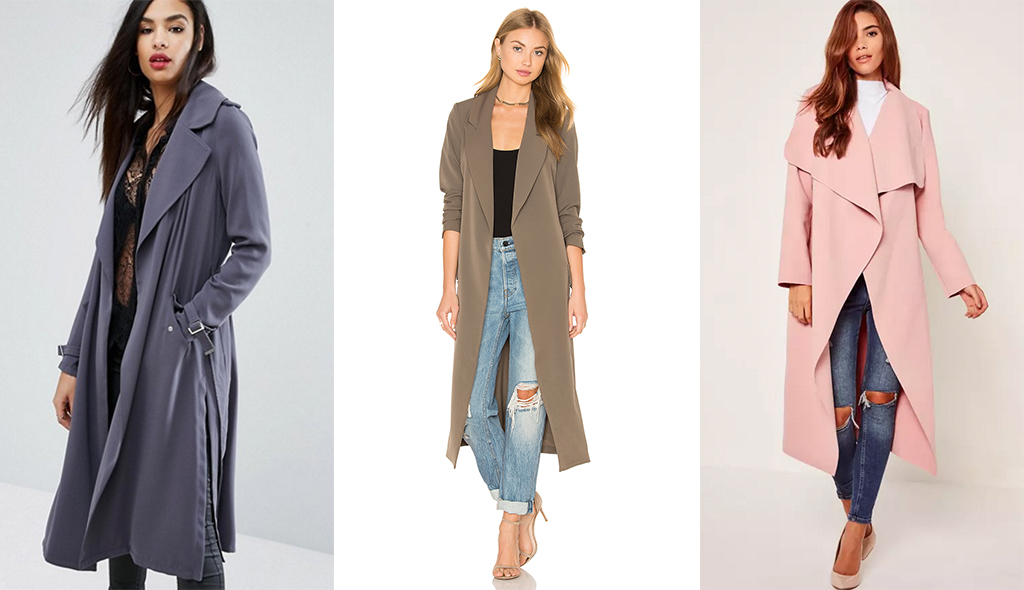 Bulk up the layers underneath for a wintery look, or just pair it with a lightweight maxi for a cooler look. However you style the duster coat, you're guaranteed an instantly poised and sophisticated effect. Our picks (above): 1. River Island Duster Coat, $90, 2. Lavish Alice Cargo Pocket Utility Duster Jacket, $87 3. Missguided Oversized Waterfall Pink Duster Jacket, $63.