9 apple recipes that will change your autumn life forever
It's hard to find a human being out there who doesn't like apples. It's a classic American fruit that can be found at grocery stores all year round, and it's often the best flavor of pretty much any candy that's ever existed (come on, admit it, green apple Charms Blow Pops and those caramel apple lollipops are the best). That's why autumn is such an exciting time of year. Apples are ripe for picking at every turn, and they're crisp, juicy, and fresh. Plus, all the baked goods and drinks get a special apple twist!
All these apple options also present you with the chance to experiment in your kitchen this fall. There are so many apple recipes floating around on the internet that you might feel slightly overwhelmed, which is why we've picked the cream of the crop. These dishes range from decadent brunches to hearty dinners to comforting pies, so take your pick. Autumn just got a whole lot more exciting.
Here are 9 apple recipes that will change your life forever.
1. Rose Apple Pistachio Tart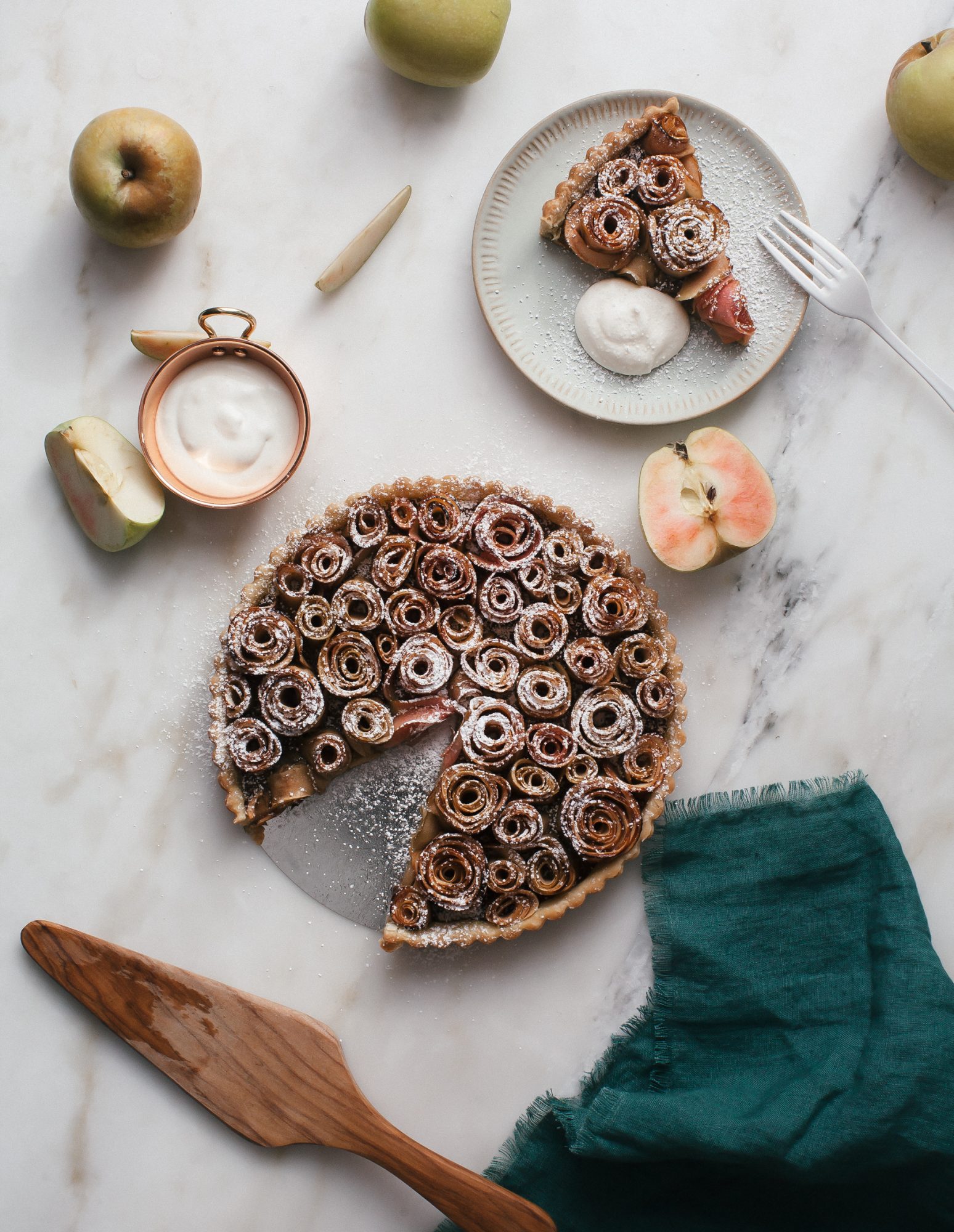 Here's a stunning take on the classic apple pie that makes its way around during this time of year. A Cozy Kitchen shows you how to make this autumn-loving pie, which combines Granny Smith apples and pistachio butter. The way you get those lovely roses on the top is by using a mandolin to thinly slice the apples. It will take some time, but it'll be so, so worth it.
2. Warm Rosemary Apple and Wheatberry Salad
The majority of autumn recipes you see will be the sweet kind, but every now and again we run into an unassuming savory apple dish that blows our mind. Well, A Better Happier St. Sebastian has thrown a tasty curveball at us. This wheatberry salad only employs six ingredients to make a warm dinner that's perfect to wrap up a chilly day. It calls for vegan butter, but if you're a dairy kinda gal, go for the regular butter.
3. Apple Cinnamon Overnight Oats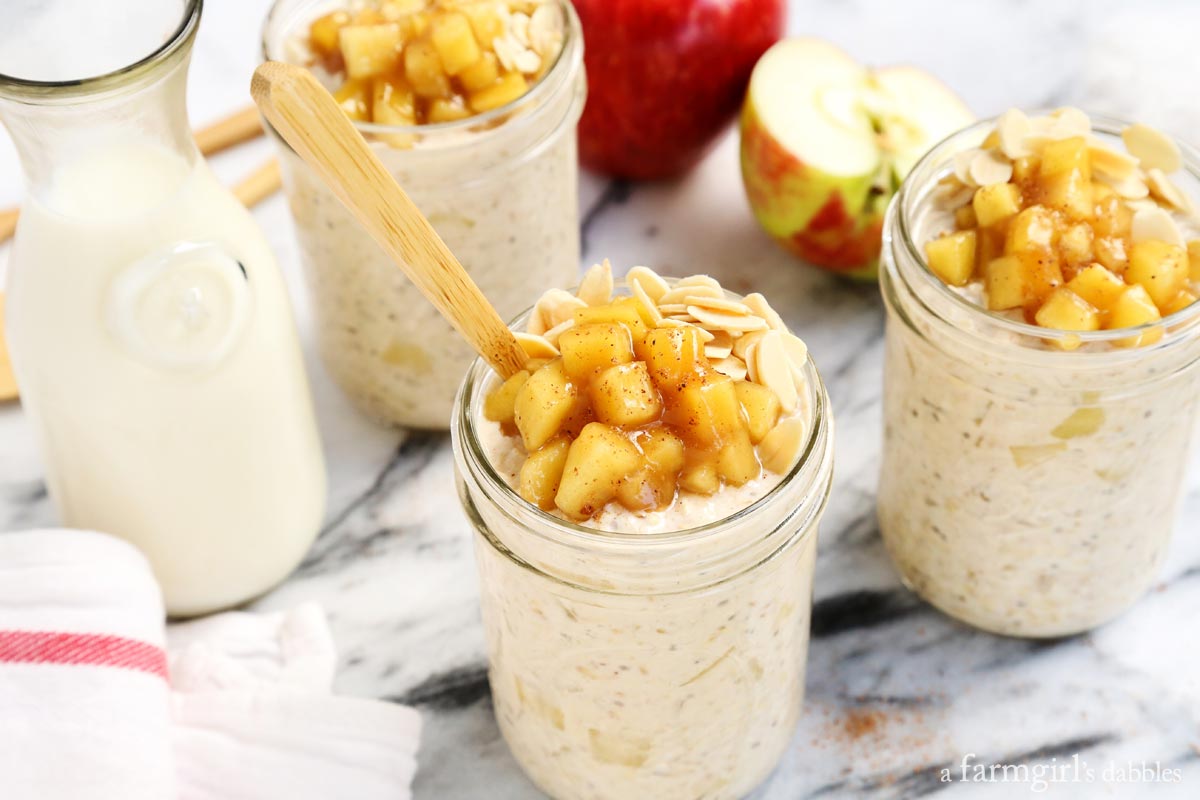 Sometimes it's the simplest recipes that make the most impact. This breakfast from A Farm Girl's Dabbles is as functional as it is delicious. Put in the work the night before, and you've got a decadent brekkie waiting for you as you rush out the door to work the next morning. Don't forget the fresh pressed apple cider!
4. Spiced Apple Cider Waffles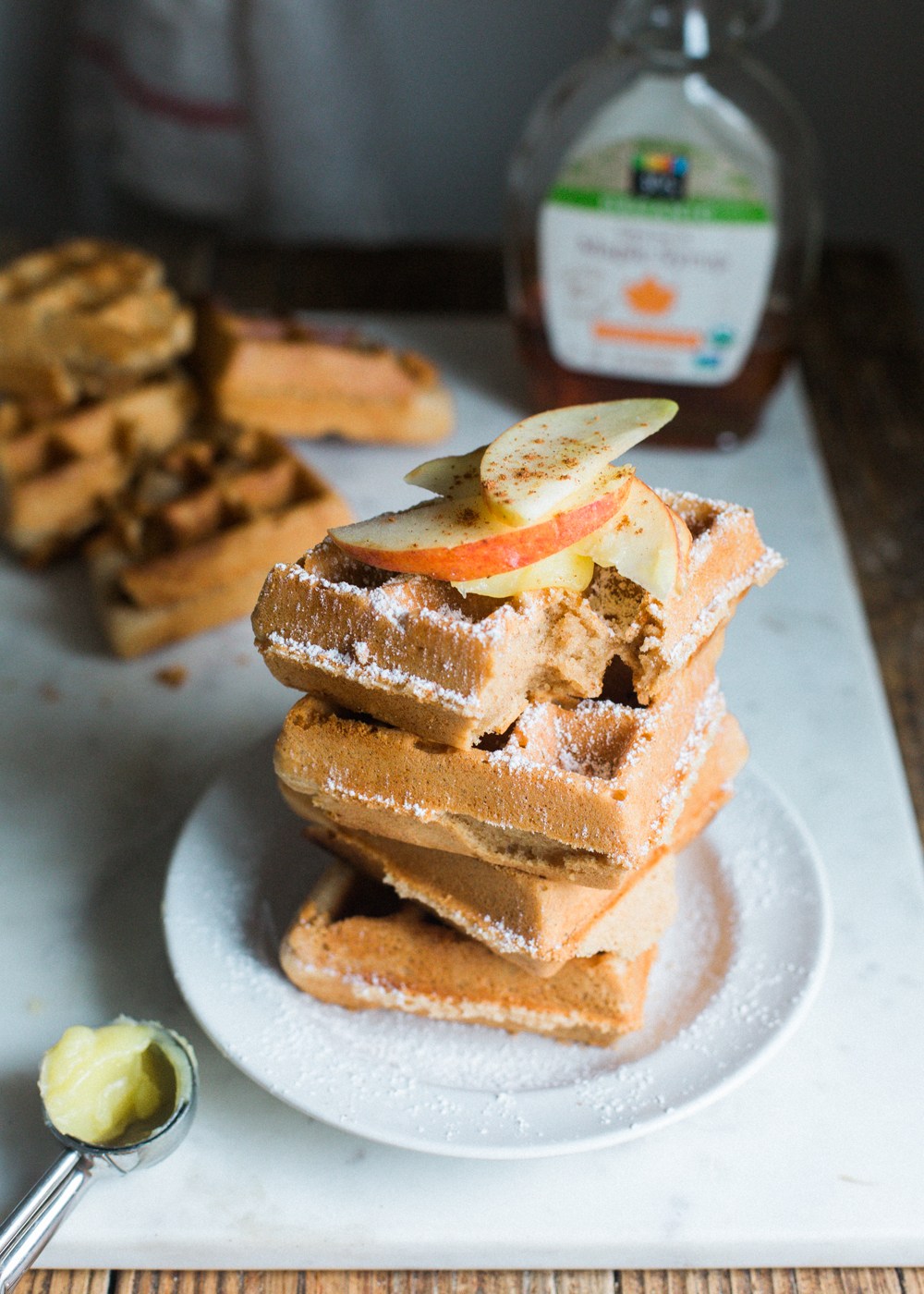 You know how some healthy versions of comfort food can be…just…not…quite…right? Well, this waffle recipe from The Urban Poser isn't one of them. Meet grain-free, paleo spiced apple cider waffles — aka your next Sunday morning. With spices like cinnamon, nutmeg, and ginger, the apple cider flavor in this dish really soars.
5. Green Curry Spaghetti Squash with Apple Chutney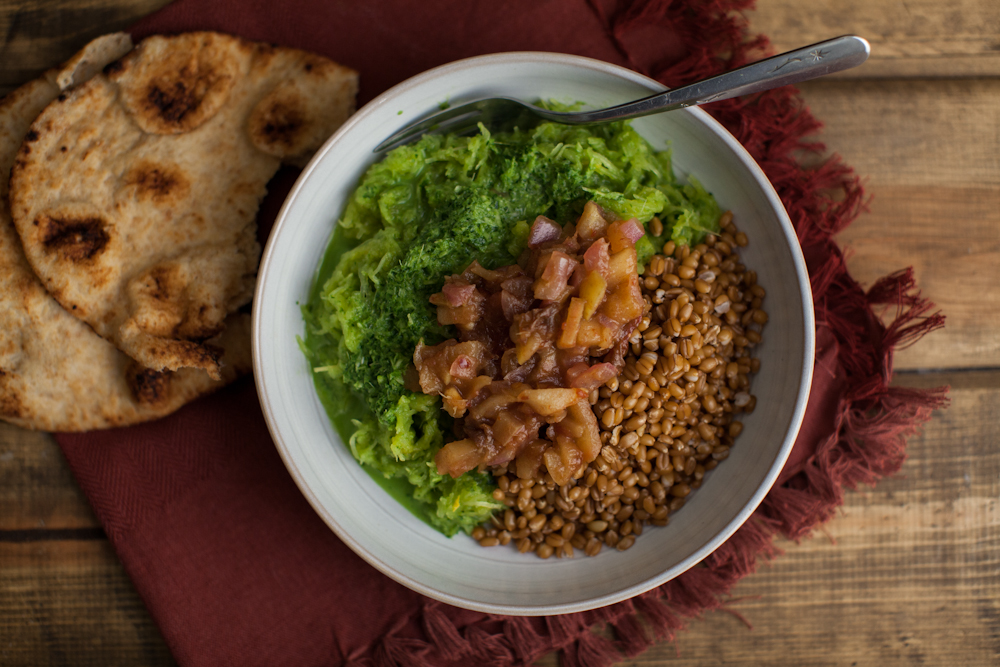 Spaghetti squash may be the star of this dish, but the apple chutney really steals the show. Naturally Ella teaches you how to make a special chutney made with apple, ginger, Medjool dates, onions, and cinnamon. It's a savory sweet explosion in the mouth that perfectly compliments the green curry flavors.
6. Bacon Apple Cheddar Pie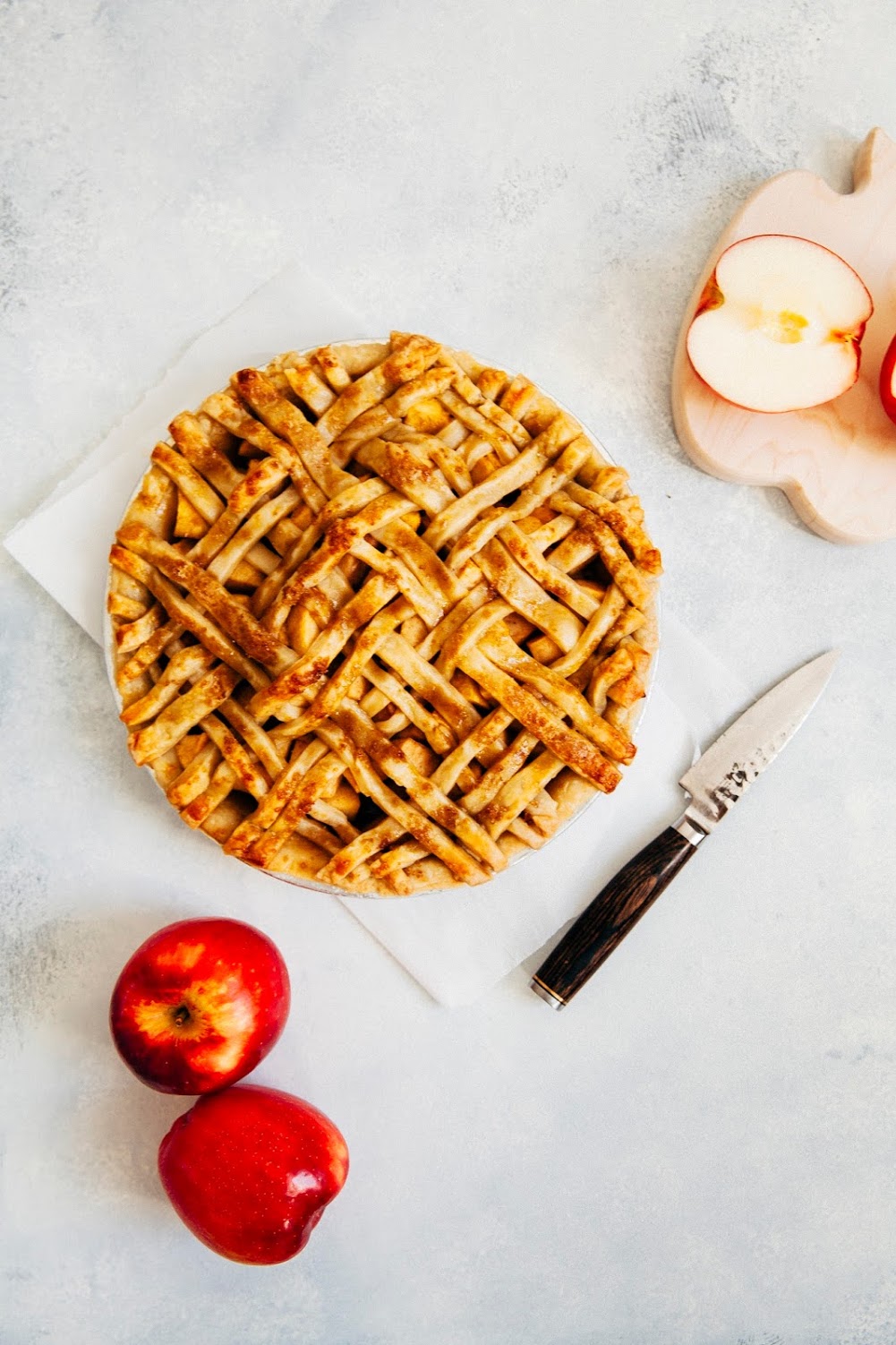 Sound weird to you? Don't knock it till you've tried it, you apple adventurer, you. The sharp flavor of the cheddar goes beautifully with the crisp apples and savory bacon. Hummingbird High suggests you even sauté the apples in bacon fat before tossing them in the pie. Um, drooling.
7. Fancy Apple Gruyere Tart with Caramelized Onions and Pancetta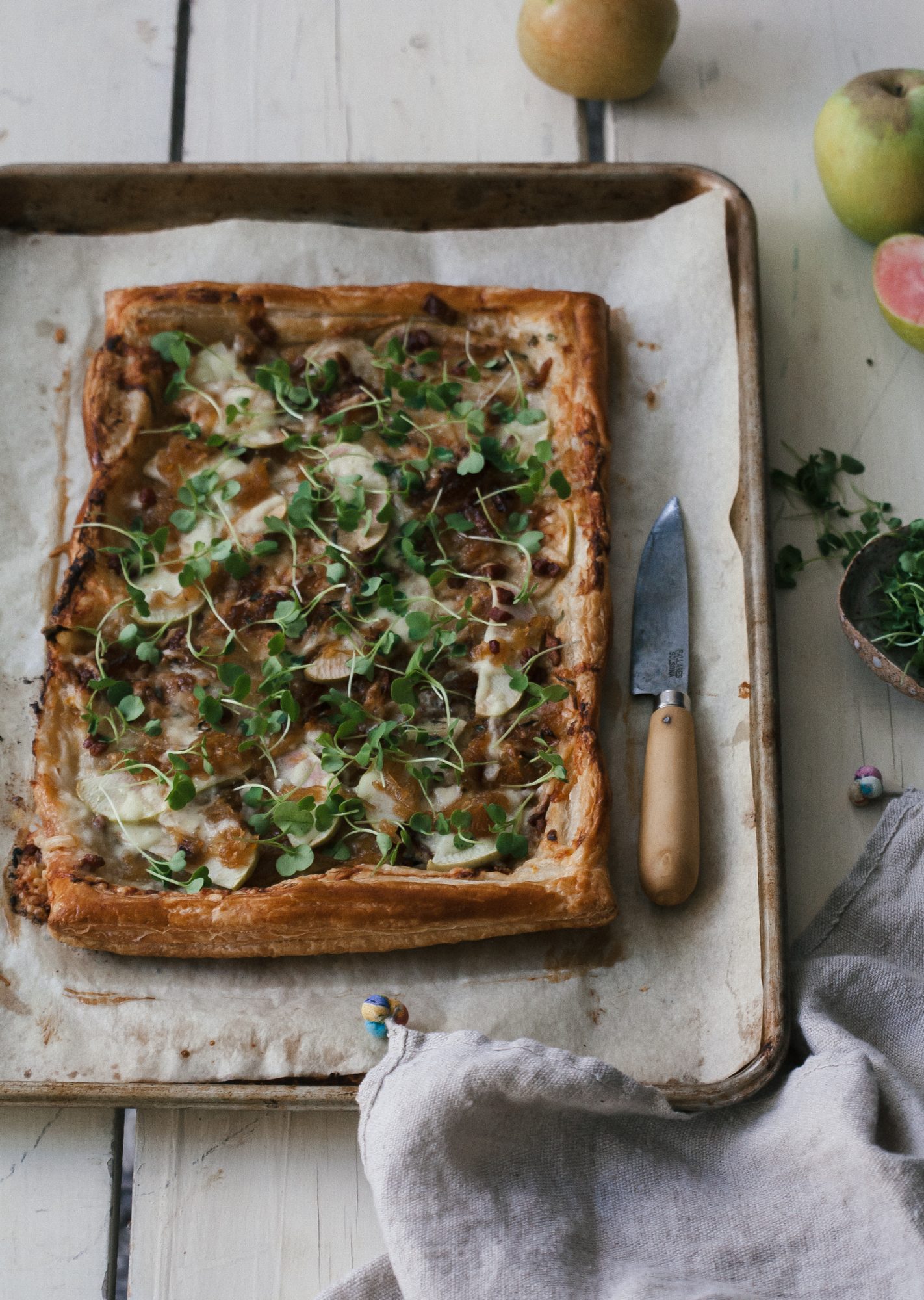 Can you even believe this exists? Can you even fathom it? Apple, gruyere, and pancetta, oh my. A Cozy Kitchen wants you to know this is a reality, and it can be your reality with just half an hour of prep time. It's pretty easy to whip together, even though it looks super classy and something that belongs in Gwyneth Paltrow's kitchen.
8. Caramel Apple Hot Toddy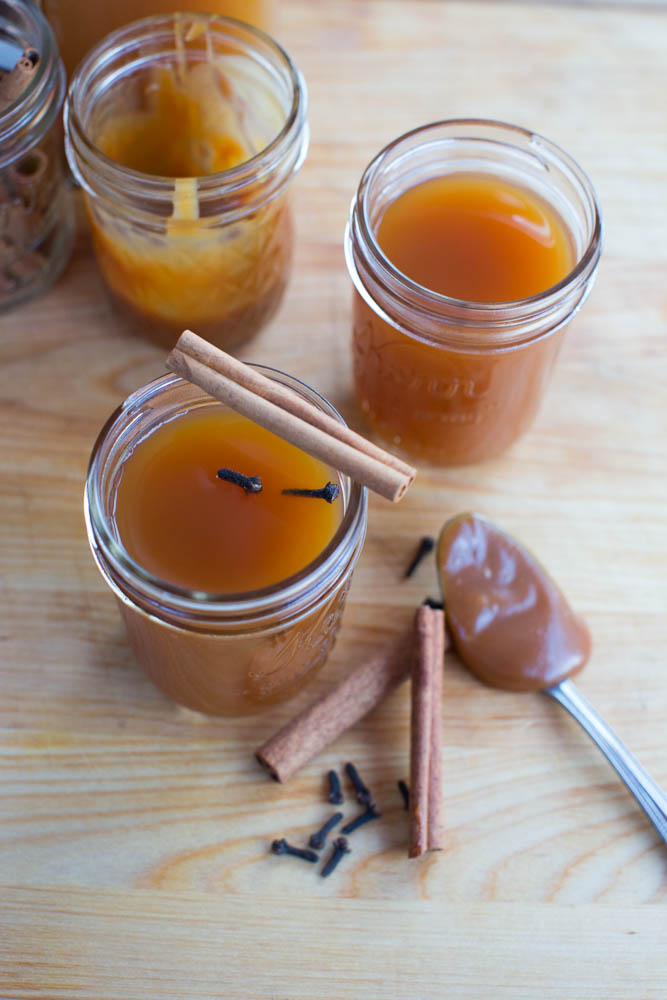 Here comes your new favorite alcoholic beverage of the season. Lick My Spoon describes this recipe as a liquified, boozed-up caramel apple. Yes please. All you have to do is toss everything into a pot and wait for it to simmer. Cocktails have never been easier.
9. Spiced Apple Bundt Cake with Cream Cheese Frosting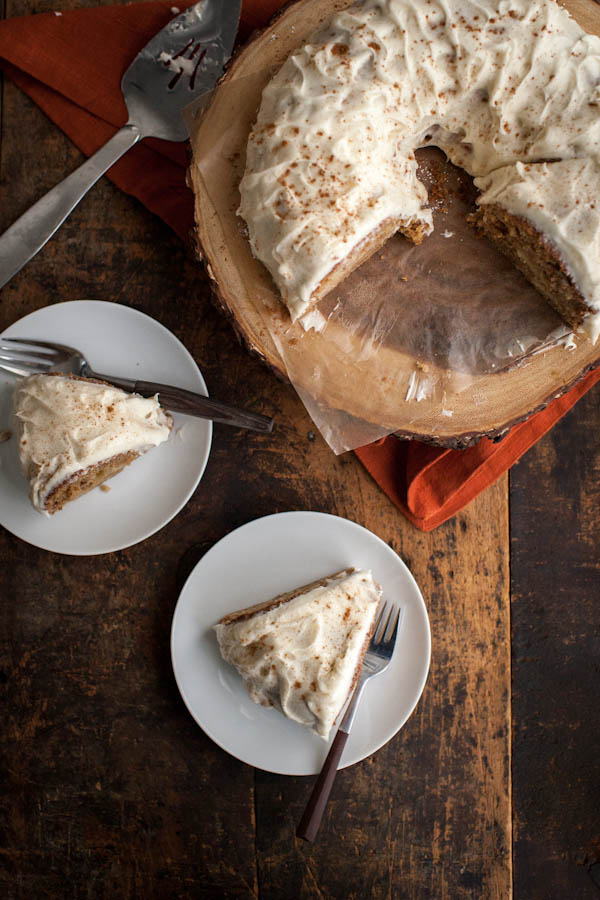 Naturally Ella isn't messing around with this monumental apple dessert. Bundt cakes have an old-fashioned feel to them, but this one has a fresh spin on it with the cream cheese frosting and apple flavors throughout. It may look like a long list of ingredients, but you probably already have quite a few of them in your kitchen, so put them to use!