These 81-Year-Old Besties Are Traveling the World Together in 80 Days
Sandy Hazelip and Ellie Hamby decided to celebrate their 80th birthdays by visiting all 18 countries.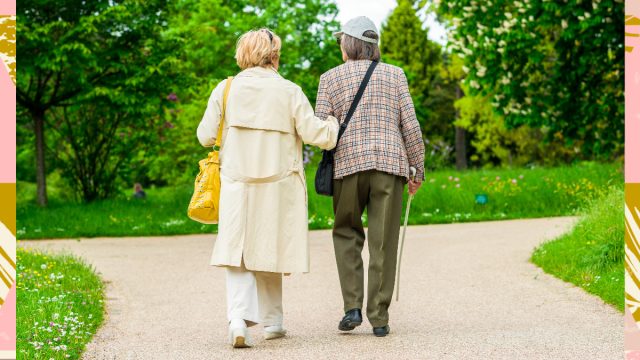 "Travel while you're young" is something older generations usually advise younger folks. In theory, it makes sense — the younger you are, the fewer responsibilities you might have, meaning you can totally travel the world and take a last-minute flight to a Thai beach and not worry about jobs, families, and health concerns holding you back.
Sandy Hazelip and Ellie Hamby, however, are flipping the script on that rhetoric. The two have been friends for more than 20 years, and their adventurous spirit proves you're never too old to explore the world.
RELATED: My Friend Left Me The Most Powerful Words of Advice Right Before She Died
Their plan? To commemorate and celebrate their 80th birthdays, they decided to travel around the world in 80 days, visiting all seven continents and 18 countries. Their trip has so far brought them to some pretty spectacular places, including Easter Island and the Taj Mahal.
The fearless seniors recently posted about their flight over Mount Everest on March 4, before heading to Japan for more world-trip adventures.
The timing worked out perfectly; according to the duo, their whirlwind world trip was supposed to take place a few years go. But the pandemic paused their plans, and as their milestone age approached, the timeline felt like a sign.
"I said 'Ellie, don't you think it would be fun for us to go around the world in 80 days at age 80?'" Hazelip explained to CBS News. Hamby enthusiastically agreed.
Their journey is not just any old pleasure tour, either — these besties are planning to visit all seven continents, along with all of the Wonders of the World. So everything from the pyramids of Giza, to the Great Wall of China, the mountain kingdom of Machu Picchu, and six more famous spots, are part of their itinerary.
Now, at age 81, the pair have been hustling through their dream. In January, Hazelip and Hamby covered one of the most difficult parts of their route: Antarctica, where they took a cruise and walked amongst penguins, while crossing the most remote continent off their bucket list.
The bffs are no strangers to what secrets the world holds. The two met while on the road as well, while working on the same medical mission in Zambia, making their connection to travel extra special.
Hamby is a documentary photographer and has traveled to 107 countries in her long lifetime. She's also been to all seven continents, so this repeat trip is a piece of cake for her.
Hazelip is also extremely well-traveled, and has even "seen the inside of a Russian jail cell" when she was detained in the country back in 2007 for overstaying her visa.
One piece of advice the two offer for travelers of any age includes reducing your budget, especially on accommodations, so you can "have more money to spend on the adventure."
"We have stayed in some unique hotels," they wrote in a recent blog post. "Some of our favorites (with million-dollar views) ranged about $13 per night."
And of course, their main words of wisdom:
"Don't sit in that chair and waste away," Hazelip explained to CBS News. "If you don't use it, you lose it."
Kat is a born and raised New Yorker exploring the world as she writes, eats, and everything in between.
Read more