8 amazing sites that will make sure you have the cheapest vacation possible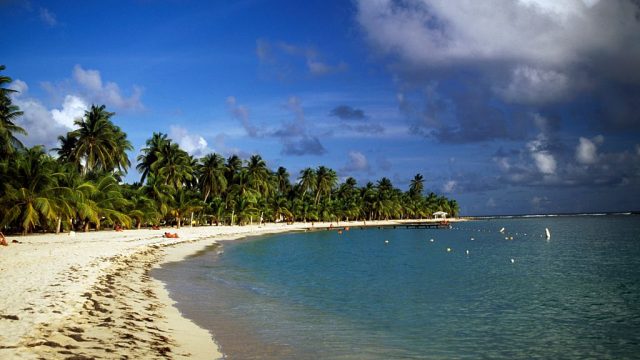 Way too many of us forego well-earned vacations because of the expenses involved. Whether you want to fly across the country or an ocean, plane tickets and hotels add up. But if you know how to play around online a little bit, set a few trackers (and don't mind some last-minute surprises), there are tons of sites to plan a cheap vacation. You probably already know some of the big flight comparing sites or that there are entire websites dedicated to sleeping on couches. But you don't have to compromise your overall comfort for a low price. Well, OK, sometimes you do. But there are so many sites that take care of so many aspects of making a vacation great, you can figure out what comforts you'll give up in the name of a bargain.
The point is: Cheap travel doesn't have to be totally miserable.
Maybe you don't mind last-minute flight changes, but hate not having a nice bed to sleep in. Or you're fine with sharing someone's Parisian house on Airbnb for a week, but will only fly nonstop if you're crossing the Atlantic. Everyone has their own preferences when it comes to travel. Here are a few sites to help you start planning your next awesome vacation. You deserve it!
false
Google does pretty much know how to do everything. If you aren't using Google Flights, you should be. It aggregates flights just like other comparison sites, but you can immediately swap for cheaper dates, set alerts for when prices go up or down so you book at the right time, or even just let Google find you the best deal for your budget, if you aren't picky about the destination. It's a good way to get a full picture of how much things cost and at different times.
This app will let you book luxury hotel rooms on the cheap. They say they offer "last-minute deals," but for those of us that like to plan ahead, that actually means up to a week in advance. You can get rooms in most major cities in most major cities, too, whether it's Milwaukee or Marrakesh. It's available on iOS or Android.
https://www.instagram.com/p/BUtobWkAqU3
Roomer is a website that helps people on both ends. If you had to cancel last minute and face a huge fee for your hotel room, you can sell it on Roomer (they take a cut) to someone else to recoup some expenses. Likewise, there are people trying to get rid of their rooms on the site. You can only choose from what's available, and it's taking a chance, but it's worth checking it out. Some of the best deals are those international hotels — see whose room you can snag and then dig for a flight.
If you've planned a European vacation, but are starting to get stressed about train tickets and cheap flights, renting a car might be the best bet. You can book before you go with Auto Europe so you don't have to worry about finding a car to drive through Tuscany once you land. The site compares all of the rental sites and finds the cheapest deals for the days you're in a country, so you can plan your itinerary around the best days to rent a car. The best thing? If you run into a language barrier or something gets messed up, Auto Europe will find someone to negotiate it for you.
This is a site that lets you book train and bus travel anywhere in the world, so you don't get lost in translation. It has expanded to the U.S. and Canada, but it's more useful for when you're overseas (since most continents have better rail and bus options than most of North America) and want to explore as much as possible without spending too much cash.
https://www.youtube.com/watch?v=drfEjkLKP3A?feature=oembed
Everyone knows about Airbnb, but this site lets you book personal properties all over the world — think the Maldives — directly from owner, too. If you have a group of friends willing to share a villa in Asia Pacific, this is the place to find it.
false
Hipmunk not only has an adorable chipmunk that helps you book flights, hotels, cars, and vacation packages, it will do so without you having to do too much. You can browse and book on your own, but you can also add Hipmunk to a group email chain about a vacation and it will check prices and plans for you. It has tons of other littler perks, too. This is the future of travel planning.
false
Staying in a boutique hotel doesn't have to be crazy expensive. Use this site to find last-minute deals on celeb-worthy hotels all over the world. Luxury stays can come cheap(ish).
No matter where you want to go, there are ways to fulfill your travel dreams and not empty out your savings account. Happy travels!