7 totally different yam recipes if you cannot take candied yams for one more year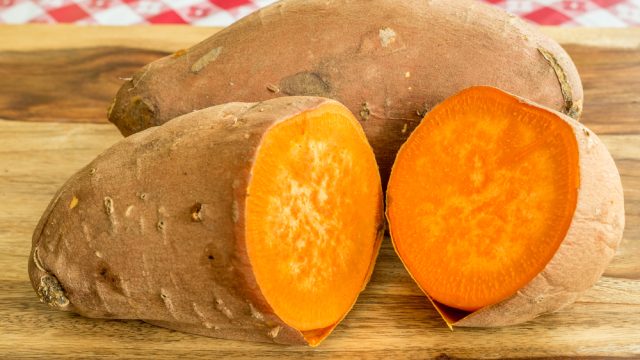 Thanksgiving is just around the corner and you know what that means — lots of tasty food and watching football, duh!
This year we have seven totally different yam recipes for you to try if you are SO over the traditional candied yams that you have year after year.
We get it, you need a change and we've got just the recipes to take your yam dish up a notch this holiday season. Plus, if you try one for Thanksgiving you can always add another yam treat to your Christmas dinner. Yam here, yam there, yams could be everywhere!
Enough talking let's get to eating — or at least deciding on what to eat — with the recipes for yam-tastic dishes below.
1. Balsamic Roasted Yams
These are a simple and sophisticated take on yams and we're obsessed. All you need is six ingredients, including yams, balsamic vinegar, brown sugar, butter, salt and black pepper and you'll be able to whip these elegant treats up in a jiffy. For the full recipe, which is only six steps, check out Not Crocker's how-to guide now.
2. Yam Casserole With Pecans
Yams with a pecan crumble topping? Sign us up! This dish is known as Mama's Thanksgiving Yams by Lovely Bites and it looks delicious. The prep time is 30 minutes as is the cook time and one hour is an easy price to pay for a tasty Thanksgiving dish like this. Check out the recipe from Lovely Bites now.
3. Hot Buttered Rum Yams
Hot buttered rum is a go-to for the holiday season, and now we've got the perfect spin on the traditional drink with yams… and lots of them. See Crave Locals' take on the sassy cocktail for a delightful delicacy that you'll make year after year.
4. Skinny Mashed Yams
You usually think of yams as being a healthy food, but this dish takes healthy to a whole different level. Instead of making your traditional mashed potatoes, which is always a good idea, you can make mashed yams and feel both healthy and happy about your Turkey Day choice. See the recipe on Serena Bakes Simply From Scratch's website.
5. Roasted Yam Fries
All hail the New York Times cooking section! We have it to thank for bringing these Gjelina's roasted yams into our lives! We don't know what we did before we had this recipe. It's a healthy spin on french fries and they are equally as delicious.
6. Yam Chips
If yams aren't your favorite holiday food, then less is definitely more. We suggest trying Mm Good's easy baked yam chips for a small, but tasty option. Plus, these are totally healthy and you can dip them in whatever dressing you want, so it's a win-win.
7. Crispy Yam Tacos
Okay, we know you're thinking that tacos for Thanksgiving is SO weird, but hear us out. These yam tacos are ideal for your post-Thanksgiving dinner. You know the day after Turkey Day when you're in a love-hate relationship with turkey? Well, these new tacos will save the day, trust us. Use Wholehearted Eats' recipe for taco perfection, complete with chipotle sauce.
pinThere are so many yam recipes to try this holiday season!