7 turkey recipes absolutely ANYONE can follow — even if you're the worst cook ever
There's this myth circulating that you have to be a good cook to nail Thanksgiving dinner. That couldn't be further than the truth, though. You don't have to have to have any cooking experience under your belt to make a fantastic turkey for your friends and family on Thanksgiving, and you certainly don't need to be a chef of any kind to make a yummy stuffing. Do you know how to read? Do you have a fully functioning kitchen? Then trust us, you're good to go.
If you have no idea what you're doing in the kitchen, one thing to keep in mind when you're planning your Thanksgiving turkey meal is that you don't have to deal with the entire bird if you don't want to. The thawing, the brining, the removing of the giblets — it can all feel a little overwhelming when you're not exactly a cooking expert. What you were probably never taught as a kid, though, is that there are plenty of turkey recipes out there that don't require the whole turkey. You can work with turkey pieces, turkey breasts, hell, even turkey sausage. Basically, go with whatever your hungry heart desires. Your guests will be impressed with any of the below dishes.
Here are seven Thanksgiving turkey recipes absolutely anyone can make — even if you're the worst cook ever.
1. Roasted Turkey Breast With Lemon and Oregano
Even the most unseasoned of cooks can pull this Thanksgiving turkey dish together. You just need to get yourself some turkey breasts, and then the rest of the five ingredients are so basic that you probably already have them in your pantry. Thank Foodie Crush for this amazing turkey dish, because even though it's easy, it's elegant enough to generate some oohs and aahs at any table.
2. Turkey and Stuffing Casserole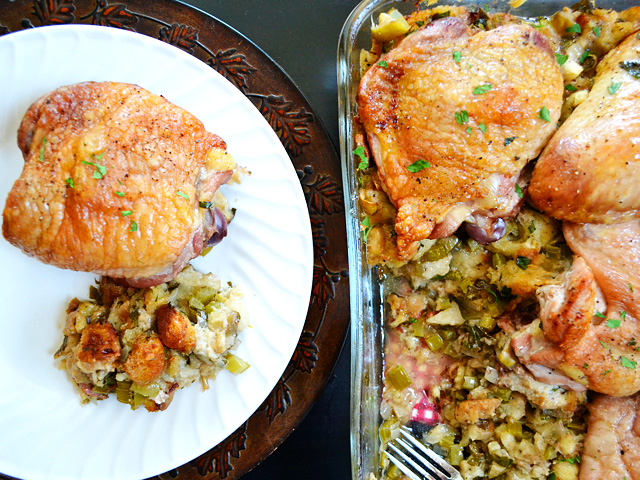 Yes, it's possible to whip up some Thanksgiving turkey and delectable stuffing all in one dish. Budget Bytes suggests you use bone-in turkey pieces, which will give you meat so juicy you'll think it was freshly carved from a big ol' bird. The rest of the recipe includes apple, French bread, celery, garlic, sage, and thyme, just to name a few. It's a simple process that produces a fancy-looking concoction, so don't be surprised when people start asking when you went to culinary school.
3. Oven Fried Turkey Breasts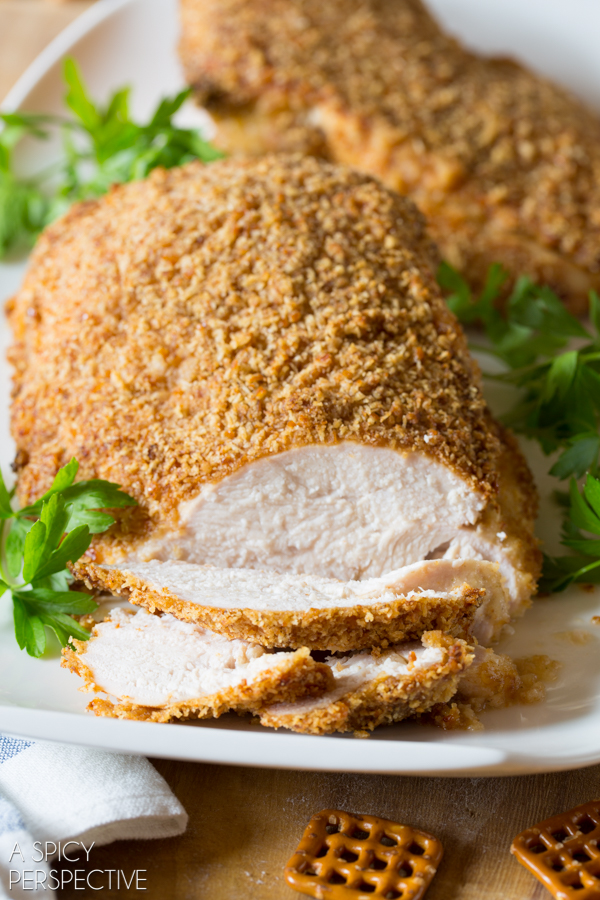 Get ready for an oven baked turkey dish that tastes like it's been deep fried. Turkey breasts can sometimes be a drag, but A Spicy Perspective puts a fun twist on it by using a crunchy coating of pretzels, Greek yogurt, and mayo. This dish feeds 8-10 people, so you'll have the chance to impress a boatload of family and friends.
4. Pumpkin Leek Stuffing With Turkey Sausage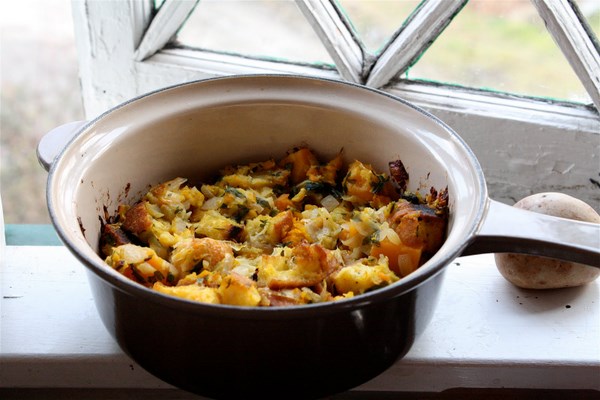 Hey, who ever said turkey sausage can't make up the main Thanksgiving turkey dish at your table? The ingredient list of this dish from Big Girls Small Kitchen may be long, but the process isn't all that hard, and the final result feeds 30 people. You might want to invite your neighbors. Bonus: if you're running short on time, most of the recipe can be prepped the day before.
5. Butternut Squash Turkey Roulade With Apple Cider Gravy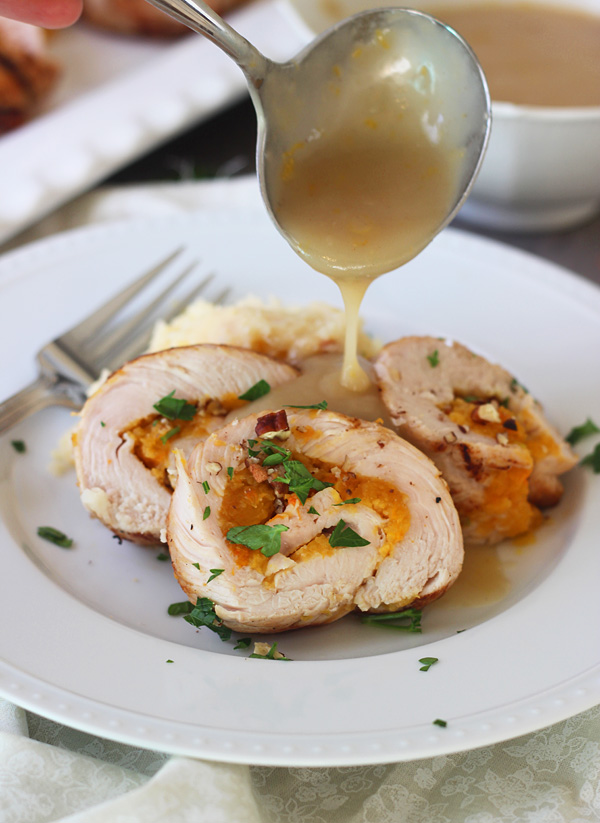 According to Cooking For Keeps, a turkey roulade is wildly simple to make and it cooks in a fraction of the time it takes for a whole turkey to arrive at the finish line. Plus, it's such a lavish looking thing to plop down on the table. The apple cider gravy is crucial to ensure the turkey stays moist and mouthwatering. Did we mention that the whole thing only requires 7 ingredients? #winning
6. Slow Cooker Turkey Breast
Slow cookers are the ultimate kitchen appliance for kitchen newbs. All you have to do is throw a few ingredients in it, turn on the switch, and keep yourself busy for several hours while it works its own magic. This simple turkey breast recipe from Food Fanatic is the perfect thing to serve to a smaller Thanksgiving crew and it requires very little hands-on time.
7. Juicy Roast Turkey Breast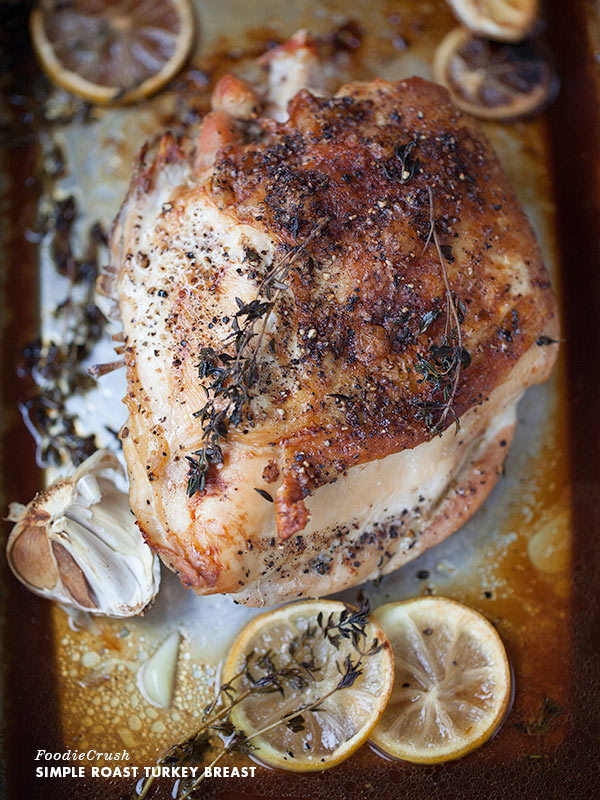 Butter, lemon, garlic, wine, and thyme. That's all you need to add to some basic turkey breasts to put together this splendidly succulent Thanksgiving main. Although turkey breasts rarely have a great reputation, this recipe from Foodie Crush will blow any of your low expectations out the window. Look at that crispy skin on the top! Beautiful.