7 things we know about Larry Nassar, the doctor who sexually abused hundreds of girls and women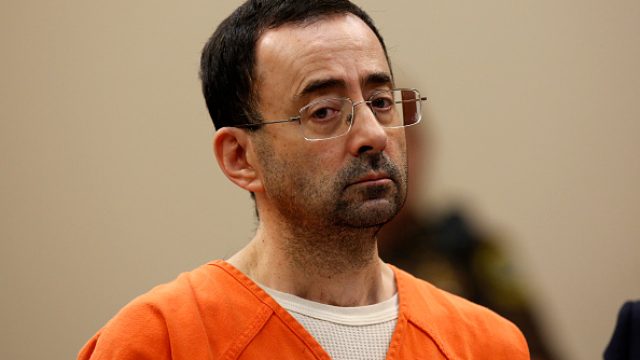 Since January 16th, Larry Nassar has been on trial for sexually abusing more than 150 women. And today, January 24th, Nassar is expected to receive his sentence. Here's what we know about the disgraced USA Gymnastics doctor.
1 He used to work at Michigan State University
Nassar became an assistant professor at MSU in 1997 and was fired in 2016, after the first sexual assault allegations against him emerged. During that time, several women say that they told campus authorities that Nassar was abusing them under the guise of medical treatment. But these women reported that school counselors dismissed their claims.
2 He also worked at a high school.
Nassar worked as a team doctor for Holt High School in Holt, Michigan while he worked at MSU.
3 Nassar is married.
Nassar has a wife, Stefanie, and three children. Nassar's wife reportedly filed for divorce and sole custody in January 2017.
4 Nassar's victims include Olympic medalists.
Olympians Aly Raisman, McKayla Maroney, Gabby Douglas, and Simone Biles have all revealed that they were among those abused by Nassar. Raisman testified against Nassar on January 19th, addressing her abuser in a powerful speech.
5 But not all of his victims were athletes.
While most of Nassar's victims were athletes that he treated, but one of the first was a friend's daughter. Kyle Stephens, the first woman to testify against Nassar, claimed that the former doctor molested her for six years starting when she was a 6-year-old.
6 He has already been sentenced to 60 years in prison for child pornography charges.
In July, Nassar pleaded guilty in federal court to three charges of receiving and possessing child pornography. He was sentenced to a maximum of 60 years in prison.
7 He once ran for school board.
The former sports doctor received 21 percent of the votes in the November 2016 Holt School Board election. According to Michigan newspaper the Lansing State Journal, Nassar tried to end his campaign in September, after the allegations surfaced, but it was too late to withdraw his name from the ballot.
Nassar's systematic abuse of these women and girls is monstrous in its scope and in how his victims were doubted. Thankfully, Nassar will go to prison, but this doesn't change the fact that we need to believe survivors of sexual assault. We commend all the women who testified against Nassar, and we hope they, and others like them, will find peace and the justice they deserve.