7 other things you can do to fight rape culture if #MeToo is triggering for you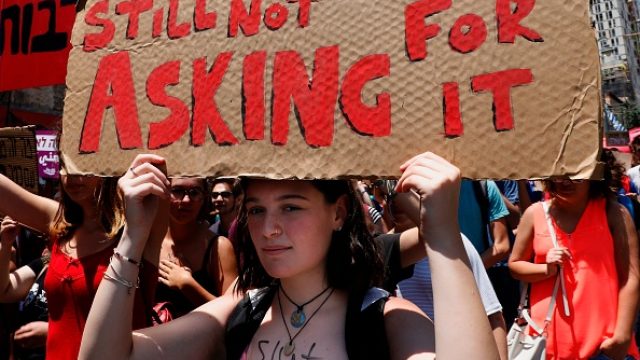 Since news broke (is it really breaking news at this point?) that yet another white male in power had allegedly used his power to sexually assault and harass women for years, the internet has been flooded by survivors' own stories as part of the social media movement, #MeToo. Activist Tarana Burke actually began the Me Too Movement in 2007 as an initiative for women of color who had survived sexual assault. #MeToo has resurfaced as celebrities, athletes, and women all over the world bravely go public with their stories of harassment and assault.
Being a woman in any part of the world means that — starting on the day you are born — society will try to lay claim on your body and your rights. If you are one of the countless women who has taken to any corner of the internet to say #MeToo, to raise awareness, to feel free, to feel less alone, thank you.
It takes a tremendous amount of courage to share these kinds of stories. But if you are overwhelmed by them, if telling your personal #MeToo story in 140 characters is too traumatizing or too triggering, if you have found that you need to avoid social media right now, that is completely okay and important, too.
Your story matters — and so do you. It is a necessary act of self-care to know your limits.
You can be an ally. You can be a friend. You can help without opening up on social media if you aren't ready to. If you are a survivor, you deserve a safe space — and that can mean avoiding Twitter for a while.
If you want to continue fighting rape culture without participating in #MeToo, check out the following organizations and advice that can offer healing and alternative ways to get involved.
1Volunteer at or donate to a Planned Parenthood.
Many Planned Parenthood centers offer Sexual Assault Services, which include emergency contraception, free and confidential counseling, as well as support when reporting to law enforcement or seeking medical treatment. Donate here and/or get information about volunteering here. And if you or someone you know has survived sexual assault or rape and you need immediate access to treatment and a safe space, find the closet PP location here.
2Volunteer at or donate to RAINN.
As one of the U.S.'s largest anti-sexual violence organizations, RAINN (Rape, Abuse & Incest National Network) has been offering public education programs and victim services since 1994, which includes operating the National Sexual Assault Hotline. The hotline can be accessed online here, or via telephone at 1-800-656-HOPE. If you want to receive education or volunteer training — and learn more about being an ally and an advocate — see if there are local centers near you that serve as RAINN affiliates and visit their Policy Action Center here. You can fundraise for RAINN here and donate here.
3 Volunteer at or donate to Anti-Violence Project.
Anti-Violence Project (AVP) has made it their mission since 1980 to empower "lesbian, gay, bisexual, transgender, queer, and HIV-affected communities and allies to end all forms of violence through organizing and education, and supports survivors through counseling and advocacy." AVP also operates a crisis intervention hotline that can be reached at 212-714-1141 and online here. AVP provides short-term counseling, as well as free legal services to victims of intimate partner violence. To help recenter the conversation around queer victims of sexual violence and further AVP's mission, request a volunteer training, consider being a hotline volunteer, and/or donate. (Here is AVP's main volunteer page.)
4Volunteer with or donate to Know Your IX.
Founded in 2013 to "empower students to end sexual and dating violence in their schools," Know Your IX focuses on eradicating gender-based violence in high schools and across college campuses. The organization draws upon the civil rights law Title IX in order to address the stigma faced by survivors when reporting sex crimes. Know Your IX offers several ways to share your story anonymously, or to lend your time if you are uncomfortable sharing but want to offer support. Consider hosting a fundraiser or publishing an op-ed. You can donate resources here.
5 Educate yourself with and donate to The National Sexual Violence Resource Center.
The National Sexual Violence Resource Center (NSVRC) is a hub for survivors, allies, and the uninformed. If this past week has allowed you to come forward, to step up, or to pay attention to injustice, consider combing through their site for countless resources regarding organizations that fight against sexual violence in marginalized communities, publications on anti-sexual violence movements, and general tools to keep yourself informed and to know your options. You can donate here.
NSVRC's listed resources are by no means exhaustive, and know that there is more than one way to do this work. Educate yourself in a way that feels healthy, and as people continue to come forward, remember that self care is vital.
6 Don't forget to unplug.
https://twitter.com/udfredirect/status/920007044589121539
You cannot be part of the fight if you are burned out. Deactivate. Delete. Breathe. The internet will continue to be filled with stories that are hard to hear and hard to read. There is no shame in taking a break when all of the bad news harms your spirit. Take a few days, a week, two weeks, or however long you need to remind yourself that there is goodness in the world. You can't do anything if you are emotionally exhausted and overwhelmed.
7Remember that you owe your story to NO ONE.
If you are not ready to share your story, if you don't want to engage in triggering conversations, then you have every right to say no and keep your experience to yourself. The only person you owe anything to is yourself. Eat something that will nourish you, drink water, laugh with your trusted friends and family, take care of your physical and emotional self.