7 things you need to know about aquaponics, a tiny ecosystem you can build at home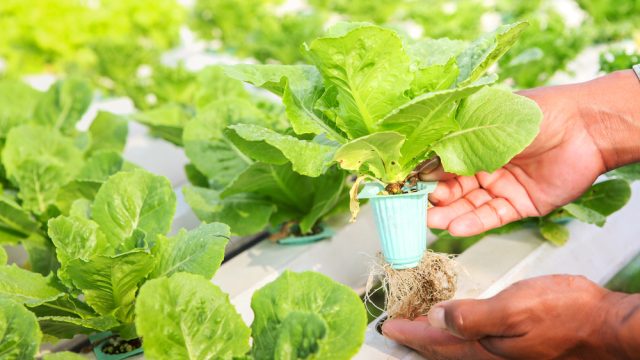 You've probably heard the buzzwords and seen a few articles, but the question remains: what exactly is aquaponics? And perhaps just as significantly, why are people suddenly fascinated by it? We're glad you asked. Aquaponics is an incredibly cool, new way of creating sustainable food while simultaneously helping the environment.
Whether you're a foodie, locavore, or would-be farmer, aquaponics has something for everybody. Here's what you need to know about this growing trend. And don't worry if you're short on space: there are aquaponics options out there for you city-dwellers, too.
Here are seven things you need to know about aquaponics.
1Aquaponics is a great way to raise plants and sea life
tAquaponics is a system that combines growing fish with plants. If you marry the concept of hydroponics with aquatic life, you've got a good idea of what we're talking about. The water and animal life underneath supplies everything the plants need to survive and thrive. The result is a fully functional (and highly useful) ecosystem.
2The plants are edible
That's the real genius of aquaponics. You can chow down and enjoy whatever vegetables you use as part of your mini ecosystem. You can grow countless types of delicious plants, from a wonderful herb garden to produce like tomatoes and kale. Just remember to do your research beforehand so you end up with plants that are on your experience level. Once you master the basics you can try for something a little more complicated.
3So are the fish
You read that correctly: you can eat the fish raised in an aquaponics system. This is part of what makes this system so amazing. So when picking the aqua part of the system, be sure to choose fish you'll actually want to eat. There are great FAQs on the best types of freshwater fish for beginners. And don't forget to check local ordinances before you start building to make sure the fish you want to use are legit.
4You don't have to eat the fish, though
https://www.instagram.com/p/BSxSviGhXXm
If you still have fond memories of your goldfish (or you just prefer skipping out on seafood), remember that you don't have to eat the fish if that isn't your go. They can live out their lives while you harvest the plants growing out of the top.
If you're a vegetarian, this is your best option for taking advantage of all the goodness of aquaponics. If fish seem a little out of your league but you want to build up to them, start simple with prawns or crayfish. Otherwise just get some fish that can survive in your system and raise them as helpful pets!
5An aquaponics system is easy to build
Want to try your hand at aquaponics? You're in luck; there are dozens of different aquaponics DIY tutorials out there for whatever style you're thinking. Whether you want a major operation or you're just starting out, you can find tons of help online. Just be realistic about how much time and energy you have to devote to this new endeavor. Do some research and find out what you need to make your unique aquaponics dream a reality.
6Aquaponics is great for locavores
https://www.instagram.com/p/BSy6WpgDVFf
If you're a fan of sustainable food and local produce, aquaponics is a dream come true. It's about as local as it can get since it comes directly from your home. And it's a wonderful choice for foodies. If you can't find some of the more obscure plants and seafood you're craving, now you can raise them yourself! This is sustainable and fresh food at its finest. Plus, it should go without saying that they're great for the environment, too.
7Aquaponics doesn't take up a ton of space
Now don't get us wrong: you can go seriously big with your aquaponics system if you feel like it, and there are some truly impressive displays out there. Whole greenhouses have been devoted to these amazing systems and the results are astounding. But the dual nature of the design means that they can take up relatively little space in your home or apartment. All you really need is a well-sized fish tank to get things going.
Take advantage of this opportunity to be creative: try out designs and styles to see what works best for your needs and the space available. Before you know it you'll be offering friends and loved ones delicious fresh food straight from your very own aquaponics system.