7 last minute Halloween costumes that incorporate your glasses
It is a struggle unique to the glasses-wearing community every Halloween:
"Oh, I love your costume! Marilyn Monroe with glasses?" "That is so clever! A cat, but one who wears glasses?" "Look at you, Sexy Loch Ness Monster with glasses!"
Must we sacrifice our eyesight each Halloween just to dress up without incessant commentary from the 20/20 vision crowd? Tired of the unfairness, this disorganized, visually impaired Features Editor gathered up some easy, last minute Halloween costumes that will turn your glasses into a key part of your Halloween night. Now, don't get me wrong, you should never let your glasses stop you from being who you want to be — but you can take advantage of them, too. You've got a built-in accessory right there, girl!
So to all those who forgot to get a costume and have also never successfully inserted a contact lens, this one's for you.
1Tina Belcher from Bob's Burgers
Keep your specs on and bow down to the animated queen of sex-positivity this Hallow's Eve. Throw on some red-striped tube stocks, a dark blue skirt, a light blue t-shirt, and a yellow barette. Carry a notebook labeled "Erotic Friend Fiction" to show the utmost respect to this smart, strong, sensual woman.
2Mary Katherine Gallagher from Saturday Night Live and Superstar
https://www.instagram.com/p/BMQDds9gZPG
A star superstar was born when comedian Molly Shannon introduced us to the hormonally-raging, suppressed, and starry-eyed high school student, Mary Katherine Gallagher. Wear your own glasses and brush your hair into a middle part. Add in a red headband, plaid skirt, white short-sleeved collared shirt, dark sweater vest, knee socks, and white sneakers. Now everyone knows you're a Catholic school drama queen! Be sure to stick your hands in your armpits and smell 'em like this before the night is over.
3Liz Lemon from 30 Rock
https://www.instagram.com/p/BLlu2rNFAcw
Comedy goddess Tina Fey gifted us with bespectacled, cheese-lovin' boss lady Liz Lemon, inadvertently gifting us bespectacled, cheese-lovin' boss ladies with an easy Halloween costume. A T-shirt, sensible blazer, jeans, and your glasses will get the job done. You can make your own NBC name tag to cement your role as the showrunner for TGS with Tracy Jordan — but holding a block of cheese or a bag of Cheetos will work just as well.
4Squints from The Sandlot
What would this cinematic sports saga from our youth be without its farsighted, wide-smiling supporting character, Michael "Squints" Palledorou?
https://www.instagram.com/p/xSmRBuSa2x
A backwards ball cap, cuffed jeans, and a striped tee or baseball jersey is all you need — besides your dark-rimmed glasses, of course. If you've got one, a baseball mitt would be cute too. Party the night away and find your own Wendy Peffercorn!
5Daria
Daria shaped a generation of sarcastic, critical, and deadpan women. Thankfully, you've been blessed with the vision impairment required to bring this cartoon legend to life. Now you just need a green jacket, orange shirt, black skirt, and combat boots.
6Lisa "Left Eye" Lopes of TLC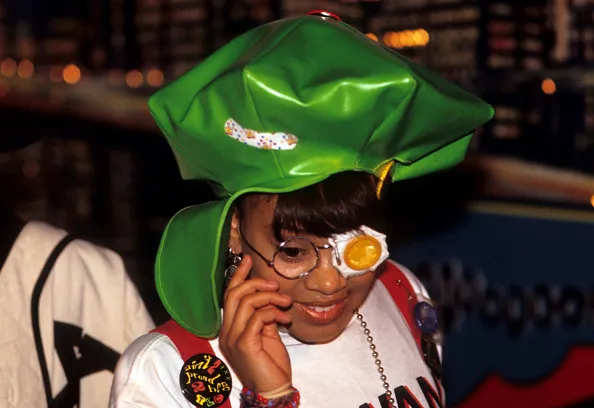 Honor the legacy of the late, great Lisa "Left Eye" Lopes by joining her in promoting safe sex on Halloween! For the tragically uninformed, during the girl group's Ooooooohhh… On the TLC Tip era, Left Eye taped a condom to the left lens of her glasses.
https://www.instagram.com/p/BalDTI7j0or
Find some baggy, brightly-colored, '90s-esque clothing at a thrift store, and grab a cartoonishly large hat if you can get your hands on one (or pull your hair up into a top knot). Most importantly, tape a condom to the left lens of your glasses.
7Velma from Scooby-Doo
This one is a giveaway. After all, the mystery-solving, meddling kid is the originator of "I can't see without my glasses!" — and since you can't either, grab a pair of orange knee socks (should be pretty easy to find this season), a red mini skirt, and a long-sleeved orange shirt. All that's left for you to do is be a proud four-eyes.