7 non-alcoholic drinks to bring to a New Year's party that are just as festive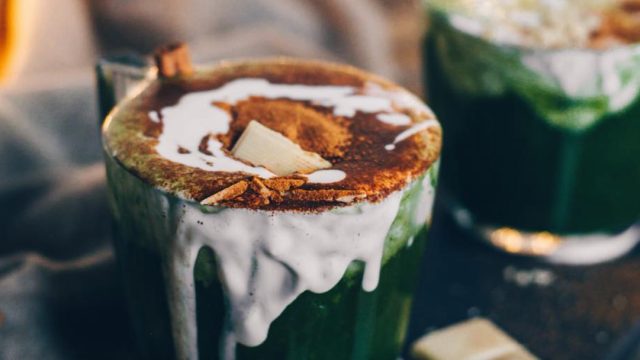 The holidays may be wrapping up, but one major event remains on the horizon: New Year's Eve! We all want to have the coolest party ever, and one thing that tends to play a big role is alcohol. But not everyone is about it! Whether you don't drink alcohol or just aren't feeling it this time around, these non-alcoholic drinks are so festive no one will care that these party drinks are alcohol free!
Since we want to make sure everyone is included in the celebration (because we heart all things NYE, and don't want to rob anyone of this magical experience, obv), we decided to seek out some yummy non-alcoholic drinks so we can all ring in the New Year together.
1This Gingerbread Hot Chocolate with almond milk, tons of spices, and sweetened with coconut sugar is absolute perfection
2This Hot Matcha White Chocolate with Coconut Cream and Cinnamon is the stuff of dreams
https://www.instagram.com/p/BN-C6liDvXi
3This Creamy Coconut Mocha is a delicious sweet treat
4This Dark Chocolate Peppermint Protein Shake is surprisingly healthy, and oh-so-yummy
5This Chocolately Strawerry Smoothie is something we could sip on all night long
6These ridiculously festive Green Grinch Smoothies will appease your friend who is still mourning Christmas
7This Vegan Protein Turmeric Drink may sound super healthy, but it's also SO GOOD
Yum, yum, and more yum! We hope you dig these alcohol-free NYE drinks as much as we do.