7 DIY turmeric masks you won't believe you've never tried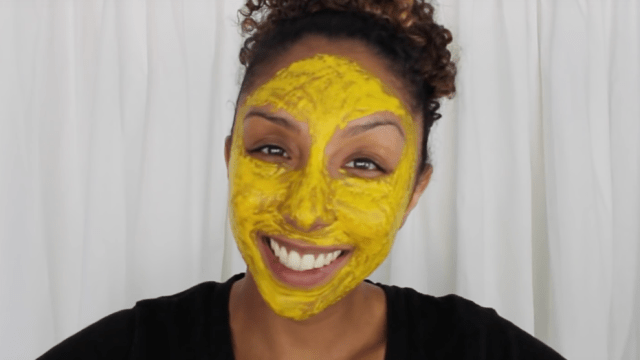 We are always excited to experiment with the latest DIY natural skincare recipes. Mainly, because we know when it comes to finding the perfect beauty routine, the best things in life *really* are free…or already sitting in our spice racks — like turmeric! It's almost impossible to navigate YouTube's natural beauty scene without stumbling over video after video of tutorials using this bright yellow powder.
We think it's safe to say, turmeric's beauty boosting benefits are super trendy right now. And for good reason.
Turmeric is full of antioxidants, and has both anti-inflammatory and anti-bacterial properties. As a result, its helpful in treating many of the annoying issues that threaten our skin. And on those days your skin might be looking dull, a turmeric mask can also help restore that gorgeous glow.
Because of its versatility, turmeric is the star of this DIY series, but the other ingredients/bases used in your masks are also important. Each ingredient brings its own unique benefits that'll contribute to the overall health and wellness of your skin.
1Original turmeric mask recipe
https://www.youtube.com/watch?v=d6uroWASTI0?feature=oembed
This mask is the simplest and easiest of the bunch. Beauty blogger Deepica Mutyala recommends mixing turmeric with a little bit of milk and honey once per week to tone and tighten your skin.
2Almond oil and turmeric mask
https://www.youtube.com/watch?v=DQRxozs-TO8?feature=oembed
The almond oil in this turmeric mask mixture will provide a bit of extra moisture for skin prone to dryness.
3Honey, lemon, and turmeric mask
https://www.youtube.com/watch?v=_MmRZw0k5ak?feature=oembed
To fade those stubborn dark spots from sun exposure or acne scars, this beauty blogger recommends adding lemon juice and honey to your favorite mask. The acidity of lemon juice will provide a natural toning effect and the honey keeps things moisturized.
4Banana and turmeric mask
https://www.youtube.com/watch?v=EzKGu6dOu_4?feature=oembed
Bananas are rich in potassium, magnesium, along with vitamins B and C, which means they're not only good for eating but they're amazing for your skin too. Throwing in some bananas into your turmeric mask will help control the over production of natural oils — no more blotting throughout the day!
5Aloe vera and turmeric mask
https://www.youtube.com/watch?v=aDrdMJN8Vb0?feature=oembed
Once dubbed the "plant of immortality" by the ancient Egyptians, adding aloe vera to your beauty routine might change your life. Its nutrient-rich make up will help slow down the signs of aging and prevent acne.
6Egg whites and turmeric mask
https://www.youtube.com/watch?v=6z9v2yR_Z0I?feature=oembed
Egg whites have astringent properties that help shrink the appearance of pores by tightening the skin. Regular use of egg whites in your DIY masks will help to remove whiteheads and nourish your skin.
7Yogurt, lemon, and turmeric mask
https://www.youtube.com/watch?v=D0VTMTO2CYg?feature=oembed
Yogurt is another great addition for your face masks. The lactic acid will help dissolve dead skin and tighten pores, leaving your skin looking totally hydrated and glowing.
Now that we've given you all these wonderful options, pick your favorite, and let us know how it goes!
TIP: Turmeric can stain clothes, so be careful! Unfortunately, we had to learn that one the hard way…