7 cute period underwear brands that also actually work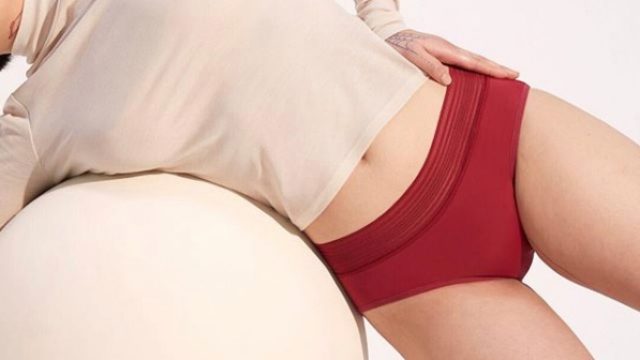 Let's get real for a second: Periods really aren't much fun. They can leave you feeling exhausted, emotional, and — perhaps worst of all — they ruin perfectly good pairs of underwear.
Luckily, the world is moving onwards, and there are now an assortment of period underwear specifically designed to absorb menstrual blood. Sparing you ruined undergarments and potential embarrassment. Not only that, but some of these brands are genuinely adorable (as in, we'd totally wear them when we don't have our periods, too).
But not all period underwear brands are created equal, and it can be hard to sift through all the varieties on the market right now. So, to make your lives just a little easier, we did the sifting for you.
So without further ado, here all the best period underwear on the market today.
1. THINX
We can't say enough good things about THINX. This brand, which is marketed to anyone who menstruates, regardless of gender, is one of the best options out there. They're reusable, extremely comfortable, secure, and come in a wide variety of styles. They even have a handy chart on which products can best handle your flow.
2. Harebrained
It helps to have a sense of humor about your period, especially when you're feeling grumpy. That's where Harebrained comes in. These delightfully entertaining period underwear will make you chuckle no matter how heavy your flow. Although they sell a wide variety of merch, their period underwear are our personal favorite —there are tons of pop culture references to choose from.
3. PadKix
A relatively new company, PadKix operates under the assumption that you can still wear cute undies on your period. With that in mind, they've designed a range of super-absorbent panties perfect for the person with a heavy flow. They're easy to wash and come in a bunch of cute patterns. You can even stock up with one of their bundle sets so you're not scrambling for protection when your period arrives.
4. Dear Kate
If you're looking for a wide variety of period underwear (or cute underwear in general), you have got to check out what Dear Kate is offering up. Their underwear will leave you feeling fresh, dry, and stain-free on even your heaviest flow days. As if that's not enough, the come in adorable designs and colors. Choose the one that fits your mood, and be prepared to feel fantastic no matter what day of the month it is.
5. Anigan
Leak-proof with a refreshing variety of styles and shades, Anigan wants to be your one-stop shop for period underwear. All the designs are hypoallergenic, and stain-resistant. You'll be able to go about your day without the lingering fear of spotting or stains. Their underwear is stylish, breathable, and criminally comfortable. You can also wear them with a pad or menstrual cup if you'd prefer a little extra insurance.
6. Modibodi
With designs perfect for every body type and level of flow, Modibodi is an awesome option in period underwear. From basic briefs to sexy styles, they've got a design you're sure to love. And in terms of period underwear, they're hard to beat. They're antibacterial, odor-absorbent, and super-breathable. You'll feel comfortable and confident all month long.
7. KnixWear
Looking for some simple but chic underwear that you can wear even on your heaviest flow day? Then grab a pair of KnixWear. Their leak-proof line is basic yet stylish, and comfortable to boot. No fear of leaking here; just reliable protection so you can wear your favorite outfit any time you choose. They even have an adorable line of leak-proof underwear for teens. Say goodbye to panic in the lunchroom!