7 best hibernation food recipes because snow days are the best for slow cooking
This time of year, there's nothing we love more than setting off the slow cooker, so having some of the best hibernation food recipes on hand is essential. After all, come January, we always get a little blue, and comfort food makes us feel less alone. (It's science.) In fact, we'd even go so far as to declare this bleak stretch of winter, "comfort food season." Whether you're longing for the classic '90s foods you grew up with, or something a little more modern, everyone's idea of hibernation food is different. Either way, bust out the duvet and the cooking wine: the snow days have arrived, and it's time to get cooking. 
Okay, so really — you can't go wrong with any of Bev Weidner's hibernation food recipes on a chilly winter day. Pulled pork pizza? Wild mushroom crostini? She's basically killing it when it comes to comfort cooking. But we really love this cozy riff on an Italian wedding soup for that bright hit of lime juice added right at the end. It's like the promise of summer just around the corner…
Nothing says hibernation food like the humble potato. Legendary blogger Deb Perelman kicks her baked potatoes up a notch with a creamy filling of cheese, butter, sour cream – and kale, because January.
This ain't your average chicken soup. Sylvia Fountaine's recipe includes the most addictive garlic and rosemary "croutons," which float on top of the bowl like a satisfying crust. Nom.
Blogger Chungah Rhee made her name on recipes that are simple, affordable and — you guessed it — damn delicious. This orzo dish is no exception. It's strewn with enough spinach to satisfy your daily veggie requirements, but it's also creamy enough to qualify whole-heartedly as hibernation food.
If your idea of hibernation food involves a little spice, this one's for you. Sydney Kramer's spin on a green curry can be served like a soup over rice, or soaked up with naan bread, per her instructions. It's a beautifully lip-tingling dish, but be sure to take her seriously about the full-fat coconut milk.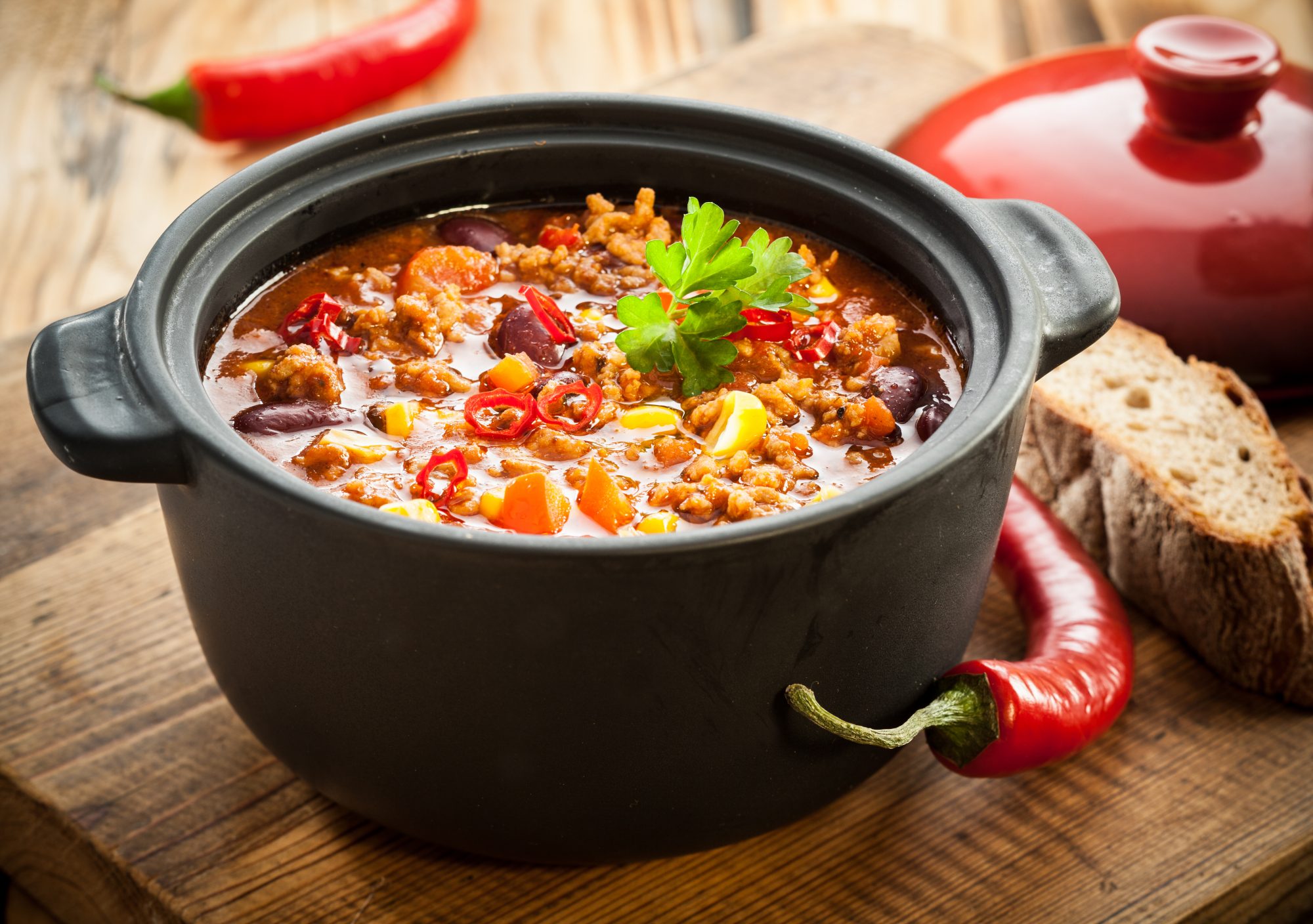 Much though we love a good Netflix marathon, sometimes there's no substitute for the comforts of the Food Network. It's full of some of our favorite personalities, Rachael Ray included. Plus, every once in a while, you tune in just in time to find a gem of a recipe – like this one. This twist on a traditional chili is so easy to make (and even easier to eat).
Kristin Porter (the Iowa girl behind popular food blog Iowa Girl Eats) wasn't kidding around when she named this soup. (It really is superlative.) Two things really make this recipe come to life: the creamy texture Porter achieves with the rice, and a generous hand with the avocado to top it all off. Yum.
So break out the pots and pans and get cooking — remember you can always freeze soups and stews and thaw them out for weekday lunches. Comfort: budget friendly and tasty as heck. What more do you want?