6 ways to make shower sex slightly less awkward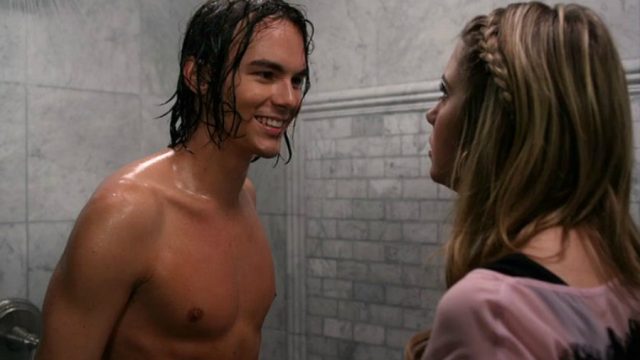 Ah, good old shower sex. TV and movies always make getting it on the shower look so hot. But in reality, shower sex can be totally uncomfortable. Luckily, there are some ways to make shower sex less awkward. But don't get too excited just yet — shower sex is always going to be a little bit awkward, even if you're a total pro and communicate to your partner via telepathy. The angles are tricky to figure out, the water temperature can change at any minute, and the risk of slipping and falling is laughably high.
If you can get it right, shower sex can be very hot, effective, even practical. You can save on time in the morning if you get each other off in the shower, a couple can hide from pesky roommates or children, and it's great for the environment — you save water! But much like sex on the beach, it can often turn into an act that seems better saved for daydreams instead of real life.
But don't give up! There's hope when it comes to having hot and steamy shower sex. Here are some things to consider.
1Don't worry about penetration.
It is a total misconception that sex has to equal penetration. This is especially true in the shower. It can be really hard, especially depending on your heights and shower set up, to find a way to safely have penetrative vaginal sex in the shower. So do all the other stuff. Speaking of being safe, water makes it hard to use a condom (it can affect the lube and cause more breakage) so skipping the old in-and-out might just a better plan all around.
2You don't have to love it.
When you're having shower sex, you might have to get into some positions you aren't used to. You are most likely going to have to do it standing up (unless you have an awesomely roomy shower with stools or a bench). If you're self-conscious about your body, shower sex can be the worst. It definitely feels very ~exposed~. So just don't do it if that distracts you from having a good time. Have fun whereever you're more comfortable.
3Make an entrance.
Um, just in case this wasn't clear, you don't have to actually shower. Unless you're into shampooing each other, save the actual bathing for before or after. It can also be really weird to start shower sex together — the awkward waiting for the water to heat up — so just knock and ask permission to join instead. Plus, if someone's already in there, you know the water temp is probably already just right.
4Don't get IN the water.
In the movies, couples are always like UNDER the shower head. This is weird for most people with regular shower heads. Even fancy shower heads! Enjoy the temperature and being wet instead. There is no way to focus on reaching an orgasm with water actively going in your eyes.
5Don't make it the main event.
Use the shower as a bookend to your sex session. So start in the shower with foreplay and then head to dry ground to finish it off the right way. Or take a little break from whatever you're doing in another room to hop in the shower and finish each other off — and then clean yourself up and get back to the real world. Going start to finish in the shower can leave everyone over-steamed and pruned up.
6Use the tub.
If you have a tub, sit on the edge of it. It makes the perfect seat to give a blowjob or to have someone go down on you. Better yet, if you're tub is big enough, just run a bath together instead. Seriously, shower sex can get exhausting really quickly.