6 things that happened when I got my first tampon subscription box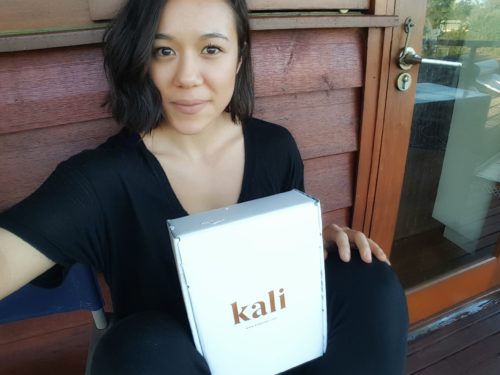 I used to think tampon subscriptions were a ridiculous idea. I couldn't see the concept as anything more than a capitalist ploy to trick women into paying more for menstrual hygiene products that are already overpriced. BUT, I'm here to tell you that couldn't have been farther from the truth. First of all, if you're not familiar with how a tampon delivery service works, it goes a little something like this. You sign up online for a monthly subscription, and every month a box of tampons lands at your doorstep like clockwork. That's the shorthand definition, but you'll see below there's a lot more to it than that.
I can thank Kali Boxes for my first tampon subscription experience. Kali is a company that creates and sells subscription boxes containing the feminine essentials you need for a healthy, happy period. You pay $19.95 a month plus shipping, and a box arrives at your home by the first of each month. Hello Giggles spoke with Sara Shake, the co-founder of Kali, who says she had more in mind than simply selling tampons to women. She decided from the start that they would produce organic tampons that were better for the environment (which wasn't really being done until very recently), while also giving women a lovely period experience. Finally, Shake was set on finding a way to give back to the community with every Kali box she sold.
After speaking with Shake, who was as enthusiastic and bright as she was warm and accessible, I was intrigued. I had to get my hands on my own box and figure out what all the hype was about. Here are six things that happened when I received my first Kali tampon subscription box.
1. I realized that these tampons are way better for my body and the environment.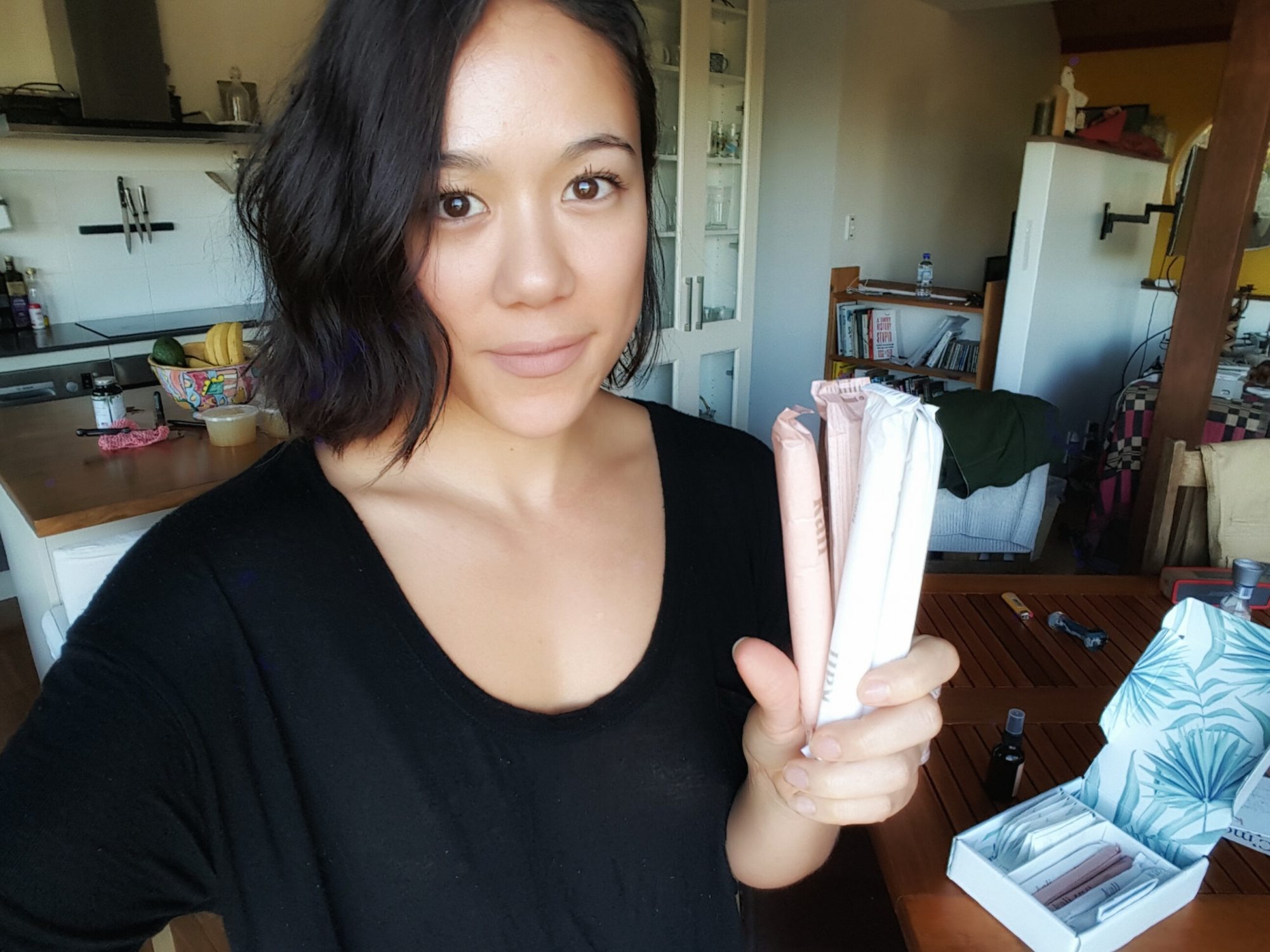 Did you know that most of the tampons you get at the pharmacy are often full of toxins? You can find styrene, which is harnessed to make car tires, chloromethane, which is used in petroleum refining, chloroethane, and acetone in your run-of-the-mill tampon.
That's why the tampons that come in the Kali box gave me peace of mind. They're 100 percent certified organic (the certified part matters!), biodegradable, and hypoallergenic. Shake says her goal when creating Kali was to make tampons that were "safer for your body and more planet friendly." There are no chemicals, no synthetics, and no dyes in the tampons. In each box you can choose from Super or Regular absorbency, or a combination of both.
2. There's more in the box than just tampons.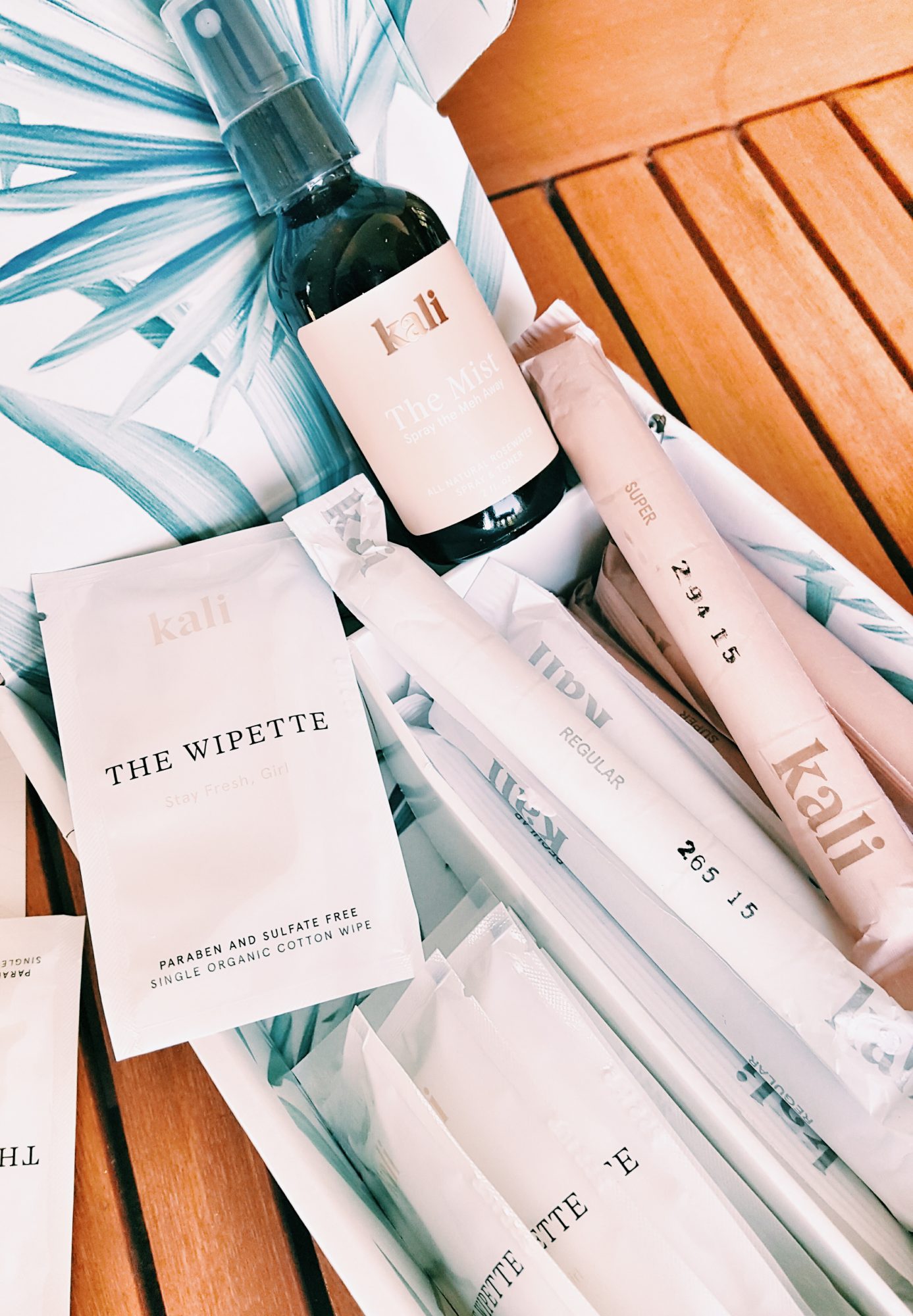 Tampons are just the beginning, my friends. In every Kali box you receive 14 tampons, natural Kali wipes, and the product of the month. In my box, that product was the Mist spray, which is a rosewater facial toner and spray to balance out the pH levels of your skin. Let me tell you — it smells divine. They rotate this product every month, though, so you could be surprised with things like bath salts or a sugar scrub. This whole box costs $19.95, a small price to pay for the mini-spa arriving at your front door!
3. It was actually really exciting to open my box!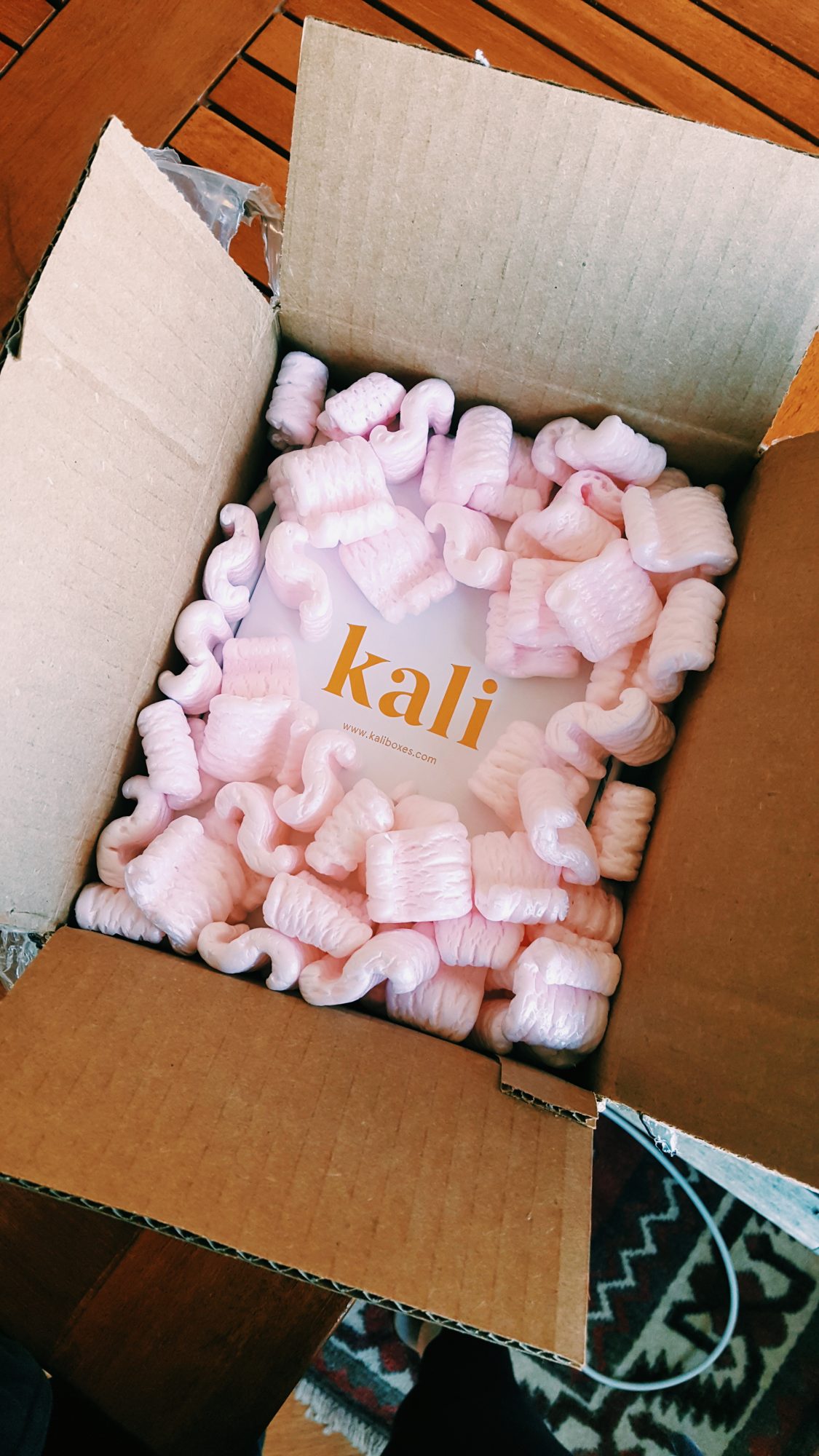 I don't usually like pink things. I don't even own anything pink (as you can see, I'm usually clad in black). But there was something wildly exciting about picking up a box at my front door and ripping it open to find cute pink styrofoam surrounding my Kali box. It made me feel special. It even made my vag feel special! Think of it as a welcome party for your period. I don't know about you, but I spend most of my time dreading my period. I can imagine, though, that getting this lovely box in the mail every month might make the whole thing a little more enjoyable.
Shake tells Hello Giggles that this is the point of the Kali box. It's all about pampering ourselves. She says, "Some women are like, '$20 a month? Whoa.'" But they quickly realize that you're paying for the whole experience — and it's totally worth it. We deserve to indulge when we're on our period. Menstruating is not easy, amiright?! What better way to treat yo'self than to unwrap a chic box full of organic goodies?
4. I felt a little less self-conscious about my own period.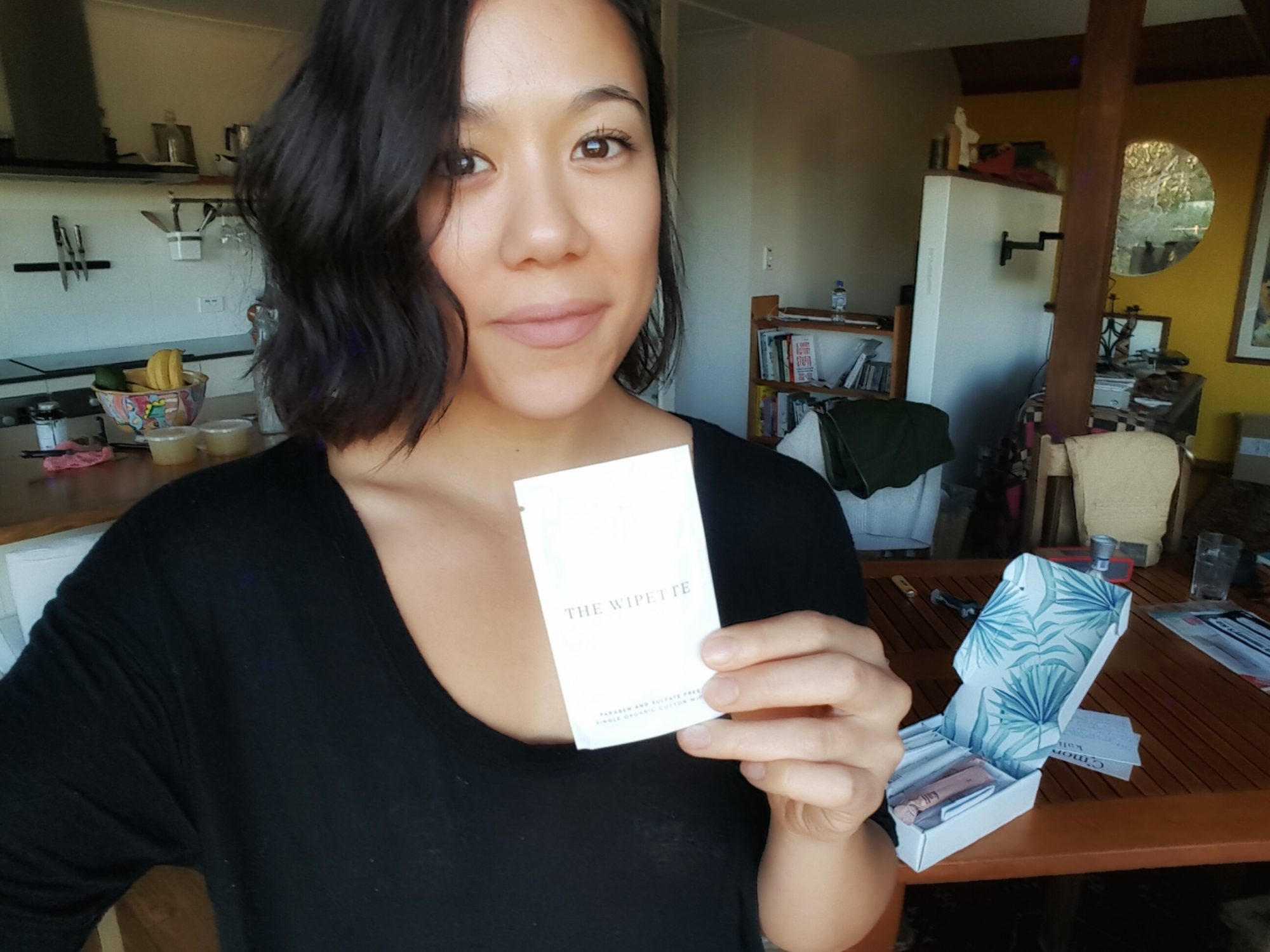 Okay, time to get real. I get a little nervous about the smells that happen down there when I'm menstruating, and I know I'm not the only one. I refrain from using soap on my vag and I never buy products from the pharmacy that claim to keep you fresh but really just slather unwanted chemicals on to your body (lookin' at you, douches). There are times when I get so self-conscious about my vag scent that I avoid having sex with my partner.
So I was thrilled to see that I had quite a few Kali wipettes in my box, and I read online that they're designed to be used anywhere on the body. Yep, even on your vagina. They're made with organic cotton, and they're sulfate and paraben free. I took one in the bathroom and used it immediately. It was an instant fresh pick-me-up, without any fear that I had just contaminated myself with nasty, synthetic ingredients. I used a wipette every single day after that, and I noticed that I felt much cleaner down there. It sounds like such a small thing, but it truly did leave me feeling more self-confident as I waltzed around the house in my denim shorts.
5. I found out that I'm helping girls in need with every box I purchase.
For every box purchased, Kali donates $1 directly to Girl Up, the United Nations Foundation's adolescent girl empowerment campaign. Girl Up raises funds and awareness to help young women in developing countries receive the education and healthcare they deserve. They also provide a safe place for girls to come if they're suffering from abuse or violence. Their primary goal is to strengthen and empower girls so they can grow up to be a powerful force in their own communities.
Shake beams about how what a positive effect Girl Up has had on disenfranchised females around the world. "These women are becoming so much more educated," she says. "They have so much heart for other girls across the world." It's exciting to know that we can all have a small part in this cause simply by buying a box of tampons.
6. It became somewhat easier to talk about my period.
My boyfriend was home when my box arrived in the mail. He watched me open the packaging with so much excitement that he couldn't help but linger around and see what was going to unveil itself. As soon as he saw me pull out tampons, I was surprised to see him walk a little closer to me with curiosity.
"What's that about?" he asked.
"It's my first tampon subscription box!" I replied.
"Wow…" he said as he peered into my box at all the items. Then, he smiled at me and added, "That's a nice thing to get in the mail."
What ensued next was an honest conversation about my period. He asked about the products in the box, how they were different from normal tampons you buy at the shop (he was infuriated to learn how normal tampons are packed with chemicals and synthetic ingredients), and we even chatted about the Kali wipettes and the smells they whisk away.
I was shocked to realize that I wasn't as shy as I normally am talking about this subject. It's amazing that we as women still get a little nervous speaking honestly about our menstrual cycles with our loved ones, when it really shouldn't be any different than talking about any other health factor. Shake admits that she's always been hesitant to talk about her period, too. "It was just something I didn't talk about," she says. "Even being in our 30s we're still embarrassed to buy a box of tampons in the drugstore, and that's crazy."
Menstrual taboo still lives on, and it can be a strong force. That's why Shake has done her best to create a "culture of communication" with Kali Boxes. Kali encourages women to open up about their period, share crazy period stories, and celebrate the fact that they are healthy, menstruating individuals. Because the more we talk about our bodies, the easier it will be to love our bodies — and take care of them in the best way possible.