6 products you can buy to support Planned Parenthood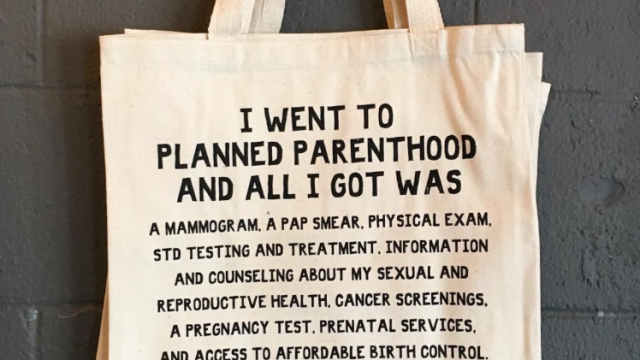 As you may know by now, Paul Ryan recently announced that the Republican Party plans to entirely defund Planned Parenthood in the coming year. For many of us, the thought of being in a world without Planned Parenthood is terrifying. At the end of the day, going to Planned Parenthood isn't some evil, horrible thing. It means you're getting healthcare and taking care of yourself. Why is that something our lawmakers want us to apologize for?
Now more than ever, it feels essential that we band together to support Planned Parenthood and say that, no, it's not okay to strip us of fundamental health resources for political reasons. It just isn't right. Here are some of our favorite messages of support in the form of style.
Here are a few ways you can support Planned Parenthood.
1Grabbing one of these "I went to Planned Parenthood and all I got was…" totes that went totally viral
With all proceeds going to Planned Parenthood.
2These beautifully designed Nasty Woman tees
https://www.instagram.com/p/BO-3qs0DDrl
With profits split between Planned Parenthood and the International Refugee Assistance Project.
3These felt pins are absolutely adorable, and statement making
With $5 per pin going toward Planned Parenthood to support reproductive healthcare.
4This gorgeous Year of the Nasty Woman Planner
With 50% of proceeds from these planners going to Planned Parenthood.
5The iconic The Future Is Female tees that swept the nation during election season, and continue to be a rallying call for many
25% of t-shirt sale proceeds donated to Planned Parenthood.
6And these undeniably rad abortion heart pins
With all proceeds going to Planned Parenthood!