The 6 Most Instagrammable Houseplants (That You Can Keep Alive and Thriving)
These plants are trending and having their moment in the social-media sun for good reason.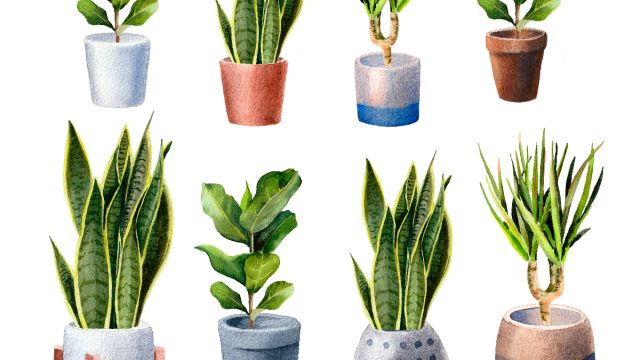 Houseplants are the perfect way to add life and zest to any living space and an essential part of creating a calm and zen atmosphere. Not only can they spruce up your home by adding color and interest to your decor, but studies also show that having them around can improve your overall mental and physical well-being. In short, if it thrives, you thrive.
Houseplants are trending thanks to millennials, plantfluencers, the plant-based movement, and a post-pandemic WFH culture. In fact, 7 out of 10 millennials refer to themselves as "plant parents," according to Garden Pals.
Maria Failla, Author of Growing Joy: The Plant Lover's Guide to Cultivating Happiness and host of the Bloom and Grow Podcast, says the most "Instagram-worthy" plants are healthy ones. "It's all about picking the right plant for your lifestyle, not necessarily which one you've saved the most on Pinterest," she says. "Assessing your indoor lighting is the first step."
While there are more than 60 varieties of houseplants to choose from, how do you know which are right for your humble abode? Opt for one (or two or three!) that is super Instagrammable, aka always looks good and ready for a close-up. Some plant varieties are even raking in more than 5 million hashtags on Instagram—that's more than many celebrities!
New research from California-based real estate company RubyHome has revealed the top 6 plants people are posting about. These popular plants are having their moment, no filter necessary. They will look great on your desk or office shelf, are relatively easy to care for, and also offer health and wellness benefits. We've outlined the top six here, so you can become a plantfluencer too!
1. Aloe Vera
This plant has been a household favorite for centuries due to its medicinal and cosmetic purposes—especially if you've spent a little too much time in the sun. It's also nice to look at too, which is why it takes the top spot on the list.
The plant (scientifically known as the Aloe barbadensis miller) had the highest number of hashtags of any plants on Instagram, with 5,155,019 combined on the platform to date.
RELATED: 30 Best Zodiac Tattoo Ideas
2. Agave Americana
Agave Americana, otherwise known as Agave, places second with 1,835,178 posts on the platform. Sort of like Aloe Vera, this plant has plenty of uses, not only as a "healthier" sweetener but also because its sap and juices can be used to treat many gut-related issues.
It's also rich in nutrients which is why many see it as a great alternative to honey and sugar.
3. Haworthia
Hawa-what?? It may not be a household-name houseplant but it sure is popular. Taking the third spot on the list is the Haworthia plant. Scientifically known as Haworthiopsis Attenuata, the plant has a total number of 824,048 posts on Instagram.
The experts at RubyHome say its popularity is due to its ease of care, as it can tolerate many different lighting conditions and can last long periods in dark spaces. So, if you like to hibernate all winter with the curtains drawn, then this plant is perfect for you.
4. Sedum
Fourth on the list is a succulent known as Stonecrop, but its proper name is Sedum. This one is extremely popular among beginners (read: those without a green thumb) as it can endure harsh conditions and survive prolonged periods without water. So if you're like me, and you can't seem to keep anything greenery-related alive, then this plant is for you.
5. Mammillaria
You don't have to live in the desert to enjoy the look and overall aesthetic appeal of this prickly plant. Mammillaria, also known as Pincushion Cactus, has more than 500,000 Instagrammers who are posting its praises. That could be because of its small stature (perfect for a desk or an end table) and its ease of care.
6. Dracaena Trifasciata
Last but not least on the list is a nocturnal number with an interesting nickname, and even more interesting benefit. Known as the Snake Plant, Dracaena works as an air filter overnight, helping to rid your home of toxic pollutants. It's one of the few plants that work to convert carbon dioxide into oxygen, while you catch your zzz's. This plant is also said to help enhance the energy of a space, according to Feng Shui, as well as fight allergies and help heal minor ailments.
Whichever one you choose, don't forget to add a cool or interesting planter for it to live in. If you're still having trouble deciding, Failla has a plant parent personality quiz on her website to help make the decision easier for you. Happy plant-shopping!
Jené Luciani Sena is an accredited journalist and internationally-renowned bestselling author, regularly seen on national TV outlets such as Access Daily, Today and Dr Oz. Touted as one of Woman's World Magazine's "Ultimate Experts," she's a TEDTalk speaker and a busy Mom of 4.
Read more