6 movies you NEED to see in June, because the 2017 summer blockbuster season is here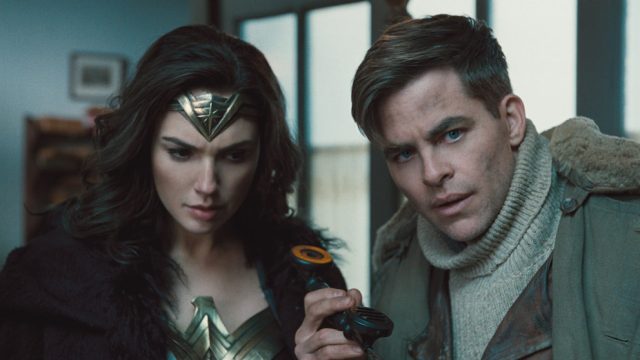 Roll out the red carpet, because the 2017 summer blockbuster season has (finally) arrived! And whether you're a fan of badass superhero sagas, LOL raunchy comedies, soulful biopics that make you feel all the feels, or jump-out-of-your-seat horror flicks, Hollywood's latest soon-to-be smash hits lighting up this summer's silver screen will provide.
So, dig out that Fandango gift card your grandmother gave you for Christmas and stock up on your favorite snacks to smuggle into your local cineplex (Red Vines, Cherry Coke, and a bag of pre-popped microwave popcorn. Done!). Here's a rundown of lit AF movies you must see in the theater this June!
"Wonder Woman," June 2nd
https://www.youtube.com/watch?v=1Q8fG0TtVAY?feature=oembed
Have you ever screamed with excitement after watching a movie trailer? Well, get ready. At long last, the Amazonian warrior princess Wonder Woman makes her big screen debut, starring in a standalone, action-packed superhero summer tentpole that has fans of the famous comic book character practicing their sword-shield combat skills in their living rooms.
But this film kicks ass in more ways than one. Helmed by Monster filmmaker Patty Jenkins, Wonder Woman is the first major motion picture superhero origin story directed by a woman. HELL YEAH!
"It Comes At Night," June 9th
https://www.youtube.com/watch?v=o-0hcF97wy0?feature=oembed
If you're in the mood for something a little more creeptastic, check out It Comes At Night. Joel Edgerton stars as a super-protective patriarch who has sequestered his wife and their teenage son in a secluded country house in the wake of a mysterious, destructive force that has decimated modern civilization. When another young family shows up on their doorstep in need of refuge, all hell breaks loose — inside the house, mistrust and paranoia boil, while the horrors outside creep ever closer.
"Rough Night," June 16th
https://www.youtube.com/watch?v=oIB4jNYeRY4?feature=oembed
We've all been there. You fly to Miami to meet old friends for a boozy bachelorette weekend complete with wild dancing, maybe a little recreational drug use, and…a dead male stripper? Penned by Broad City scribes Lucia Aniello and Paul W. Downs and featuring the gut-busting talents of some of our favorite funny women (Jillian Bell, Kate McKinnon, Ilana Glazer, hello!), Rough Night follows five friends whose hard partying takes a hilariously dark turn when they accidentally kill a hunky exotic dancer. Who wants shots?
"All Eyez On Me," June 16th
https://www.youtube.com/watch?v=njnwYSybwko?feature=oembed
Not since 2015's Straight Outta Compton has there been a film that has recognized the game-changing, culture-shaping contributions made by hip-hop artists of the 1990s. Spotlighting one of the world's most recognizable and influential voices of our time, All Eyez On Me chronicles the true and untold story of prolific rapper, actor, poet, and activist Tupac Shakur, whose raw talent and powerful lyrics cemented his status as a rap revolutionary, a legacy that continues to grow well after his untimely death.
"The Bad Batch," June 23rd
https://www.youtube.com/watch?v=OUqfP1S-9ok?feature=oembed
It's a western. It's a horror film. It's a love story! Fresh from the visionary mind of genre-bending filmmaker Ana Lily Amirpour (If you haven't seen A Girl Walks Home Alone At Night, what are you doing with your life?), The Bad Batch pairs elements of Mad Max and The Texas Chainsaw Massacre to present a deliciously strange take on the well-worn dystopian survival story complete with Texas desert backdrop, ass-kicking heroine, and a cult of savage cannibals. There will be blood. LOTS of blood. So, go easy on the Red Vines. Don't say we didn't warn you.
"The Beguiled," June 23rd
https://www.youtube.com/watch?v=iBoLK5z_FHo?feature=oembed
Girls rule, boys drool. That's what the young women at this all-girls boarding school in Virginia during the Civil War think, anyway. That is, until an injured Union soldier knocks on their front door. Soon, the girls are not only tending to his wounds and offering him shelter, they're also competing for his affections. So much for sisterhood. This weekend, masterful filmmaker and visionary director Sofia Coppola became only the second woman in Cannes Film Festival history to be recognized as a director for her work on this extraordinary period drama. Indeed, girls DO rule!
See you at the movies!