6 activewear trends you're about to see everywhere (and 3 that are on their way out)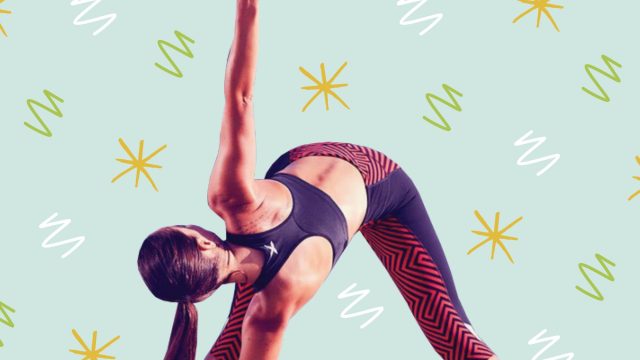 We hate to be the ones to tell you this, but fall is coming — and faster than we'd like to admit. With July winding down and back-to-school shopping about to kick off, we thought this was the perfect time to share some of the activewear trends that are shaping up for fall 2017. You'll be seeing this stuff everywhere come September, so you might as well decide what you want now.
HelloGiggles stopped by the Active Collective trade show in Huntington Beach, California last week, a gathering of hundreds of top activewear brands new and old. We chatted with Devon Damelio, sales manager with Active Collective, about some of the top trends she's seeing in the athleisure market. She also told us she wishes she could give every woman this bit of advice:
"Don't be afraid to wear activewear anywhere and everywhere. I think a lot of people are afraid to wear it out. [Don't] be afraid to just wear a high-waisted legging and a sports bra, and just throw a jacket over it and be comfortable...Dress activewear up."
Amen to that!
Below, check out some of the top activewear trends you're sure to see everywhere this fall.
'70s vibes
Whether it's a thin stripe down the side of your leggings or across your bra, or a big number stitched onto the front of your tank, the '70s style is shaping up to be a major activewear trend.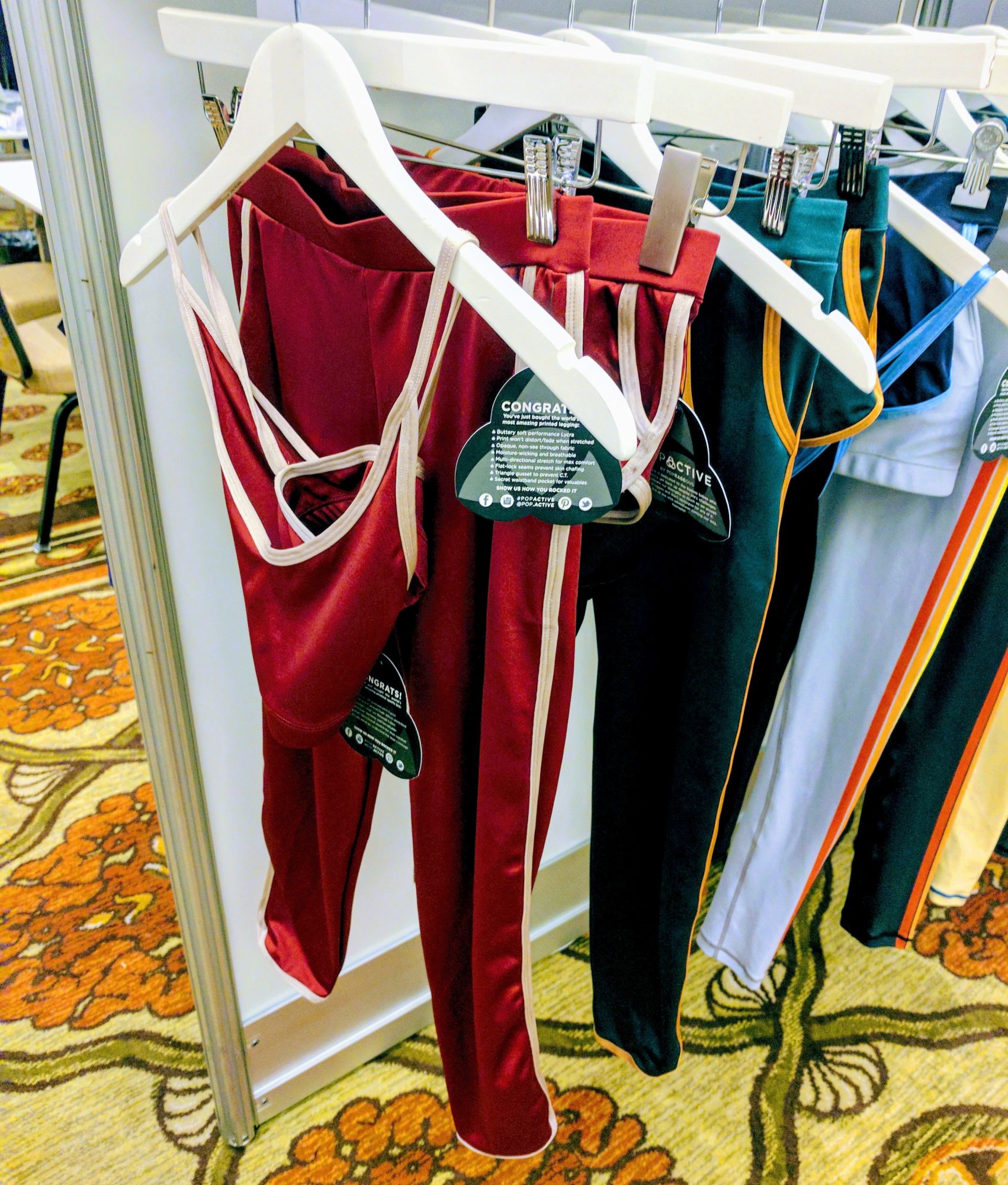 The '70s-inspired sets above are by Pop Active, and the look below is from Shape.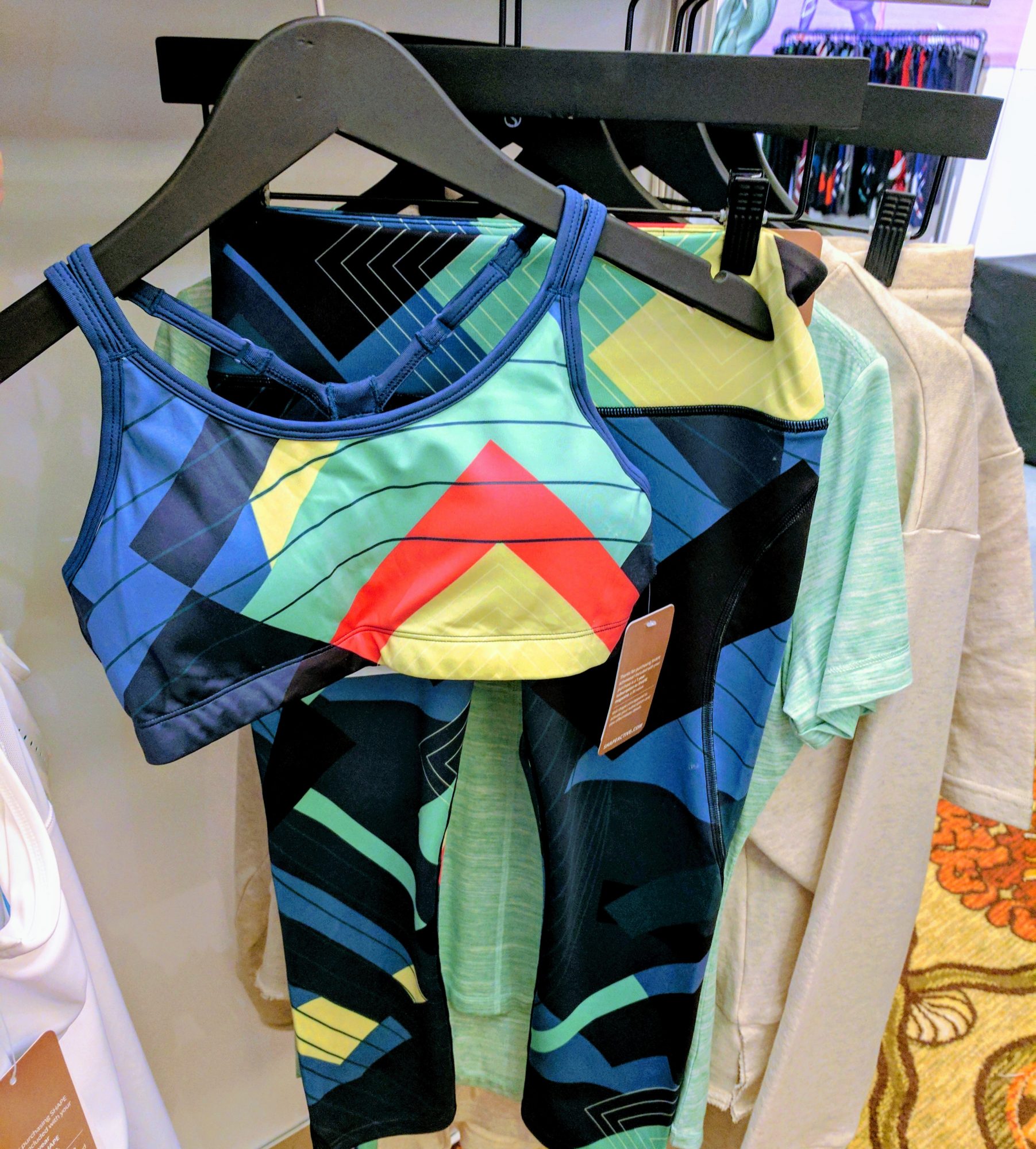 The '70s look has already been huge in ready-to-wear fashion this year, so we're not surprised to see it drifting over to the activewear market.
Evolution of "millennial pink"
Millennial pink, that sugary sweet shade that's taken over your Instagram feed this year, is growing up a bit for fall. We spotted a slightly darker, dusty rose hue in many brands' fall 2017 collections.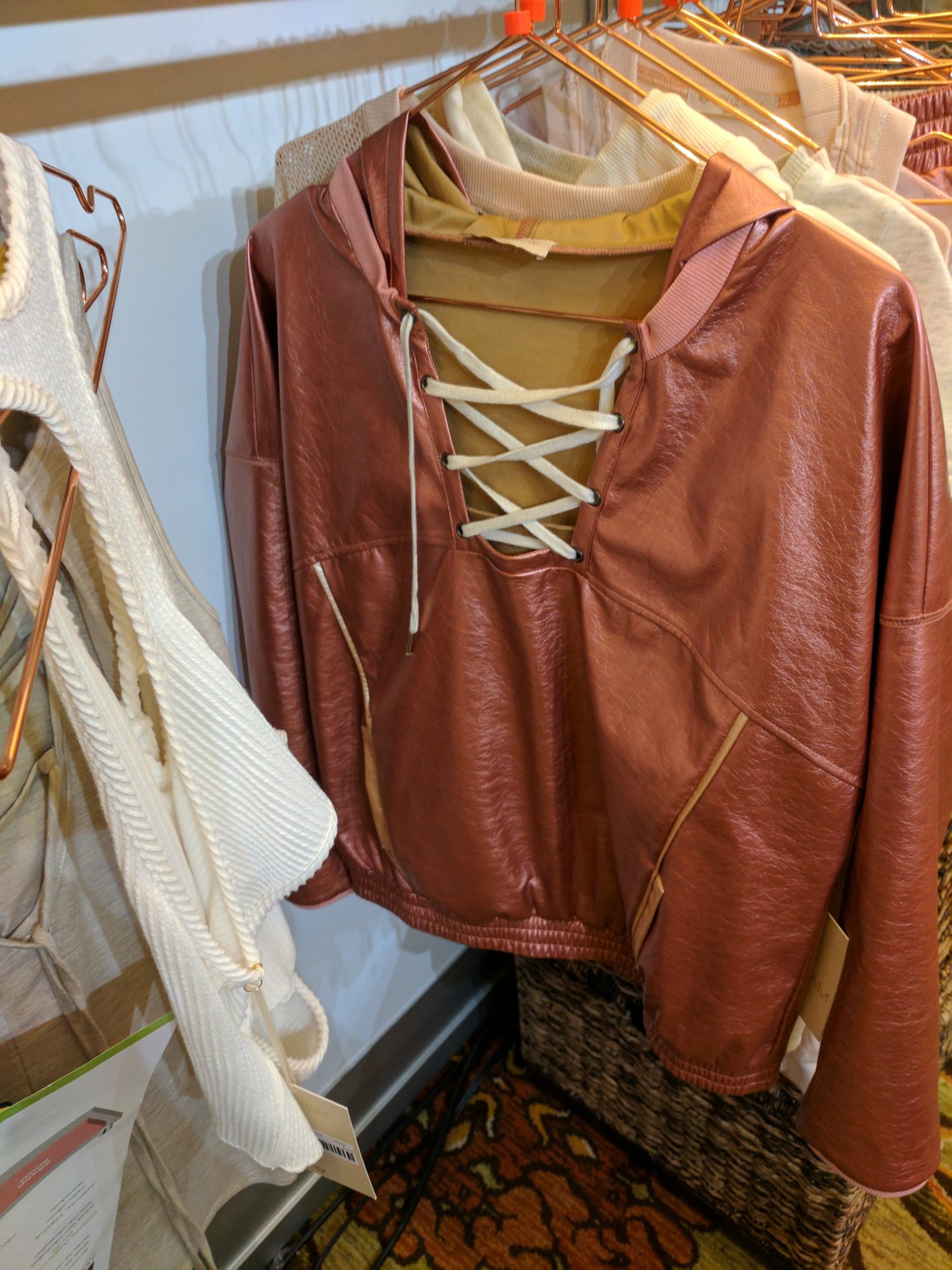 The (incredible) jacket above is by Hologram.
Star print
Perhaps it's a subtle nod to the fact that anyone can be a star in today's Instagram- and YouTube-ified world, but the star print was everywhere at Active Collective.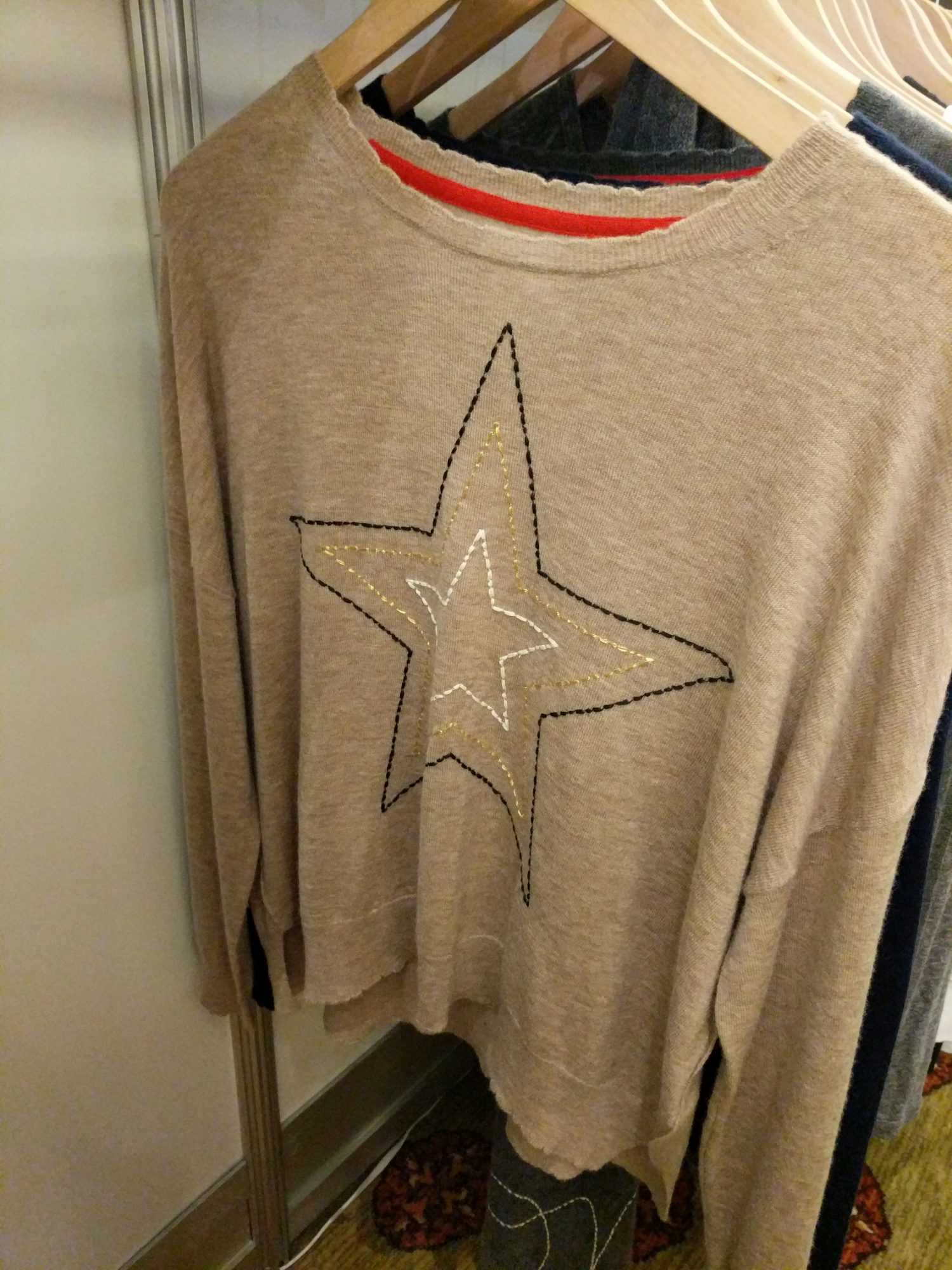 The sweater above is by Sundry.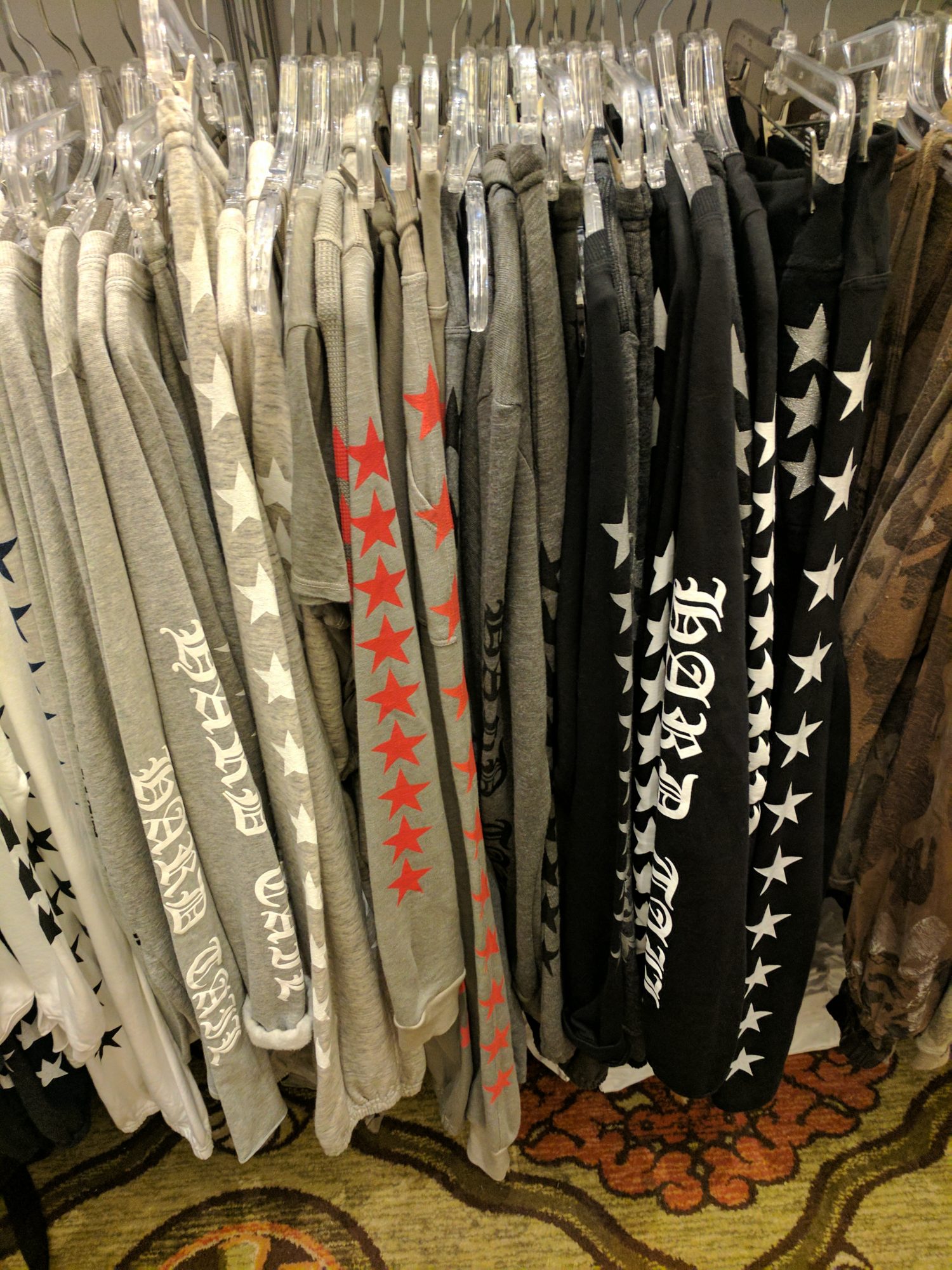 In fact, for its 25th anniversary this year, longtime activewear brand Hard Tail is bringing back its classic star print (pictured above). Get it next season! (And P.S., check out the brand's first ad campaign below — stars galore!)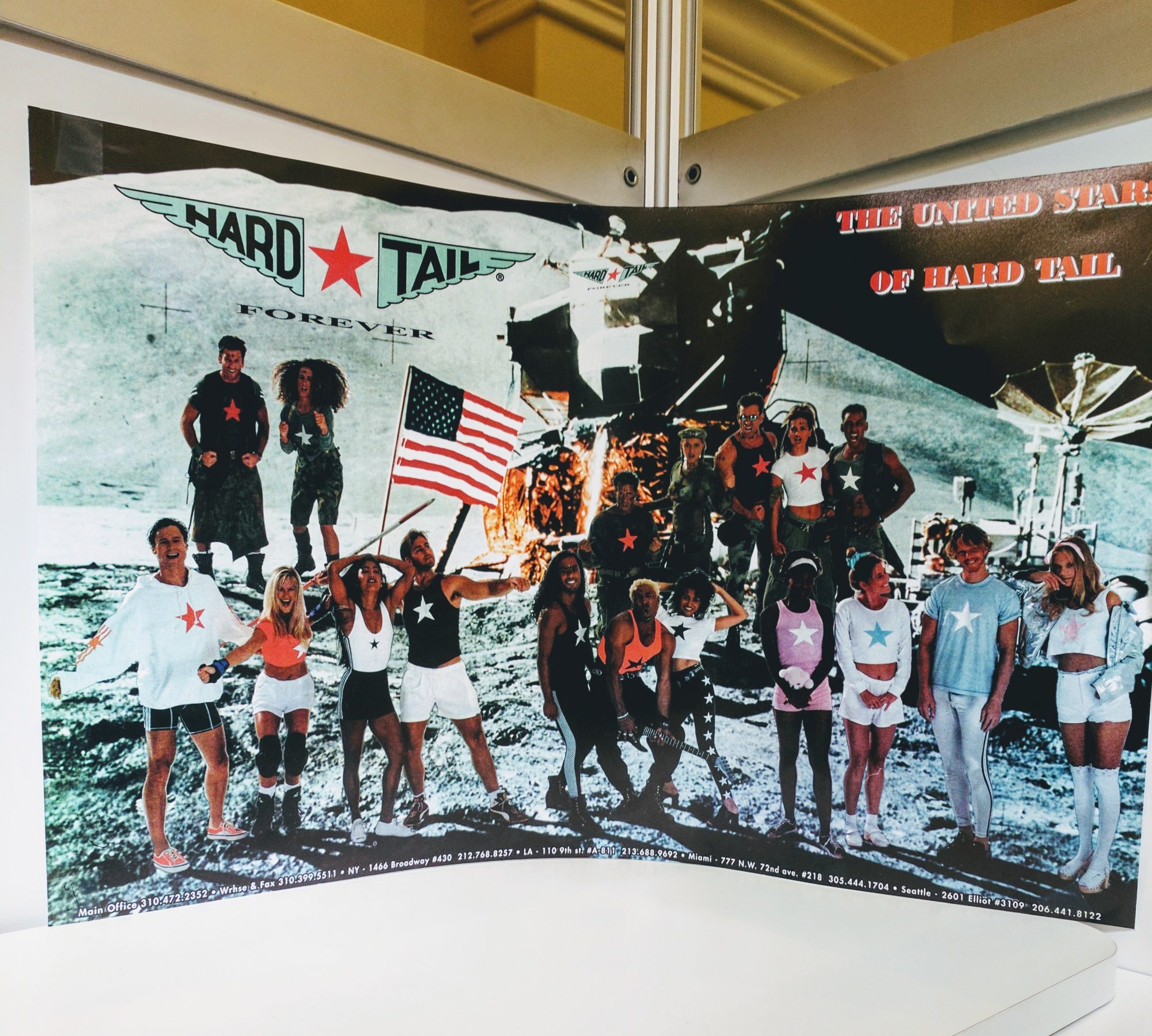 Textured fabric
You can't necessarily see it from far away, but up close, brands' new fabrics are being crafted with a subtle texture to provide structure, coverage — and a secret hit of style.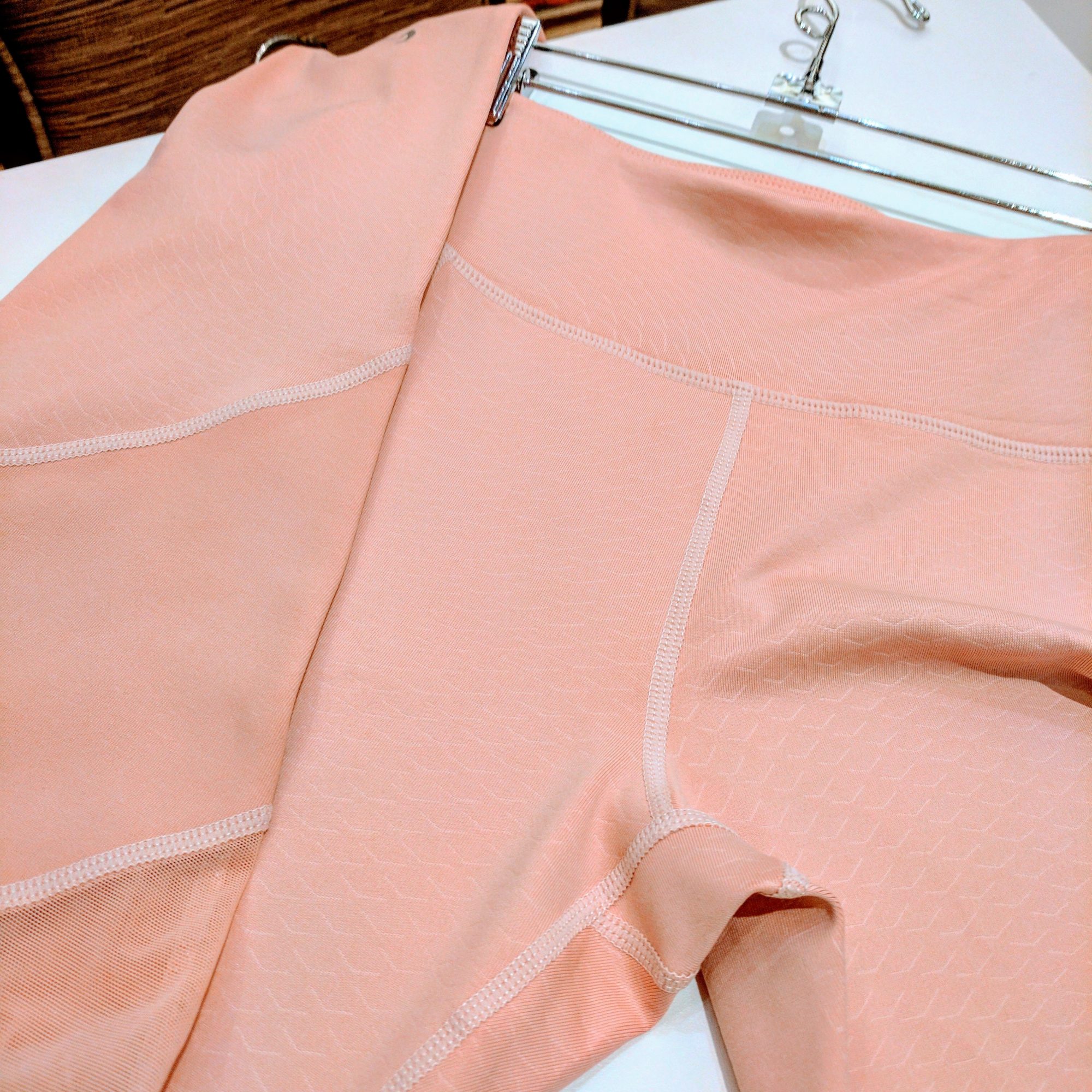 Above, a pair of leggings by TLF.
Long-line bras and ultra high-waist pants
Crop tops have been everywhere — from the runway to the wedding aisle — for the last few years, and in order to make that look more comfortable for everyone, activewear brands are taking waistlines up and bra lines down to provide coverage without sacrificing the look or style.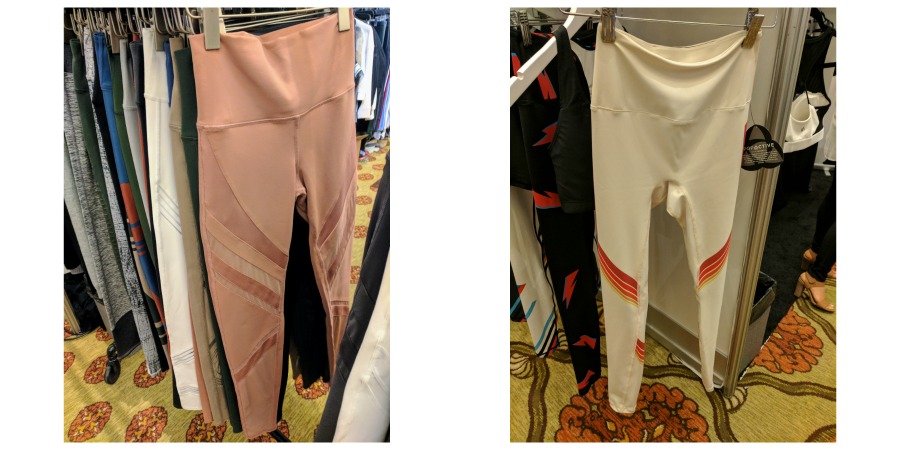 The leggings above are by Alo Yoga (left) and Pop Active.
"The [look right now is a] high-waisted legging with a crop top or just a sports bra, and just showing a little bit of midriff," Damelio says. "I think they're wearing that to the gym and then they're throwing on a cute little bomber jacket."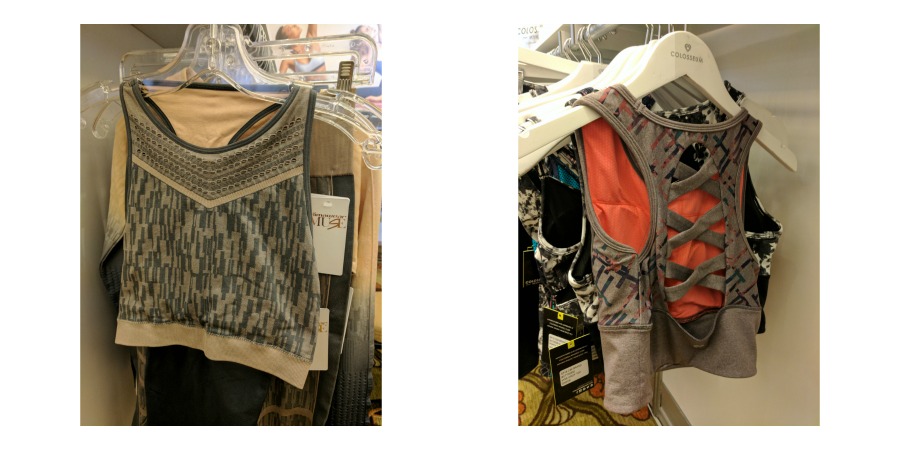 The bras above are by Climawear (left) and Colosseum.
Strappy bras
Expect to see more activewear tops and sports bras with strappy detailing. Throw a sheer jacket or backless top over one of these and you're basically dressed for the club.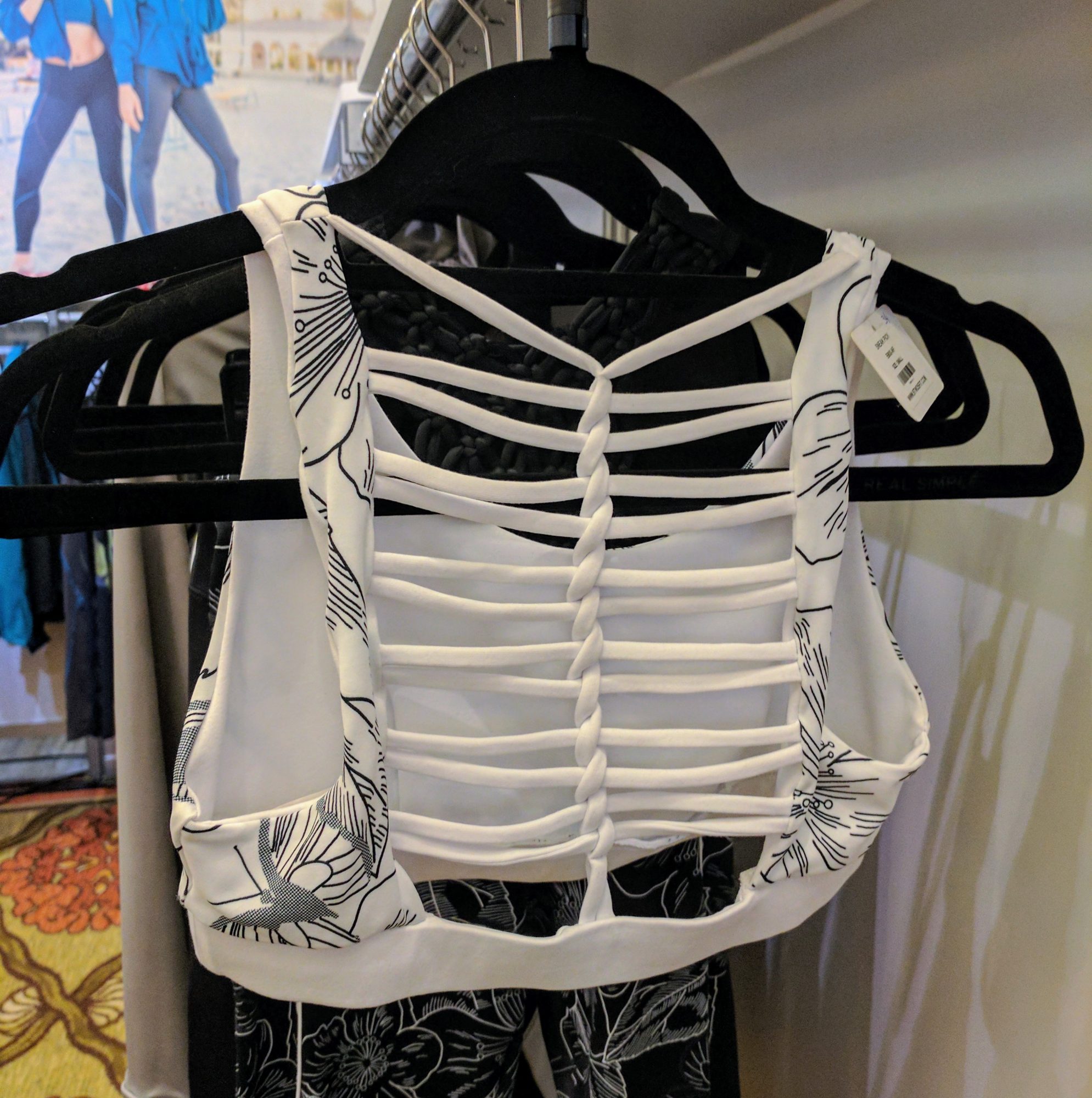 The bra above is by 925 Fit.
And you can bid a tearful goodbye to…
Neon
Say bye-bye to those ultra-bright '90s looks you've been loving. This trend is on its way out.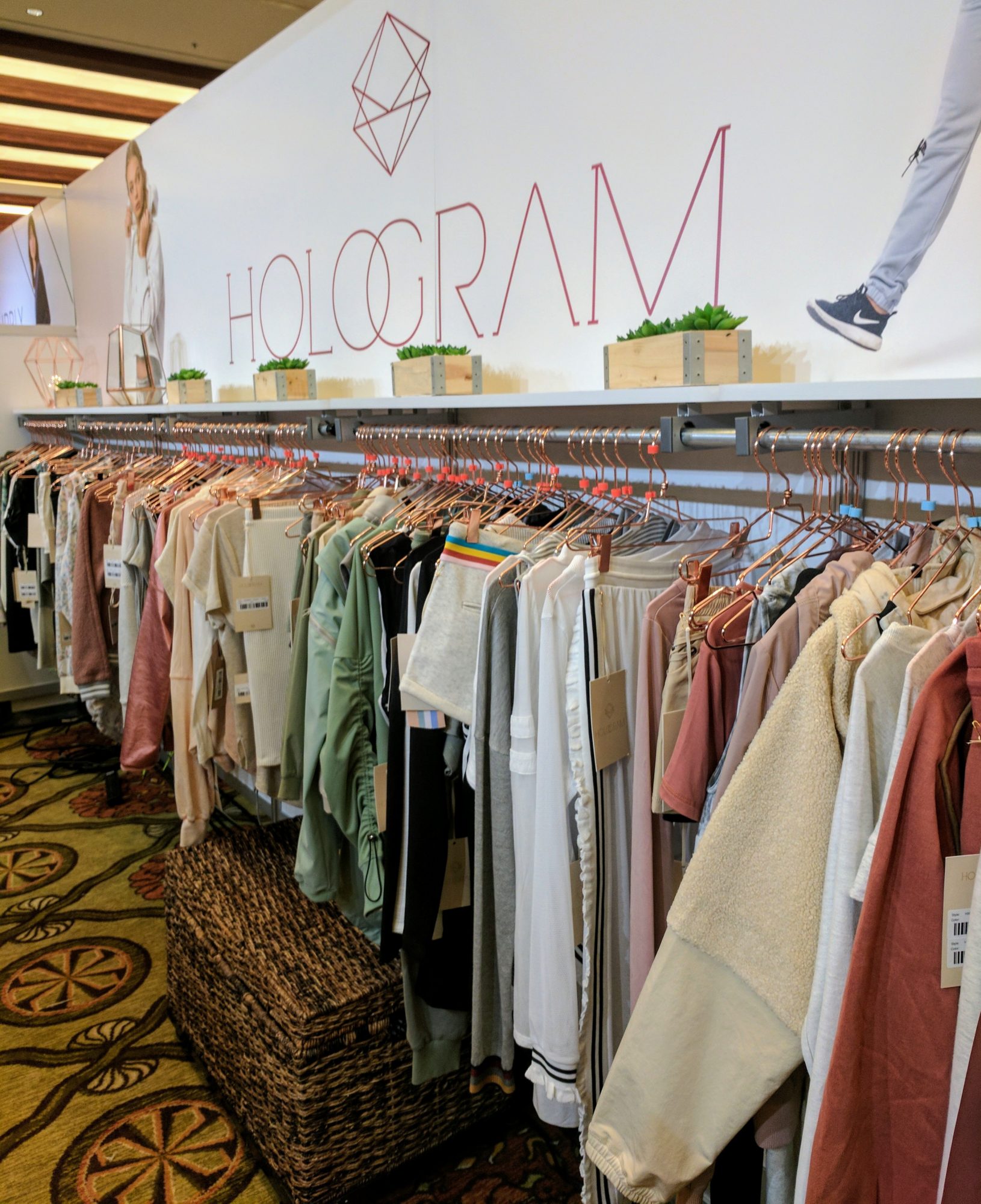 "Blush tones, browns, blacks, grays — kind of just keeping it neutral [is big for fall]. Nothing too bright and out of control," says Damelio. "I think people are just matching a rose top with a gray pant, and that's just the look right now."
Bold, brightly colored prints
Color blocking — a white or complementary-colored panel down the side of the leg, for example — is huge for fall, but wild patterns are on their way out.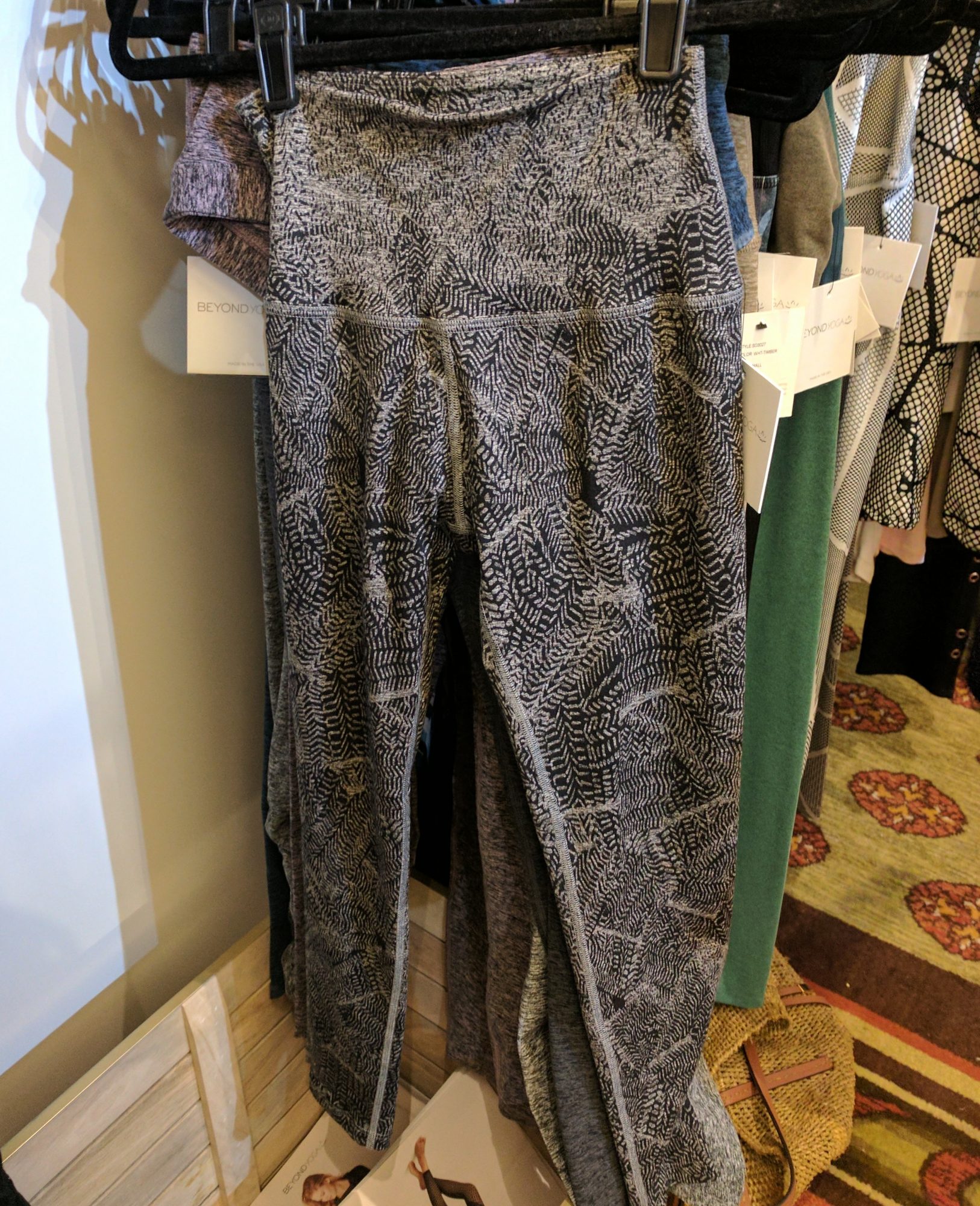 The leggings above are by Beyond Yoga.
"You might see a snakeskin print, but it's a neutral color so it's not too crazy," Damelio says.
Slogan tees
Ready-to-wear fashion may have saturated the market with slogan tees this year, because we're not seeing them anywhere in the activewear market for fall. Sorry to everyone who #wokeuplikethis! Don't throw out this year's tees just yet!