This 5-year-old's reaction to getting a new heart has us emotionally unhinged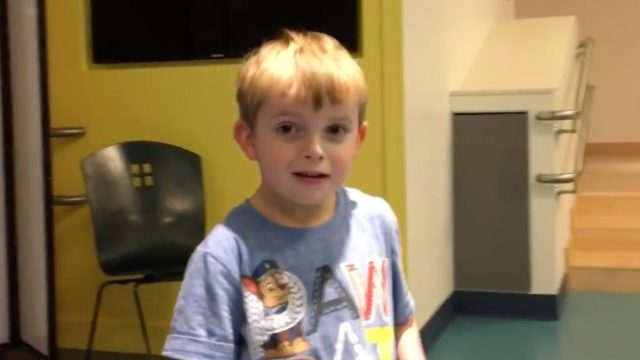 Every now and then, a story comes along that makes us melt into a puddle of happy tears on the floor, and reminds us that miraculous, good things are happening every single day.
And you'll seriously need to prepare yourself for this  5-year-old's reaction to receiving a new heart. It's one of the most heartwarming things we've EVER SEEN.
After being diagnosed at 18 weeks with a serious cardiac condition, Ari Schultz needed a heart transplant due to congestive heart failure. In the below video (filmed at Boston Children's Hospital, where he'd been an in-patient for 211 days), he's told by his parents that they finally found a new heart for him.
He then proceeds to run through the gamut of basically every emotion possible: Fear, excitement, relief, worry, and ultimately, happiness.
https://www.youtube.com/watch?v=1FjqFt3j2Oo?feature=oembed
We're happy to report that Ari received his heart earlier this month, and he's currently healing well. On their blog Echo of Hope, his parents left this message: "Ari's new heart began beating in his chest spontaneously at 11:32 p.m. on Friday, March 3." His future with the new heart will be complex, but things are looking so far upward.
"He is awake, the breathing tube is out and he's breathing on his own, Ari's parents tell People. "Ari has a very long road ahead of him, but so far his new heart is cooperating."
Look at that gigantic smile on his face!
This is one tough little boy. He's been through way more than most kids have to deal with at any age, and we're sending so much healing energy his way.
And he truly LOVES baseball; last year he was "drafted" by a college baseball team, and hearing him talk about his love for the sport (and demonstrating how far he can throw a ball!) is so utterly adorable.
https://www.youtube.com/watch?v=ibOs-eFzUeo?feature=oembed
Wishing Ari the very best as he continues with his recovery.