5 tips for starting a conversation when you don't know anyone at a wedding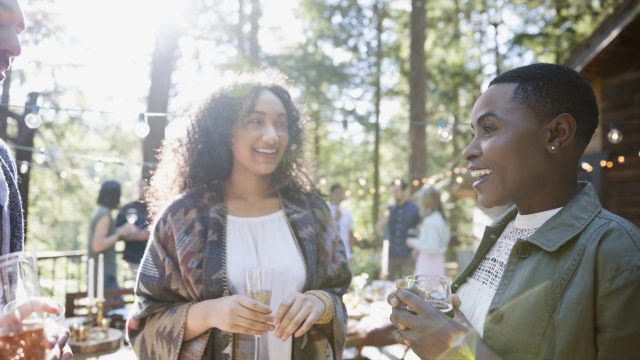 It's official: Wedding season is upon us. With overflowing food and drink, cute DJs who play awesome tunes, and an excuse to wear a pretty outfit, what's not to love about attending a wedding? Not much! However, if you're going to a wedding solo, you might find it difficult to push your self-consciousness aside and actually enjoy yourself. If the idea of chatting with strangers gives you anxiety, we came up with five tips to start a conversation when you don't know anyone at a wedding.
Making instant friends at a wedding not only makes the night more fun, but you never know who you might meet! From a new love interest to a business contact to a new BFF, the sky's the limit (don't forget: the people at this wedding are probably friends of friends, so you're likely to meet at least one person you connect with).
But if you get nervous about the idea of chatting up a stranger, then don't sweat it. We talked with Diane Gottsman, a national etiquette expert, author of Modern Etiquette for a Better Life, and founder of The Protocol School of Texas, and asked for her top tips on how to start a conversation with anyone, whether at your table or on the dance floor.
1. Just go for it
"No one is comfortable walking up to a group of strangers, but in order to meet new people, you need to decide to take the first step," says Gottsman. "Literally. Walk up to a group of three people and ask if you can join their conversation, saying 'Excuse me, may I join you?' It's a surefire way of joining an existing conversation and you will meet new people and don't have to come up with intro starters."
She also adds that it's vital to introduce yourself with your full name and a handshake. More importantly — be yourself! Smile. Crack a joke. "People may not remember your name, but they will remember the connection and how you made them feel."
2. Ask someone else for an introduction
If you know someone at the wedding, like the bride or groom or one of their parents, ask them if they can introduce you to someone new. Gottsman recommends saying something as simple as: "It's great to meet you. I don't know many people here tonight and I'm excited to meet new friends."
Your friend, who wants you to be happy and comfortable on their big day, will be thrilled to help you out!
3. Have some conversation starters ready
Gottsman suggests having ready-made conversation starters on hand that can easily break the ice. Having some prepared questions will help you deal when you're put on the spot, so you don't have to wonder what to say when you're seated beside a handsome stranger, for example. This may seem uncouth or awkward, but you'll feel more comfortable knowing you have some go-to questions in your back pocket (trust us).
According to Gottsman, the key is to ask open-ended questions that will hopefully get the ball rolling.
Conversation starters she suggests include: "How do you know the bride and groom?" "Did you travel or do you live here?" "Where would you suggest I go if I only have a couple of days to sightsee?" "What type of business are you in?" "What is a cool local restaurant I should try while I am in town?"
Keep it fun and light, and you should be chatting away in no time.
4. Offer to help
Everyone appreciates some assistance, especially on a day as stressful as your wedding. Offering to help out not only distracts you from your solo status, but it also gives you a great reason to interact with people.
"If the host needs help checking people in or getting them seated at their table at the reception, offer to assist," says Gottsman. "It's a good way to meet new people and stay busy all at once."
You can even ask the bride or groom in advance — tell them you'll be attending solo and would love to have a task to do to both help out and get to know the other guests.
5. Hang out at the buffet
Not that you need a reason to nosh on delicious food, but hanging by the buffet table is a super easy way to meet and mingle with wedding guests.
"People usually get friendly when they are waiting in long lines," says Gottsman. "Strike up a conversation with the person behind you and make a point of using your open-ended questions to get the ball rolling. Circle back around later now that you have an initial connection."
If your wedding doesn't have a buffet, you can use the same technique at the bar or by the dessert table.
Attending a wedding alone doesn't have to cause you anxiety and stress. By keeping an open mind, having your convo starters in your back pocket, and going with the flow of the evening, you are sure to have one memorable and fun night.