5 things you need to know about the 2018 midterm elections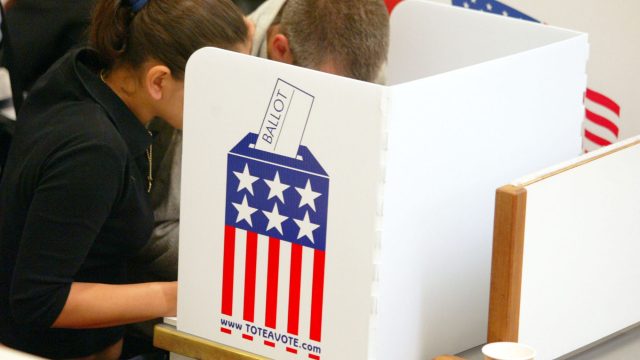 Regardless of how you felt about the outcome of the highly polarizing 2016 election, our current political climate serves as a constant reminder that it's important to make our voices heard at every available opportunity. In addition to volunteering for political organizations, it's definitely not too soon to start thinking about the 2018 midterm elections. Many members of Congress have already announced their bids for reelection, and campaigns will be in full swing before we know it.
Not sure where to get started? Make sure that your voter registration is up to date — Can I Vote? is a great nonpartisan resource to determine your voter eligibility, as well as where to find your local polling place. This is especially important if you've had a change of address, or moved to a new state. Midterm elections take place on November 6, 2018 — and voter turnout is often low in midterms, so let's learn from history and exercise our right to vote at every available opportunity!
As we've seen over the past several months, House and Senate races are just as important as presidential elections — so make sure your voice is heard next year!
Here are five other important things to know about the 2018 midterms.
1Democrats face an uphill battle
Thirty-four Senate seats are up for grabs in 2018 — but only eight of those seats belong to Republicans. Meanwhile, Democrats need to defend 23 seats — and if you count independents (Bernie Sanders and Angus King) who caucus with Democrats, that number jumps to 25. Not only do Democrats need to defend those seats, but the party would need to gain three seats in order to take control of the Senate.
2Not all these seats will be easy to defend
In blue states like Connecticut, New York, New Jersey, and Washington, Democrats are fairly safe — Chris Murphy (CT), Kirsten Gillibrand (NY), Bob Menendez (NJ), and Maria Cantwell (WA) won by healthy margins in 2012 and can expect similar results in 2018. Bernie Sanders, who caucuses with the Democrats, also falls into the "safe" category.
The "at risk" Democratic Senators hail from red states and swing states that Trump carried in 2016. Tammy Baldwin (WI), Joe Manchin (WV), Heidi Heitkamp (ND), and Joe Donnelly (IN) won by narrow margins in 2012 — and all these states went to Trump in the presidential election. According to The Hill, the "at risk" Republican is Dean Heller of Nevada, a swing state that was carried by Hillary Clinton in November.
But, to state the obvious, we all need to vote, regardless of where we live.
3Start following the 2018 elections now so you know where to focus your efforts
If your state is solidly blue or solidly red, it doesn't mean you can't influence the election. Start following the news now — Politico and Political Wire are great resources for updates. Regardless of where we live, we can actively support our party's Represenatives and Senators who are considered "at risk." Make donations, and get in touch with their offices for information about how you can assist the campaign from afar.
4Trump's low approval rating could help Democrats in the House
Historically, Congresspeople from the president's party are at a disadvantage in midterm elections — especially when the president has a low approval rating. The latest polls show that Trump's approval rating is around 44%, which could potentially give Democrats a leg up in 2018. Less than a month before the 2014 midterms, Obama's approval rating hit an all-time low of 40 percent and this gave Republicans a major advantage.
Of course, there are several massive caveats here. First of all, we learned the hard way in 2016 that polls have become increasingly unreliable. Secondly, a lot can change over the course of 17 months. Trump's approval rating could improve by the time we cast our ballots in 2018. Third, many would argue that gerrymandering has put Democrats at a disadvantage in national, state, and local elections.
5There are local elections before 2018!
You can make a difference before 2018 — visit Ballotpedia for a look at the upcoming Mayoral and City Council elections. In Los Angeles, approximately 750,000 people participated in the Women's March on January 21. Six weeks later, only 11% of the county showed up to vote in a local election that included two ballot measures, a mayoral race, and multiple City Council seats. Every single election matters!
Voter turnout in midterm elections is consistently low — in 2014, only 36.4 percent of eligible voters went to the polls. So let's make sure we're registered for 2018 and ensure our voices are heard!