5 swimwear brands to put your eyes (and fins) on this summer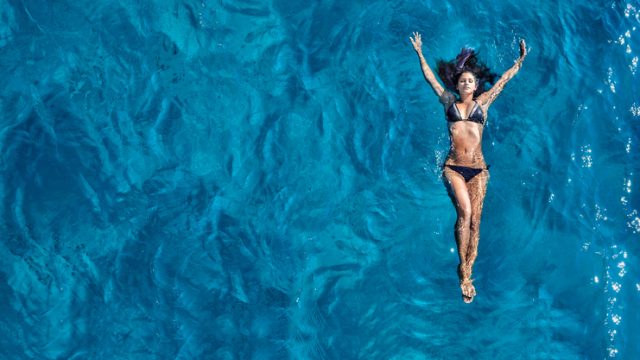 This article originally appeared in Coveteur.
Finding a new bathing suit that you love is, for me, a summertime gamechanger. But, I get it, the phrase "new bathing suit that you love" often seems like a near impossibility. All I can tell you that, when you do find *the one*, the contact high is greater than any other great fashion purchase, mostly because the mission itself is such a challenge. With that to motivate you, please read on for the new (and improved) swimwear brands making pool waves this season. Your shopping high just got that much closer.
Related article: 9 under-the-radar designers you'll actually want to wear
This just-launched Brazilian swimwear label (as of May 1!) has made it its mission to make swimwear that works for all body types. The suits are made with a fabric called boucle—which is made with elastane and features sweet embroideries. And, for that beach Instagram shot, the brand also offers classic one-pieces that you can customize with your name (or a punny phrase of your choosing).
Related article: 7 editors share their summer wardrobe and beauty essentials
Like many a high quality swimwear line, Matteau is designed and made in Australia. Unlike other Australian brands, this is not your brightly patterned surf look. Rather Matteau is pure classic minimalism. They make a limited collection of cuts, all unfussy and simple, all pretty perfect, if you ask me.
If anyone else has the problems I do with one-pieces—i.e. that they never fit properly because your torso is too long/short/wide/slim for the very specific sizing—Andie might be the answer to your maillot prayers. Order all three of their one-piece styles and only keep and pay for the one(s) that actually fit you. (They actually fit me so well that I kept all three.)
https://www.instagram.com/p/BTY230DhnqR
Aday, the brand that makes athleisure clothes that toe the line between comfort and actually looking appropriate for outside-the-house wear (a very specific line indeed), just launched swimwear. And, yes, it is as comfortable and as user-friendly as their clothing. Also, their universally flattering one-piece is reversible, which is a real 2-in-1 bonus.
Related article: Two of our favorite brands collaborated to create the perfect summer wardrobe
If you want to look as adorable and pulled together on the beach as you do in real life (right?), this L.A.-based label makes a swimsuit for you. The suits feature bows and pastels and are sexy in that retro, Brigitte Bardot way we're all not-so-secretly going for.