This 4-year-old's glow-in-the-dark bedroom ceiling is otherworldly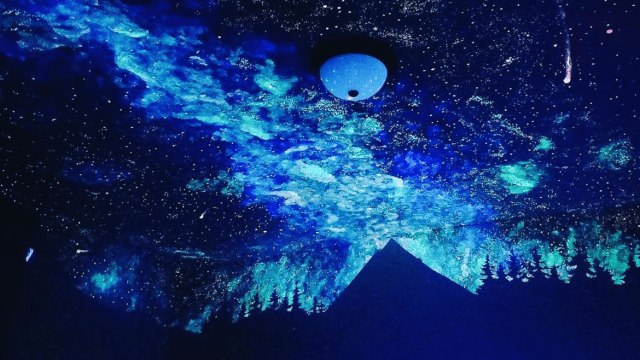 Well, it finally happened: A 4-year-old is giving us some serious room decor envy.
Some loving parents enlisted the help of their artist friend Crispin Young to give their son Ben a jaw-dropping, interstellar surprise in his bedroom.
Young used glow-in-the-dark paint to create a star mural of epic proportions on the 4-year-old's ceiling. The mural is completely invisible in natural light, but sparks to life as soon as the lights go out.
The mural includes a milky way, fiery shooting stars, and even silhouettes of trees and mountains.
According to Good Housekeeping, the parents didn't tell Ben about the mural until they switched off the lights for bedtime.
"The following two minutes consisted of Ben jumping on the bed, turning the lights on and off, and making his siblings super jealous," GH reported.
He's making us super jealous, too!
Young is a writer by trade who recently published a fantasy novel – but we're thinking she could make glow-in-the-dark ceiling art a full-time gig if she wanted! We'd definitely be first in line.