4 Latinx comedians you need to know right now before they blow up
So Saturday Night Live finally got their ish together and after 41 years of being on air, they hired their first Latina cast member, Melissa Villaseñor.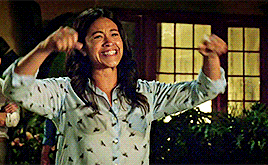 While we celebrate the historic news, (for real, what took so long, though.) we thought we'd take a moment to highlight some other Latinx comedians that you should know before they blow up.
Elicia Sanchez
https://www.youtube.com/watch?v=v7iRvwbVvJk?feature=oembed
The opening act for Hari Kondabolu's "Mainstream American Comic" tour, Seattle-based comedian, Elicia Sanchez, might be the funniest stand-up I've ever seen. Seriously. I recently saw Sanchez perform at The Bell House and it was the first time I didn't want an opening act to leave the stage. (sorry, Hari) I'm pretty sure everyone else agreed with me because Kondabolu threatened to fire Sanchez when he noticed how much the audience loved them. Comedian and host of CNN's United Shades of America, W. Kamau Bell said, "Elicia Sanchez is the truth." I 100 percent co-sign and can't wait to see more from the comedian.
Room 28 Comedy
https://www.youtube.com/watch?v=_fwPaA8I_oI?feature=oembed
The Washington Heights sketch comedy collective is one of the major talents of Más Mejor, the Latinx-focused digital studio by Saturday Night Live alums Horatio Sanz and Fred Armisen. (SNL's newest addition, Melissa Villaseñor, is also from Más Mejor.) The hilarious sketch team consists of five core players: Jaime Fernandez, Jerry "Elmo DiFoca" Diaz, Michael "Juan Bago" Diaz, Anthony Palmini and Rachel "La Loca" Strauss-Muniz. You can catch them allllll over the internet or in person for those lucky enough to live in NYC.
Jenni Ruiza and Jesenia 
https://www.youtube.com/watch?v=lPsOG8O70Uo?feature=oembed
You probably recognize the Bronx-based comedy duo, Jesenia and Jenni, from their 2014 viral video calling out Lorne Michaels for the lack of Latinas on SNL. The funny ladies are also known for creating intelligent risque comedy addressing issues such as immigration, and controversial figures such as Trump and Kanye. They recently launched a new video series with Latina Magazine and have a regular podcast for those long dreadful commutes.
Suni Reyes
https://www.youtube.com/watch?v=w_1RHQ6bOXw?feature=oembed
Puerto Rican native, Suni Reyes, is a rising actress and comedian. She can be seen all over the internet on websites such as Funny or Die, Above Average, Refinery 29, and Flama just to name a few. You might also recognize her from some of your favorite TV shows such as Master of None and Girls. If you want to catch her before she hits it big, Reyes performs regularly at the Upright Citizen's Brigade and various comedy theaters in NYC.