The 4 Best Engagement Rings of 2022
Bring on the bling with these stars' rings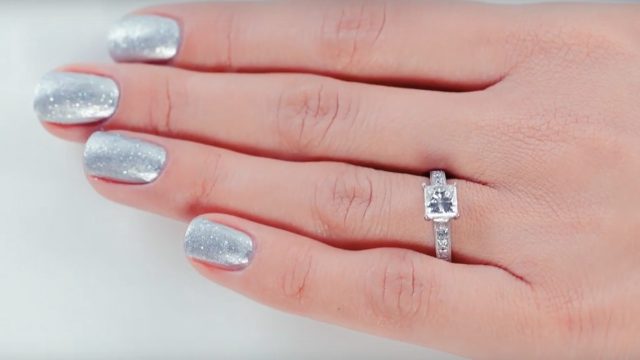 Every great love story starts with the perfect ring. Putting aside personal taste and style, modern brides also want elegance, quality and of course plenty of sparkle. "We've seen a major rise in engagement rings that focus on traditional but modern styles," says Mona Akhavi, president of VRAI, a company that specializes in zero-emissions lab-grown diamonds. "Both brides and grooms are opting for unique bands and diamond shapes that touch on their personal style and values."
RELATED: 40 Questions to Ask Your BFF to Find Out How Well You Know Each Other
This is especially true for celebrities, who sometimes use the size of the stone to show off their star status. For example, J-Lo's ring from ex Alex Rodriquez was a whopping 15-carats. Like A-Rod, most have the cash flow for multiple carats and custom designs — but even if you don't, you can get inspo for rings that wow on any budget. According to a 2021 survey from The Knot, people are spending, on average, $6,000. And it's something you plan to wear for life, so you want to make it count. Here are our four picks for the best engagement rings of 2022:
"This style ring has become more popular in the last year with several celebrities donning this style and the departure from classic styles to a more unique, contrasting diamond style," Akhavi says. Megan Fox and Machine Gun Kelly chose a contrasting pear-shaped diamond and emerald ring by Stephen Webster earlier this year. And in recent years, both Emily Ratajkowski (princess-cut and pear-shape diamonds) and Ariana Grande (large oval diamond and delicate pearl) have popularized the toi et moi trend. At VRAI, two-stone diamonds feature a combination of round brilliant, oval, emerald and pear-shaped diamonds in a platinum or solid gold prong setting.
"Oval and emerald stones are trending at the moment and are best if you're looking to elongate your fingers," Akhavi says. Just look at Simone Bile's oval engagement ring from Jonathan Owens for proof. Kourtney Kardashian, Blake Lively and Hailey Bieber also sport oval rings while Sofia Richie's emerald ring brings back the feeling of old-school Great Gatsby-era glamour.
The early 2000's trend of three-stone rings, are making a comeback. For Jennifer Lopez's second engagement with Ben Affleck, he chose a three stone green diamond ring — because green is her lucky color. Three stone rings represent your past, present and future, and they can be easily customizable with different side stones for a piece that's truly one-of-a-kind.
If you're looking for a head-turning setting that really lets the diamond shine, consider a V setting like this one. It can have diamonds embedded or not, and either way, Akhavi says it's a popular choice to complement a round brilliant or oval diamond solitaire, like Blake Lively's. "It gives a very modern look while still maintaining the classic and timeless feel of a traditional setting."
Amber Gibson is a Chicago-based journalist specializing in travel, food, wine, beauty and wellness with bylines in Conde Nast Traveler, Travel + Leisure, Healthline, Chicago Tribune, NPR, NBC, Saveur, Bon Appétit, The Kitchn, Business Insider, The Daily Telegraph and many more.
Read more