34% of You Are Really Into Thrifting, New Data Says
Going thrifty has never been more fun or easier!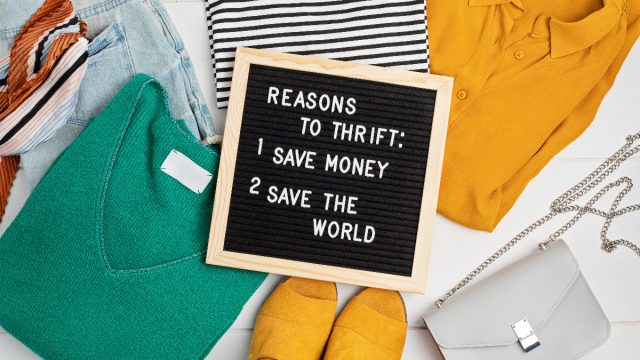 "I'm gonna pop some tags, only got twenty dollars in my pocket. I'm hunting, look-ing for a come-up. This is [BLEEPING] awesome!" Macklemore said it best. Thrift shopping truly is freaking awesome. You never know what hidden gem you're gonna find – and chances are, it also won't bust your budget.
With fashion these days being all about all-things nostalgia — slip dresses, flared jeans, roller skates, and claw clips are all having a resurgence —  so is the manner in which we shop for our favorite finds. Quality over price, that's how the saying goes or at least, that's how it used to. Inflation is real and it appears the wise old adage doesn't resonate with millennials as it once did. According to new stats from the data platform Dynata, 47% of you are more concerned about how much money you're dishing out than the actual quality of what you're buying. So, 34% of you are thrifting.
RELATED: The FDA Just Linked a Second Cancer to Breast Implants, So Should I Take Mine Out?
That isn't to diminish the quality of goods at thrift stores. If you scour hard enough, you might come across a vintage designer handbag or a coveted pair of red bottom heels. You could also leave with a whole new wardrobe for half the price of what you would pay at a name brand store.
Contrary to what Jessie J. says, it's all about the price tag. Data shows 34% of you would rather own a second-hand bag and pay your rent on time than have no bag at all, or worse, piss off your landlord.
With a potential recession on the horizon, Dynata discovered 52% of you are smartly trying to save more money now than you were in 2021. Naturally, limiting how much you spend on nonessentials, like an indulgent shopping spree, is part of that process.
Consignment shopping is growing rapidly, with more and more in-person and e-commerce options popping up regularly. Here are some places where you might strike second-hand gold.
Hit up your local thrift store
A quick Google or social media search will direct you to the best thrift markets in your neighborhood. Personally, I love the experience of thrifting in person. You're able to try things on and depending on the store, you may even be able to barter a little. Is your closet due for a clean out? See if the store is accepting donations; you may receive a small discount on your next purchase in return. Goodwill and Plato's Closet are a good place to start.
Click to thrift
ICYMI, online consignment shopping is like super in right now. From Poshmark and ThredUp to TheRealReal and Tradesy, there are so many ways to shop second-hand from the comfort of your own bed! While some online stores offer the basics, others, such as Rent the Runway specialize in used designer items. Then there's brands like Topper Luciani's Goodfair and Galaxy that provide gently-used outfits based on occasion and help customers create style bundles via a personalized questionnaire.
It's true what they say, one person's trash is another person's treasure! Save the planet and your wallet by shopping used. Who's going to be able to tell anyway?
Emily is a NYC-based freelance entertainment and lifestyle writer — though, she'll never pass up the opportunity to talk about women's health and sports (she thrives during the Olympics).
Read more