Freeform is throwing a Hocus Pocus extravaganza for Halloween this year — and turning it into a month-long celebration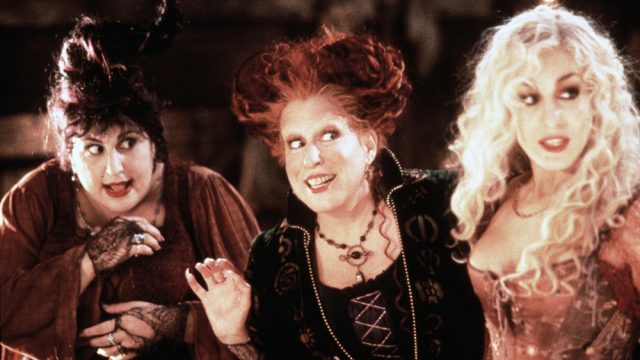 The "13 Nights of Halloween"is a long-running and cherished event that flies over Freeform every October. From October 19th-31st, the network airs a special, all-Halloween-themed block of programming all day and all night. Halloween 2018 will be even more magical, since Freeform is throwing a Hocus Pocus party to celebrate the classic's 25th anniversary. Oh, and they'll be celebrating all month long.
Freeform announced that they'll be expanding "13 Nights of Halloween" into "31 Nights of Halloween," so viewers can enjoy spooky, scary fare all month long.
Can you think of *literally* anything better than an excuse to celebrate Halloween for a full month? No, you're not misreading: Freeform will air Halloween movies, TV shows, and specials every single morning, afternoon, and night, all month long, for the month of October, including some staples — like the Harry Potter series, or Nightmare Before Christmas, and of course, Hocus Pocus.
However, at the moment, most details of the Hocus Pocus party are scarce.
On the bright side, that just means you have as much time as possible to plan the perfect costume. The official name for the Hocus Pocus party is "The Hocus Pocus 25th Anniversary Extravaganza," and Freeform is promising viewers a "spooktacular" experience worthy of its fans.
So, mark your calendars and dust off your spellbooks, because it's conjuring time, sisters. Bless whichever witches hexed Freeform into making this dream a reality. From 13 nights of Halloween festivities to straight-up 31 in a row? It makes me wanna say amok, amok, amok!