Tina Fey and Jane Krakowski just teased a 30 Rock revival, and we're high fiving a million angels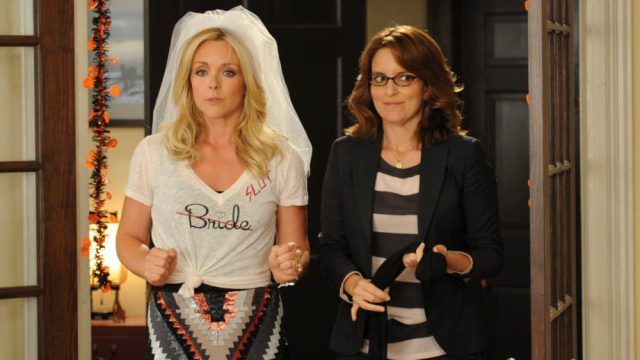 It looks like TV networks are still banking on that hardcore nostalgia factor, even for shows that ended in 2013. By now, you've likely heard the whispers of a potential revival of The Office, so it only makes sense that talk of bringing back another big NBC hit, 30 Rock, wouldn't be far behind.
30 Rock was a brilliant and hilarious show and one of the most quotable shows ever. It's triumphant run started in 2006, and so many of us found a friend in Tina Fey's character, Liz Lemon (or maybe just a mirror that helped us acknowledge some hard, hilarious truths about ourselves). Naturally, it didn't take long for fans to start asking the network to bring back Liz, Jenna, Tracy, Jack, Kenneth, and the whole gang.
And NBC has actually expressed interest in a reboot, but is the 30 Rock gang are up for coming back?
After all, there is something to be said about having a show on the air, telling the story well, and leaving it untouched when it finishes. That's definitely not the trend right now, but it does make sense when showrunners and actors tend to shrug off the idea of returning to a show. Happily, it seems that some of the 30 Rock group — namely the show's creator, Tina Fey, and Jenna Maroney herself, Jane Krakowski — are game for returning for more fun.
Krakowski recently spoke to The Hollywood Reporter and said a 30 Rock revival would be a "dream come true,"because the cast had "the greatest time on that show." Even more promising, she confirmed chatter about bringing the show back.
"There's definitely been talk and conversations. I know it's something the fans would love and we would love. Right now, [reboots are] the trend, and I would be thrilled if the trend continued over into 30 Rock."
ET spoke with Fey to ask about a reboot, and though she didn't give any details or promise anything, she didn't shut down the idea of returning to Liz Lemon and the TGS writing room. When asked if there was a reboot in the works she said, "Oh my gosh, we'll see. When will we know? We would know by May. If there was a great idea for a reboot, we'd find out in May?"
So we know a reboot is on the radar of both NBC and the show's stars, but it's not clear if there's an idea that would make a revival seem like a good idea. And honestly, though we love 30 Rock and we miss Liz Lemon every time we work on our night cheese in our slankets, we're glad they're not rushing into a revival just to capitalize on the nostalgia wave.
Still, we'd be lying if we said we didn't definitely mark our calendars to check back in on this come May. After all, we love a good 30 Rock marathon sesh, and it could be nice to add some new eps to that lineup.