3 things dance taught me about how to live my best life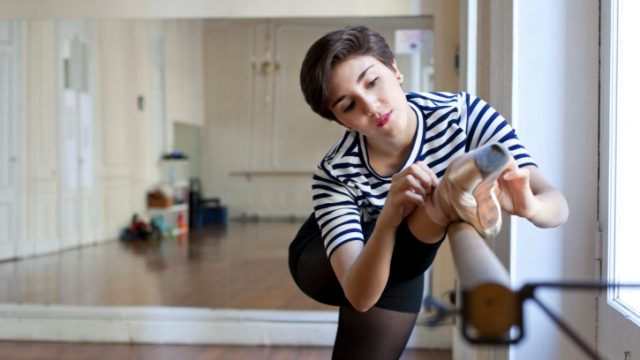 For eight years, dance was my life. There was not a day that went by when I didn't spend most of my time dancing, talking about dance, and thinking about dance. I strived to master my two favorite techniques, ballet and modern by taking classes in college — my love for dance grew so much that I even claimed it as my minor. Some days I can't believe I was once a dancer, someone who rehearsed until she was dripping in sweat and performed onstage under bright lights and in front of an auditorium full of people. I may no longer be dancing, but I have kept three things that dance taught me about living very close to my heart:
Breathe mindfully through everything — the good and the bad.
In the world of dance, breathing is very important. Breathing helps the dancer stay centered while she or he moves — through stable breaths, the energy stored in the head, arms, and legs gravitates toward the core of the body, or more specifically, the abdominal muscles. While you dance, that same energy runs throughout the body and is released through the head, fingertips, and toes. This is how great posture, gracefulness, and leaps are achieved.
Mostly beginner dancers tend to forget to breathe because their minds are focused solely on executing the choreography. Ironically, the performance will only be up to par if breathing is constant. When I danced, I made sure I was breathing — I wanted my body to be centered and for the energy within me to be released like firecrackers. I wanted to give the performance of a lifetime. The more I breathed when I danced, the more fantastic performances I had.
As we all know, in life, breathing is also very important — we have to breathe to live. Breathing comes naturally, but what doesn't is breathing mindfully. That is what dance taught me. Whenever my life is on the fritz, I pause and breathe. I manage to rid my mind of worries and bring myself to a state of calmness. I also breathe mindfully when life is treating me well. I take in all the happiness, smiles, and laughter that is around me. When I breathe mindfully, I am centered and at peace. I am able to appreciate all there is to life.
The possibilities are endless.
Whenever I wrote choreography, I was taken to an infinite space. I can chaîné (a series of turns) here, jump on one foot, and then land in third position (when the heel of a foot meets the arch of the other)! There were so many ways to move my body and, ultimately, express myself. But there were times when I hit a snag while creating movement. Either two separate movements didn't flow when they were connected or a part of the choreography didn't reflect the music I chose.
That was when I opened my mind. I knew I could create new movement as long as I was patient and willing to welcome all of the possibilities. So I rewrote this, rewrote that, and experimented with the music until voilá! the problem was solved! I eventually began to open my mind to life's problems as well. Instead of quickly deeming each obstacle as insurmountable if my first possible solution fails, I now explore other options. The best moments are when I find a solution that I thought would have never worked — and all I had to do was try it. Like they say, there is always a solution to every problem.
Whatever you do, do it with all your heart and soul.
During rehearsals and performances, I fully committed myself to the choreography. Every fiber of my body was involved in the smallest of movements as well as the biggest. I felt strong, accomplished, and invincible. Every time I danced, I gave all of myself, heart and soul.
My dancing days continued when I taught dance to high school colorguard students. Teaching was an absolute joy, but that joy was heightened when I dedicated myself fully to the job. From the get-go, I was determined to improve my students' dancing skills. I shared all that I knew about dance with patience and love, and the results were rewarding — my students became better dancers quickly. They came to love dance, and I felt fulfilled.
Sadly, my dancing days came to a end when I accepted a position at a newspaper. But even in a setting with desks and computers, I didn't stop giving it my all. When subscribers called, I took care of their problems right away. I edited the newspaper copy with eyes wide open to try to catch all of the errors. Although the looming deadlines scared me, I still wrote the best stories that I could. To my surprise, within the span of two years, I climbed the ladder within the business — I began as an editorial assistant, moved on to copy editor, and then became a city editor. It was when I was city editor that I realized I wasn't fit to live in the newspaper world. I felt like such a failure when I resigned.
Looking back, however, I was able to accomplish so much because I treated everything as a performance. I gave all of myself with confidence — and I didn't hold back. I also discovered what I love to do and what I don't love to do. And above all, I grew as an individual. Life is a stage, and if we give all of ourselves — heart and soul — our performance will be unforgettable.