We're getting 3 more seasons of OITNB, thank you TV Gods!
This could be the best news we've heard so far this new year. Netflix's Orange is the New Black has been renewed for not just one, but THREE more seasons! More excellent news — executive producer/genius, Jenji Kohan, will continue to act as showrunner.
Netflix's Cindy Holland said in a statement of the joyous news, "Jenji and her team have produced a phenomenal and impactful series that is both funny and dramatic, outrageous and heartfelt. Audiences around the world have come to love the ladies and men of Orange is the New Black, and we are eager to see where three more seasons will take them." You got that right, Cindy!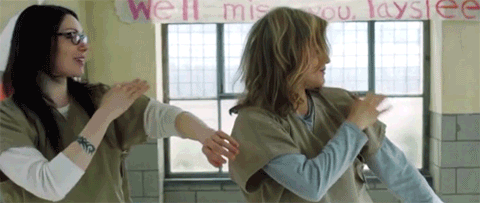 Kohan shared her excitement about three more seasons in a statement by saying, "Three more years! Not quite a political term, but still plenty of time to do some interesting things. In some cultures, 'May you lead an interesting life,' is a curse, but I don't live in those cultures. Here's to keeping it interesting. Thanks, Netflix! Both thanks and you're welcome, Lionsgate! And kudos and gratitude to the stellar cast and crew and writers and producers and editors and musicians and mixers and shleppers … with whom I have the pride and honor of crafting this show. Three more years! Three more years!"
Grab your hooch and get ready! Season 4 of Orange is the New Black is set to premiere June 17 on Netflix.
(Image via Netflix, GIF via giphy)