This gif is an entire early episode of "Spongebob Squarepants," and it's almost too wonderful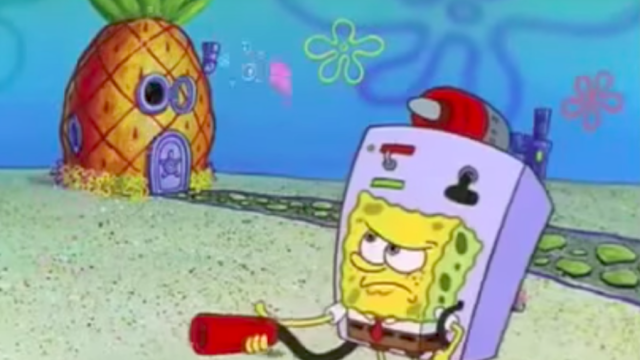 The best part about the internet is that someone always finds exactly what you need to see. Example: this gif of an entire SpongeBob SquarePants episode from way back in the early days of the show. The episode is called "Reef Blower," and it's especially perfect as a gif since there isn't any dialogue, except for one time when SpongeBob yells, "YOU!"
The episode is from Season 1 and starts with Squidward waking up on a perfect day only to find a shell on his lawn. He tosses it over to SpongeBob's yard, like any good neighbor would. But Spongebob is equally perturbed by the mess. A frustrating-to-watch fight with a "reef blower" (get it? like a leaf blower?) and a pile of sand hilariously ensues.
ON A LOOP.
Seriously, we could watch this all day. Apparently, so could everyone else. Since being launched as a Saturday morning cartoon in 1999 on Nickelodeon, SpongeBob SquarePants has been viewed in 170 countries and translated into dozens of languages. In addition to becoming a primetime cartoon, there are also two feature films that have grossed about half a billion dollars globally.
Who would have thought a little sponge could win so many hearts?
And it's still on! Last spring, SpongeBob creator Stephen Hillenburg announced that he has ALS, a neurodegenerative disease. But the 55-year-old promises to stay on as a creative director, so everything you love about SpongeBob will always be the same. In fact, Nickelodeon has already bought two more seasons, meaning Season 12 will air in 2019.
He said in a statement, "Anyone who knows me knows that I will continue to work on SpongeBob SquarePants and my other passions for as long as I am able. My family and I are grateful for the outpouring of love and support. We ask that our sincere request for privacy be honored during this time."
Funny enough, Hillenburg was a marine biologist before realizing that cartoons were life. He enrolled in a CalArts animation program, with little to no idea what it would bring. At a festival, Nickelodeon's Rocko's Modern Life creator Joe Murray scooped him up.
And the rest was history. Hillenburg's story is a good reminder to stick with what you love — SpongeBob is now such a classic, that we can even watch it in gif form. More of those, please.