These are the 3 eco-friendly clothing brands Kristen Bell swears by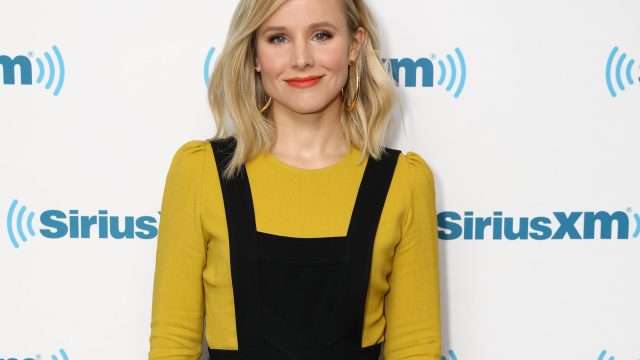 You probably know that fast fashion is bad for the planet — it requires a ton of oil and water to produce a high volume of textiles, and then billions of meters of that fabric are tossed into landfills as "scrap," creating more waste and polluting the environment with toxic chemicals. It's enough to make you want to avoid shopping forever. But thanks to Kristen Bell, who revealed the eco-friendly clothing brands she loves most in a recent interview with HelloGiggles, we now know where to shop to keep our ecological footprint as small as possible.
Bell, a longtime vegetarian and environmentalist, is committed to planet-friendly practices. She's the face of Tide's Clean Pledge eco-friendly laundry challenge, and an advocate for all sorts of creative and environmentally-gentle home habits. "I read the information page on almost every company I buy from," she told us. "[It] takes a little bit more time, but makes me feel more responsible."
In our chat with her, Bell said that there are three eco-friendly clothing brands she swears by — learn more below, and get your credit card ready.
Reformation
https://www.instagram.com/p/BSCOjwsFJ2C
"I really like Reformation," says Bell.
"They have transparency in the sense that they have responsible manufacturing practices, but also they use sustainable materials and they use a lot of runoff materials. They tell you how much water and energy they've saved by taking however many hundreds of yards from another designer because it was just going to be trashed."
Shop Reformation's gorgeous ready-to-wear collection here.
n:Philanthropy
"There's a new brand called n:Philanthropy," Bell tells HG. "They make super comfy sweats, but they also have a 10% giveback; half to Children's Hospital Los Angeles, half to the ASPCA."
Shop n:Philanthropy's cozy collection of basics and sweats here.
Everlane
Says Bell, "I'm really encouraged by the fashion industry's recent burst of transparency. There are websites like Everlane, which has great basics and an incredible amount of transparency. You know where the factories [are located], you know the manager of that factory, they have pictures of them at that factory."
Shop Everlane's wear-every-day styles here.
Take Bell's advice and your closet — and your conscience — will feel better in no time.