This 25-second movie trailer about a boy falling in love with another guy will make you tear up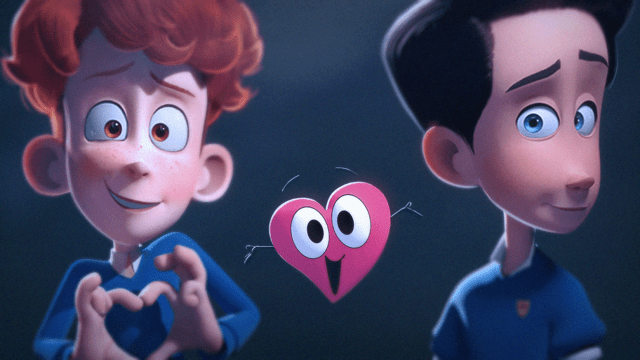 It's not often (or ever) that there are animated films made about LGBTQ kids. But it looks like the world is getting one soon. It's not by Disney or any big studio, though. This film, about an awkward boy falling in love with another boy, is actually made by two students, Beth David and Esteban Bravo, from the Ringling College of Art and Design in Florida.
The budding filmmakers launched a Kickstarter campaign last November to raise funds for the film, and within hours they had reached their goal. In three measly hours. This week, the pair released the official trailer for the film — and in just 25 seconds, it brought tears to our eyes.
The movie, In a Heartbeat, is the two students' final thesis project, but everything about the trailer is professional grade — from the gorgeous animation to the cute music to the adorable story of a young boy who is outed by his own heart after he falls in love with another boy walking down the street. It's so simple, but it's a storyline audiences don't really encounter in animated films that are, theoretically, geared towards kids. (Or grownups who just like cute things.)
https://www.youtube.com/watch?v=0pauY5cgRU4?feature=oembed
Bravo explained on the pair's Kickstarter page,"Being gay is a subject that hasn't been widely explored in computer animation." And that's sort of dangerous, since LGBTQ teens and adults face higher risks of violence, substance abuse, and suicide. The more people share stories like In a Heartbeat, the better.
How can you not fall in love with this movie?
David and Bravo explain on their Kickstarter page that the movie is about a closeted boy who "runs the risk of being outed by his own heart after it pops out of his chest to chase down the boy of his dreams."
The two creators say that the full-length film will be available sometime later this summer, so if you want to know what happens to these two boys, keep checking back for updates and news about how and where to watch the short film.
For now, we'll just keep watching this trailer on repeat.