24-karat gold ice cream is here, and it's charcoal ice cream's glamorous cousin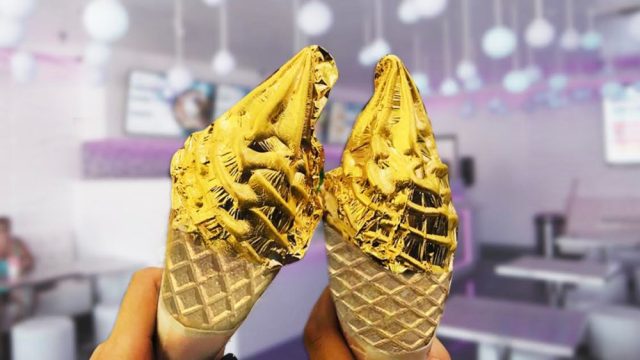 While Team USA is going for the gold in PyeongChang, we're going for the gold in Anaheim's Snowopolis. Not to be outdone by rose gold's moment in the sun, California dessert shop Snowopolis is set to introduce a brand new menu item beginning today, February 23rd: 24-karat gold ice cream. Magic. Bruno Mars would so approve. 
Retailed at $14.95 a scoop (yes, really — it is gold, after all), the 24-karat pure gold ice cream will be available daily starting today at Anaheim's Snowopolis with limited supply.
Here's the scoop on how the 24-karat gold ice cream is prepared: The waffle cone is pre-sprayed with 24-karat gold dust, filled with vanilla soft serve, and coated with 24-karat gold leaves on the vanilla where the "creaminess of the vanilla makes the gold form to every curve." The result is a beautifully glossy dessert that will elevate your Instagram aesthetic (because let's face it, that's why we're all here). Charcoal ice cream, who? We don't know her.
Snowopolis is located at the Anaheim GardenWalk, a shopping center within walking distance from California's Disneyland Resort. Within an eclectic atmosphere of flashing lights and music, Snowopolis serves shaved ice, ice cream, and frozen yogurt.
If you need us, we'll be in Anaheim indulging on some $15 Instagram-worthy ice cream. It's definitely what Chloe Kim and Adam Rippon would have wanted.