22 bridal nail art ideas that would make your big day even more unforgettable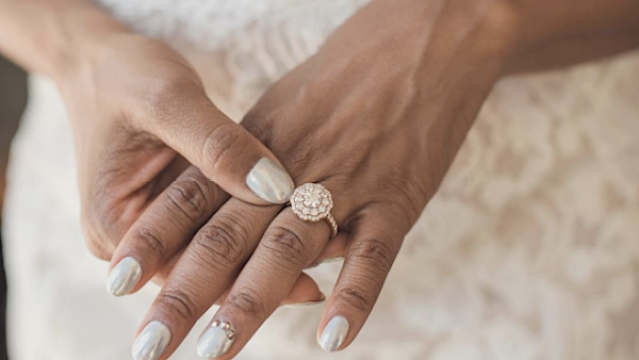 You've got the dress, the cake, the venue, the future spouse — but have you thought about your wedding nails? You can't go marching down the aisle with raggedy digits! The photog is totes going to be taking pics of your ring and your hands holding a bouquet or a glass of bubbly, and your bridal nails have to be as beautiful as you.
The little details are part of the wedding fun! Getting your nails did is another bonding experience to have with your bridesmaids and besties. Why not get pampered even more in the days leading up to the main event?  You can put your lovah's name on your nails, or sneak in that something blue in an interesting way.
Here are some nailspo pics to help make your big day even more unforgettable!
1. The traditional French mani has been leveled up in the most beautiful way.
2. A gorgeous matte finish over a dusty rose shade that might be a good color for a bridesmaid's dress.
3. A delicate "something blue."
4. Put the bouquet on your fingernails and have your hands free for libations!
5. When you're a little bit rock 'n roll but you still want something blue.
https://www.instagram.com/p/BSRQClCBGuL
6. Where tradition and today's nails meet.
7. Make your nail match your veil.
8. Getting married by Elvis in Vegas? You need these.
9. Nearly nude, with delicate embellishments on the ring fingers.
10. Giving new meaning to "band of gold."
11. Can't go wrong with gold on white!
https://www.instagram.com/p/BSbrs7QgDkH
12. A square nail shape is the perfect compliment for a square-shaped rock.
13. See what we mean about the champagne pic?
14. …and the bouquet shot!
https://www.instagram.com/p/BSYQuVwgX2k
15. When you're a bride with a wild side.
16. Put a (love) bird on it!
17. A subtle ombré French with perfect petite pearls.
https://www.instagram.com/p/BSVr6iUjYub
18. Pearlescent ivory is subtle but special.
19. Another one for the Vegas chapel babes.
20. There's no going back now!
21. Put a ring where your ring is.
22. Portraits of the newlyweds and their initials: mani love has never been cuter.
https://www.instagram.com/p/BSVKj0RgDx5
Wedding Day? Nailed it.