A 21-year-old body builder died of the flu, and here's what you should know to stay safe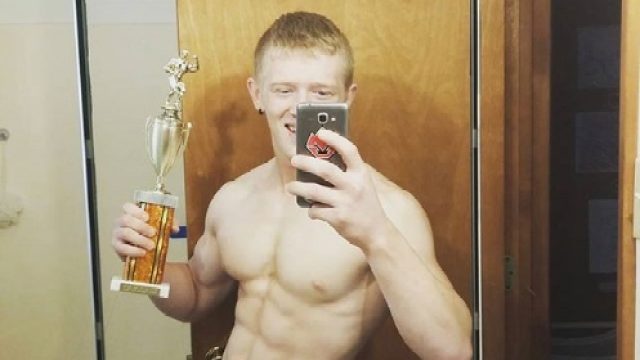 Despite the yearly warnings, many of us don't take the flu too seriously, brushing it off as something that only really affects small children and the elderly. But a 21-year-old body builder died of the flu just after Christmas, and the tragedy serves as an important reminder to put our health first.
Kyler Baughman, who was from Pennsylvania, first noticed symptoms of the flu before Christmas, when he had a runny nose and slight cough. His mother, Beverly Baughman, told NBC's WPXI that his family noticed he wasn't feeling well on December 23rd. Soon after, he developed a fever and his other symptoms grew worse. Kyler, who was extremely fit and took care of his body, tried to fight the illness on his own. Beverly told WPXI, "I think he thought, 'I just got the flu; I'll be all right. I'll just go rest a bit.'"
https://www.instagram.com/p/BYY14wen1TV
Kyler was so determined to get through the illness on his own that he even went to work the Tuesday after Christmas, despite feeling run down. His fiancée, Olivia Marcanio, told WPXI, "He kinda just laid down and went about his day and that was the day he was coughing and said his chest hurt. He had a mild cough." On December 27th, Kyler's symptoms had become so severe that he was taken to the emergency room and was then flown by helicopter to a larger hospital. He died within 24 hours.
The cause of death, according to Beverly, was, "Organ failure due to septic shock caused by influenza. It doesn't seem real."
This devastating story serves as a sobering reminder that the flu is not deadly just for certain age groups. Kyler was a fit, healthy young person. He worked as a mover at a local furniture store and was also an employee at Walmart while studying to become a personal trainer. He did not fit the stereotype of someone who would quickly die from the flu.
https://www.instagram.com/p/BStG5GRj5dp
It's worth noting that Kyler did not receive a flu shot this season. The shot is strongly recommended by doctors and health officials for everyone, no matter what age. Although there have been reports that the vaccine may have a lower success rate this year, the shot can still lessen your chance of getting the flu by 10 to 60 percent. The Centers for Disease Control and Prevention maintain that it's still your best and first step in preventing influenza.
We are keeping Kyler's family and loved ones in our thoughts.