To celebrate the 20th anniversary of "Selena," we've rounded up 20 fun facts about the movie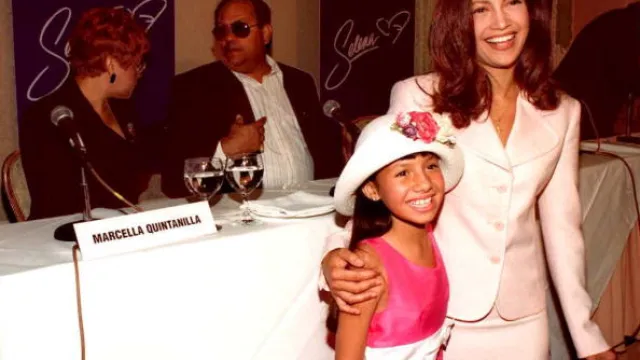 Today we remember Selena Quintanilla; a fashion icon, the Queen of  Tex-Mex, and an all around #girlboss. It's been 20 years since the biopic Selena was released, and it continues to enchant Selena fans aplenty. Today, we remember and honor both this movie and the incredible woman who inspired it. Selena Quintanilla was taken from us too early, but her legacy and the impact she had on Latinx culture will always live on. From sparking the beginning of Latinx media (she's the reason People en Español exists) to creating an era's worth of iconic style, to Dreaming of You (which became the fastest-selling album by a female artist in pop history), Selena Selena made herstory. And the film that chronicled the late singer's legacy created a movement of its own.
To celebrate its 20th birthday, we've rounded up 20 fun facts about the film.
1Selena's family was originally hesitant about filming
Unauthorized films about Selena's life were in production, so the producers of the biopic, Robert Katz and Moctesuma Esparza, approached the Quintanilla family about doing an authorized film, giving them complete control over their choice of director and actors.
2The casting call drew 24,000 people
Selena's father, Abraham Quintanilla Jr., decided to do an open casting call to fill the role of young Selena and older Selena. This drew a crowd of 24,000 people, which was one of the largest casting calls in history.
3But Jennifer Lopez wasn't the only famous actress considered for the role
Both Salma Hayek and telenovela star Bibi Gaytán were approached for the role of Selena, but lost to J.Lo. Selena actually made a cameo alongside Gaytán on her telenovela, Dos Mujeres, Un Camino. The more you know!
4Edward James Olmos had to gain a lot of weight for the role
To play the role of Selena's father Abraham, Edward James Olmos had to gain a lot of weight for the role…50 pounds to be exact.
5The director had to fight for Jennifer López
Although she eventually got the role, director Gregory Nava had to fight for Jennifer López because Warner Brothers wanted a non-Latina actress to play the role. We are so glad he fought, because this movie wouldn't have been nearly as iconic without J.Lo.
6The cast and the Quintanillas actually bonded
Thankfully, this movie was the real deal when it came to honoring both Selena and her family. The cast and crew spent a lot of time in Corpus Christi, Texas, and J.Lo actually moved in with Selena's sister, Suzette Quintanilla, to prepare for the role.
7The movie inspired J.Lo to start singing
Many Latinx artists have drawn inspiration from Selena's Tejano style, and Jennifer López is one of them. She credits the Queen of Tejano music, and this film, as to what inspired her to start singing.
8All the vocals in the film are actually Selena
Even though it looks like Jennifer López is singing, it's totally and utterly dubbed. Since the movie came out soon after Selena's death, it was decided that all the vocal tracks would actually be Selena's voice so fans wouldn't feel like someone else was trying to copy the star. J.Lo had to learn to lip sync for the film.
9JLo did sing three words though
Thankfully, JLo did have her fifteen seconds of fame. During the Monterey concert scene, Jennifer Lopez sings the first three words in "Como La Flor," which translates to "like the flower," which itself is a beautiful tribute to Selena.
10There was a Selena doppelgänger
Besides Salma Hayek and Bibi Gaytán, there was someone else up for the role of Selena, and it was her doppelgänger, Lizzette Padilla. Although she had an uncanny resemblance to the singer, she wasn't chosen — though she did go on to play Selena in The Selena Murder Trial: E! True Hollywood Story.
11J.Lo still faced backlash for her role
Sadly, Jennifer Lopez faced backlash from some members of the Latinx community, who protested that J.Lo was unfit for the role. Their reasoning was that a New Yorker with Puerto Rican heritage wasn't a good fit to play a Texas born Mexican-American woman.
12The actress who played Selena's mom was closer to J.Lo's age
Constance Marie, who played Selena's mom, Marcela, was actually only four years older than Jennifer Lopez. So although they seem like a sweet mother-daughter duo, in real life? Not so much.
13Selena's final performance drew a HUGE crowd of extras
An astonishing 35,000 extras filled the stadium of Selena's final concert at the Houston Astrodome in the film. This scene wasn't actually filmed in Houston; it was shot at the Alamodome in San Antonio. Either way, that's dedication (and a lot of extras!)
14Abraham Quintanilla wasn't happy with the eloping scene
In classic dad style, Selena's father said he wanted the eloping scene in the film removed. According to Abraham, he didn't want fans copying his daughter's idea. Although we get it, we love this scene and think it's romantic!
15That one guitar scene is actually Chris Perez
In the scene where we're first introduced to Selena's eventual love interest, Chris Perez, we see Jon Seda shred the guitar. The thing is, he could never actually play like that. They had the real Chris Perez visit the set to record the closeup. Apparently it was a one shot deal.
16Constance Marie required a lot of makeup to look like Marcela Quintanilla
Constance actually required four hours of makeup to look remotely the right age to be Selena's mother. Since Constance was only four years older than J.Lo, we have to admit we're impressed at the dedication and that they pulled it off!
17Selena's rhinestone bra was an accident
Although the iconic black rhinestone bustier is one of Selena's classic looks, the reason one of the cups has less rhinestones than the others isn't purely cosmetic. Selena actually ran out of rhinestones when she was gluing them. Nonetheless, iconic.
18The actress who played Selena's sister lied to get the part
Actress Jackie Guerra, who played Selena's sister, Suzette, wanted the part so bad that she lied at her audition and said she could play the drums. Thankfully, this worked out since she landed the role, and snagged private lessons from Jackie herself.
19J.Lo became the highest paid Latina actress in Hollywood history
At the time of this film, Jennifer López became the highest paid Latina actress in Hollywood history. She earned a million dollars for her role, and opened up a doorway to many Latinx actors because of her work. Go girl!
20This is the 11th highest grossing music biopic of all time
This film is iconic for many reasons, and it shows. Selena is the 11th highest music biopic of all time, and it was the start of many careers, including J.Lo's.
Go put on your waterproof mascara and watch this iconic film. We'll be doing the same.