The skin care products to start using in your 20s to prevent (gasp) premature signs of aging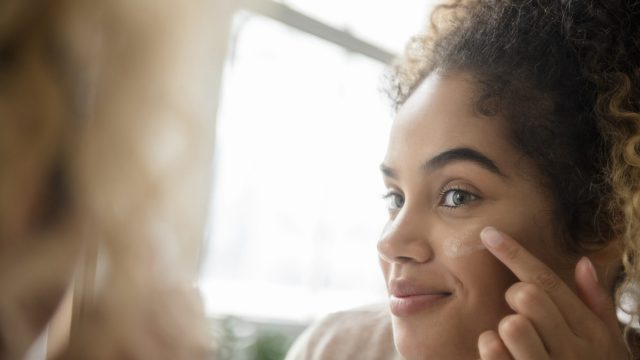 If you're in your twenties, you've probably been conditioned to make acne your main skin care focus (managing pimples, whiteheads, blackheads, and blotchiness), and your routine, well, duh, reflects that. While we're not suggesting you drop acne-clearing ingredients like salicylic acid from your skin care regimen, you should know that your twenties are the best time to start incorporating anti-aging ingredients into your day-to-day routine. After all, it's much easier to prevent the signs of premature aging—like sun spots, fine lines, and wrinkles—than it is to treat them once they're already there.
"Aging is inevitable," says dermatologist Dr. Naissan Wesley. "But how we age depends on a variety of factors and choices that we make for ourselves and our health, including diet, activity, skin care, and mental health/stress management."
The most key element in maintaining healthy skin? "Sun protection even in early childhood makes a big difference in preventing photo damage and wrinkles," says Dr. Wesley. She adds that it's "good to start at any age with products to target wrinkles as soon as one starts noticing them at rest, which for some can be in their twenties and thirties."
Beyond sun protection, if you're ready to take your skin care routine up a notch, "effective but gentle topical retinoids and antioxidants are great additions for twenty-somethings to incorporate, if tolerated," advises Dr. Wesley.
Below are 14 products we love for preventing the signs of premature aging.
1 Nuria Defend Gentle Exfoliator
Made with Chinese herb ginkgo biloba, this gentle exfoliator helps protect skin from environmental stressors that can accelerate signs of premature aging.
2Versed The Shortcut Overnight Facial Peel
This do-it-all overnight peel is formulated with lactic and glycolic acid, plus vitamins A and E.
3 Care Tireless Retinoid Night Serum
Made with Granactive Retinoid, this serum is effective in fighting signs of premature aging, without the irritating effects of many retinol serums.
4 Arbonne RE9 Advanced Prepwork Overnight Face Jelly
This hydrating new jelly from Arbonne ensures you wake up with plump, baby soft skin. Bonus: Dr. Wesley is a scientific advisor for the brand, so you can trust this dermatologist-approved pick.
5 Jordan Samuel Retinol Treatment Oil
There's a reason this ultra-gentle retinol oil is a cult fave. It's gentle enough to use every single night and you'll see results fast.
6 Evio Beauty Revitalizing Serum
High in Omega 3-6-9, this daily serum can help reduce the look of fine lines.
7 Kosmea Apple of My Eye Cream
A surefire way of preventing signs of premature aging? Keeping your under-eye area plump and hydrated.
8 Dermalogica Overnight Retinol Repair
This treatment is a favorite among retinol lovers.
9 SkinCeuticals C E Ferulic
Yes, this cult favorite is pricey. And yes, it's worth the money.
10 Savor Beauty Organic Truffle Face Cream
This cream is made with natural and organic ingredients that help fight wrinkles.
11 Clinique Pep-Start Eye Cream
You'll love this easy-to-use invigorating eye cream.
12 Fresh Lotus Youth Preserve Moisturizer
The name says it all, tbh.
13 The Inkey List Collagen Serum
The collagen-boosting formula will become your anti-aging BFF.
14 Coola Mineral Face SPF 30 Cucumber Matte
We had to include an SPF because nothing prevents signs of premature aging like sun protection, as Dr. Wesley explains.
15 Stacked Skincare TCA Multi Acid Face Peel
The combo of lactic acid, vitamin C, and retinol makes this peel a must.