Women supporting other women artists was our favorite 2020 Grammys trend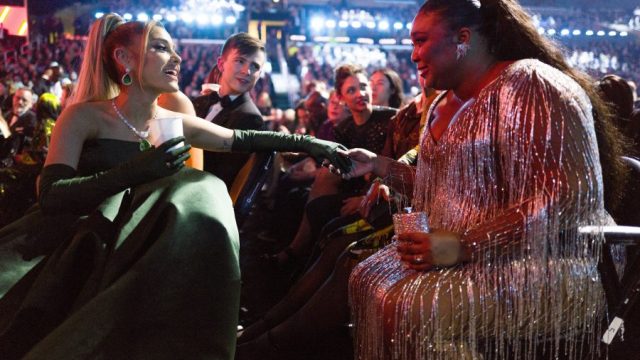 The 2020 Grammys were a night filled with epic fashion moments, powerful performances, and lots of girl power. Women artists dominated the list of nominees and performers this year, with the majority of those golden trophies being taken home by deserving ladies. But even better than our favorite celebs winning Grammy awards was the support they showed each other, inside and outside of the Staples Center.
Women artists were all about setting aside their egos and spreading the love this year. They championed each other by singing along to their killer performances and even rooted for their fellow queens to take home Grammy Awards over themselves. From Lizzo chanting Queen Bey's name during the countdown to Best Pop Solo Performance to the outpouring of love during Demi Lovato's emotional performance, here are our favorite moments where women supported the hell out of other women at the 2020 Grammys.
Billie Eilish shouting out Ariana Grande during her Album of the Year acceptance speech
The 2020 Grammys were Billie Eilish's night. We have a feeling this tops any high school prom she's missing out on. Although the 18-year-old took home the biggest Grammy awards of the night (Record of the Year, Song of the Year, Album of the Year, Best New Artist, and Pop Album of the Year), Eilish was as humble as ever. She even announced that she felt Ariana Grande deserved the high honor of Album of the Year during her acceptance speech.
Ari, being Ari, hit Eilish back with an equal amount of love and support, waving off her claim that she was undeserving. Grande blew Eilish a kiss from her seat, encouraging the "Bad Guy" singer to embrace the magical moment. It doesn't get more supportive than this scenario.
Lizzo rooting for Beyoncé to win over herself
Last night, Lizzo won the Grammy Award for Best Pop Solo Performance for her epic smash, "Truth Hurts" (which she totally deserved). But it seems Lizzo was rooting for a different queen to take home the golden trophy for this one: Queen Bey herself.
During the intense few moments where we wait to hear the end of the sentence, "And the Grammy goes to…," we saw Lizzo backstage closing her eyes, crossing her fingers, and chanting, "Beyoncé." When her own name was called, Lizzo's jaw dropped in disbelief before she headed onstage to deliver her powerful acceptance speech. We love to see one badass woman rooting for another. Can they both win this award?
Literally everyone supporting Demi Lovato
Demi Lovato had the comeback performance of all comeback performances last night, and we're still not over it. The singer returned to the live, televised stage to debut her new song, "Anyone," an emotional ballad she wrote just four days before her drug overdose in 2018. There wasn't a dry eye in the Staples Center (or in our living rooms) during Lovato's powerful performance.
Little Women director and writer Greta Gerwig introduced Demi with a moving speech about her bravery and talent, saying, "Tonight, she's here to share her voice with all those that are battling the darkness in their lives so they might be reminded there's light on the other side," which was followed by resounding applause. When Lovato faltered upon singing the opening notes of "Anyone," overcome with emotion, the audience was there to cheer her on. From there, there was no stopping her from delivering an incredible performance.
Other celebs showed Lovato their support on social media. Bebe Rexa, who opened up about her diagnosis with bipolar disorder earlier in the night, tweeted live from her Grammys seat in the Staples Center, saying simply, "I'm literally crying. Love you Demi."
Longtime pal Selena Gomez posted a photo of Demi standing on stage accompanied by a heartfelt congratulations.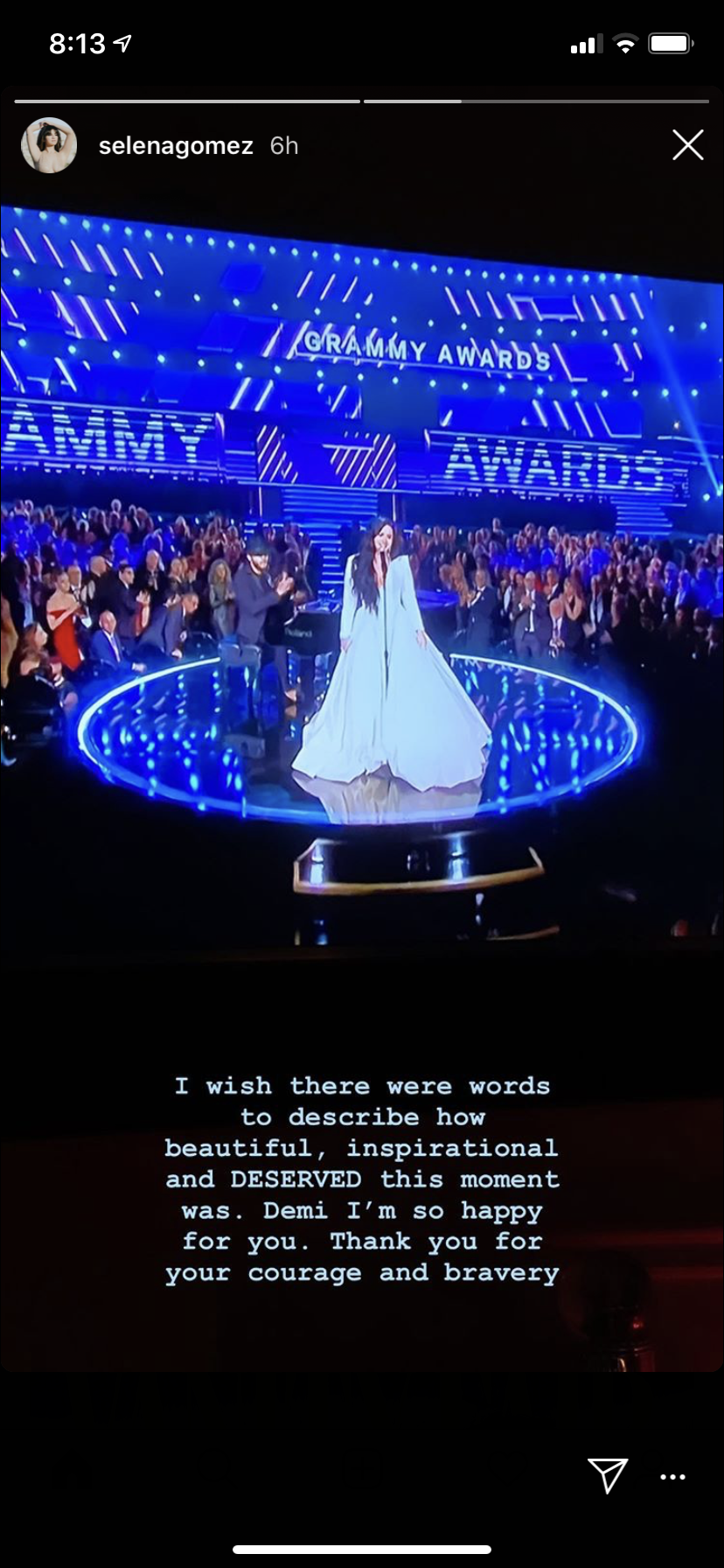 Fellow singer Kiana Ledé summed up Lovato's performance perfectly by calling it redemption in a tweet that said, "Wow Demi. That is redemption. I hope you feel proud."
Although we love to see women artists win those hard-earned trophies at the Grammys, there's nothing more powerful than watching them supporting one other, and that's what really stole the show last night.