Demi Lovato's emotional Grammys performance will have you crying along with her
From the moment we heard Demi Lovato would be performing at the 2020 Grammys, we knew it was going to be an emotional event. The night marks a "comeback" moment for Lovato, as it will be her first live, televised performance since her drug overdose in July 2018. And at the Grammys, there wasn't a dry eye in the house or anyone not on their feet after Lovato took the stage to debut her song "Anyone."
Director Greta Gerwig introduced the singer, giving background to the weight of the song, the performance, and Lovato's return to the spotlight.
"It takes a lot for anyone to stand in the spotlight, even somebody who's grown up in its often distorting glare," Gerwig said. "The gifted young artist about to share her powerful voice wrote this next song last summer, just four days before an incident that almost took her life."
Tonight, she's here to share her voice with all those that are battling the darkness in their lives so they might be reminded there's light on the other side," Gerwig continued.
Lovato took the stage in a white, long-sleeved gown. She began singing "Anyone," but got choked up, pausing. With the audience's cheering support, she began again, and she sang lyrics that had so many others in tears with her.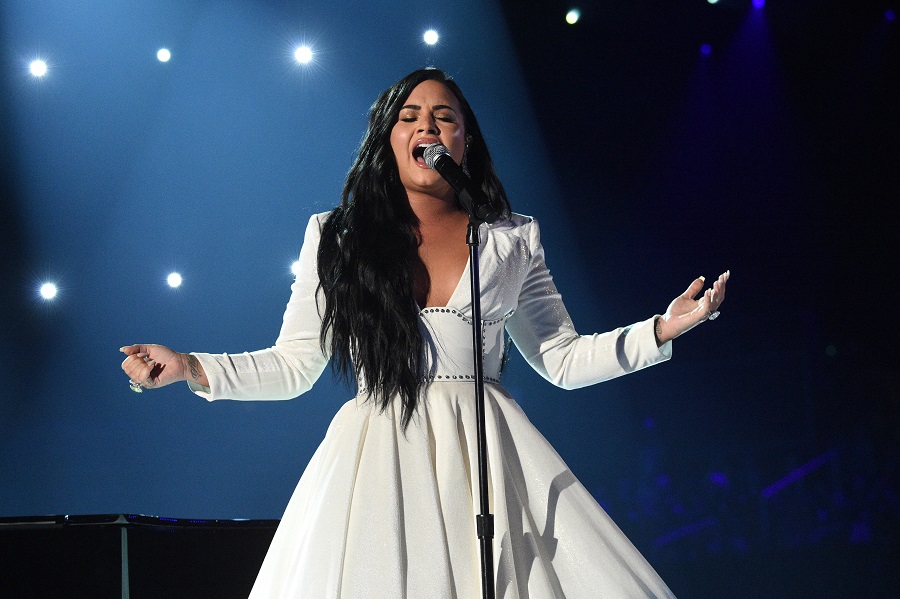 "I feel stupid when I sing, nobody's listening to me," she sang. And later: "Anyone, I need anyone, I need someone."
In a recent interview with Zane Lowe on New Music Daily, Lovato said that she's been intending to sing those lyrics and that song as her comeback performance since her stay in the hospital, recovering from the overdose. She told Lowe, according to Billboard, that she remembers thinking, "If I ever come back, I want to sing this song."
Lovato also sees now that writing "Anyone" was her "cry for help."
"I almost listen back and hear these lyrics as a cry for help, Lovato said. "And you kind of listen back to it and you kind of think, 'How did nobody listen to this song and think, "Let's help this girl?"'"
The performance was moving from start to finish. Not only was she greeted with a standing ovation at the Grammys, but Twitter is also full of heartfelt messages for Lovato right now.
If you were as moved by her performance as everyone else, Lovato shared that you can download and stream the song right now.
https://www.instagram.com/p/B7zswvUhp7j
Though we wish that Demi never had to go through everything she went through, we're so grateful for her sharing that powerful performance with us. We're with you, Demi.