Everything you need to know before watching the 2019 Oscars on Sunday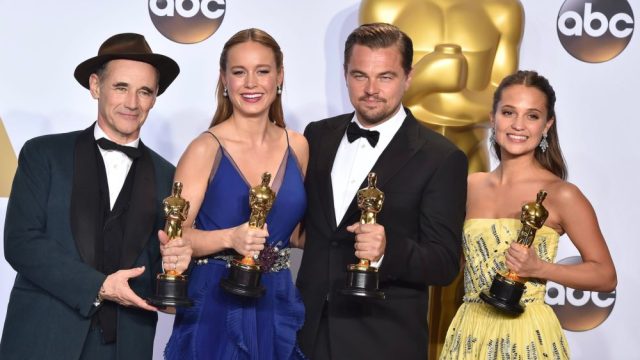 After a long awards season, the end is finally in sight. The 91st Academy Awards (aka the 2019 Oscars) will be held in Los Angeles on Sunday, February 24th. The run up to this year's ceremony has been even more eventful than usual, from multiple missteps by the Academy to controversy-ridden nominees like Green Book and Bohemian Rhapsody. And before the nominees walk the red carpet and we break out the wine and popcorn from our couches, here's a few things you should know.
When (and how) to watch.
The show will be held on Sunday, February 24th at the Dolby Theatre in Los Angeles. The telecast will air at 8 p.m. ET on ABC, also streaming online and on the ABC app. You can also catch red carpet coverage starting at 6:30 ET on ABC as well. And if you don't have a TV, you can definitely catch it all on Hulu Live or YouTubeTV (both of which offer free trial periods). false
The show won't have a host.
After Kevin Hart stepped down as host following controversy over his past homophobic tweets, the general public spent weeks speculating about his replacement, However, in January, the Academy confirmed its decision to forgo a host this year for the first time since 1989 (which is largely remembered for being a disaster).
Instead, the already star-studded affair will entail a lot of A-listers taking the stage to present, including 2018 winners Allison Janney, Sam Rockwell, Frances McDormand, and Gary Oldman. Other presenters include Brie Larson, Elsie Fisher, Chris Evans, Helen Mirren, John Mulaney, and Michael B. Jordan. Additionally, renowned chef José Andrés and Congressman John Lewis will also be on-hand to present best picture nominees, alongside Serena Williams, Diego Luna, Trevor Noah, and Barbra Streisand.
Who is nominated?
Roma and The Favourite are heading into the evening as the most-nominated films, with 10 nominations apiece—including Best Picture, Best Director, and multiple acting nominations. Spike Lee finally scored his first Best Director nomination this year for BlacKkKlansman, also picking up a nomination for Best Adapted Screenplay. Meanwhile, seven-time nominee Glenn Close could finally take home her first Academy Award for her role in The Wife. And after decades on-screen, Sam Elliot finally earned his first nomination for his turn in A Star Is Born.Additionally, Black Panther made history as the first superhero movie to be nominated for Best Picture.
The performances to look out for.
Despite initially indicating that just two of the five Best Original Song nominees would be performed, the Academy has since confirmed at least four of the five nominated songs will happen. While they won't be in character as Jackson and Ally Maine, Bradley Cooper and Lady Gaga will be taking the stage (and breaking our hearts) to perform "Shallow," which is heavily favored to pick up the Oscar in this category.
Academy Award-winner Jennifer Hudson will also be on-hand to perform "I'll Fight" from RBG. Bette Midler will be performing "The Place Where Lost Things Go" from Mary Poppins Returns, sung by Emily Blunt in the film. Country singer-songwriters David Rawlings and Gillian Welch will also take the stage to perform their song "When A Cowboy Trades His Spurs For Wings," which was performed by Tim Blake Nelson and Willie Watson in The Ballad of Buster Scruggs. In addition to the 90-second performances by the nominated songs, Queen and Adam Lambert will also be performing in honor of Bohemian Rhapsody.
As of now, Kendrick Lamar and SZA are the only Best Original Song nominees not confirmed to perform, although, according to Refinery29, the pair have been invited and since this year's telecast has been full of changes, there's still a chance we'll see them there.
Potential Controversy:
Bohemian Rhapsody has been marred in controversy since news broke that director Bryan Singer now has multiple claims against him for rape and sexual assault. While Singer was ultimately fired from set near the end of filming, many take (understandable) issue with the fact that he was hired in the first place—despite his behavior apparently being an open secret in the industry. Meanwhile, many have accused the movie The Green Book (which was written and directed by white men) of promoting racist stereotypes and being designed more to assuage white guilt than anything else.
We're eager to see how this year's ceremony turns out.