The 2018 Time Person of the Year is so fitting—and depressing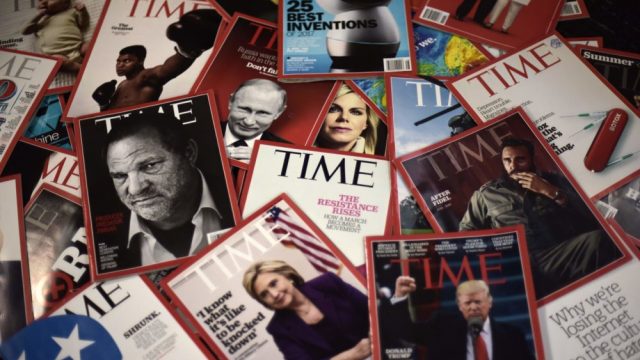 As the year draws to a close, Time has revealed its 2018 Person of the Year. While 2017's recipients were the #MeToo "silence breakers," this year, journalists are in the spotlight—specifically, those who risked (and sometimes gave) their lives to share truth with the world. Time announced this year's choice, "The Guardians and the War on Truth," on the December 11th episode of Today. In an essay about the Person of the Year selection, Time Editor-in-Chief Edward Felsenthal, said,
"Like all human gifts, courage comes to us at varying levels and at varying moments," Felsenthal wrote. "This year we are recognizing four journalists and one news organization who have paid a terrible price to seize the challenge of this moment: Jamal Khashoggi, Maria Ressa, Wa Lone and Kyaw Soe Oo, and the Capital Gazette of Annapolis, MD."
The publication also unveiled four different covers featuring Khashoggi, Ressa, the wives of Wa Lone and Kyaw Soe Oo, and the Capital Gazette staff.
All of the journalists featured by the magazine have faced death or imprisonment because of their jobs. Khashoggi, a Saudi Arabian columnist for The Washington Post, made headlines earlier this year when he disappeared in his home country. Later, The New York Times reported that he had been brutally murdered by Saudi agents (he is also the first deceased Person of the Year to ever be named). The Capital Gazette newsroom was the site of a mass shooting in June, where five people were killed.
In the cover story, Time reported that Ressa, the founder and editor of a news site in the Philippines, was suspiciously charged with tax fraud after she spoke out against the country's brutal dictator. She could face up to 10 years in prison. Kyaw Soe Oo and Wa Lone are Reuters reporters in Myanmar who were sentenced to seven years in prison after shedding light on the deaths of 10 Rohingya Muslims.
Time pointed out that the truth has been under attack in other ways, including President Donald Trump's vehement disavowal of the mainstream press.
"The world may not be getting worse, only more confused, but in time that distinction can vanish," Time's cover story reads. "There is urgent work ahead in shaping a communications system guided not by software but by the judgment of citizens, and the social contract implied in the First Amendment: facts matter."
Reporting the truth is vital work, and it's crucial that we protect those who do so. We can think of no better pick for 2018's Time Person of the Year.